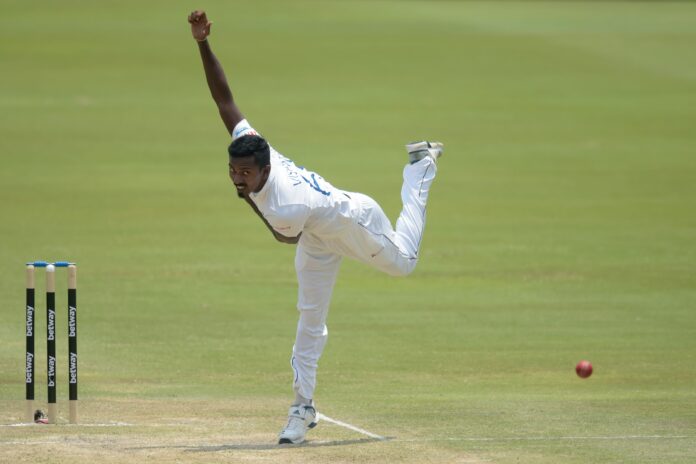 Sri Lanka got ahead of the Proteas today as they cleared the deficit of 145 runs thanks to a brilliant knock by skipper Dimuth Karunaratne who was on 91 at the stumps on day 2 of the second Test between Sri Lanka and South Africa at Johannesburg.
South Africa commenced the day with their settled pair; Dean Elgar and Rassie van der Dussen at the crease on 148/1, already 9 runs behind Sri Lanka's first innings total.
Lankan seamers looked clueless in the first hour of play as the batting pair were gifted with free-runs without any trouble. Elgar reached his 3rd century against Sri Lanka after a brillaint knock followed by his 95 in the last game while van der Dussen also helped himslef to his 3rd Test half century. Duo added 68 runs in the first hour of day 2 and looked their way to another 600+ score.
Read More – Elgar & Nortje sabotage the Lankans on day one
However, from the 2nd hour onwards things turned around in Sri Lanka's way as 184-runs worth partnership was broken by Dushmantha Chameera as the centurion was  dismissed for 127. Soon after the main playmaker's diparture, Dasun Shanaka sent van der Dussen and last game's almost double centurion Faf du Plessis to the dressing room with his 120kph seam bowling.
After that, two Fernando's Vishwa and Asitha started hitting the right lenghts constantly and restricted the South African innings to 302. It was a spectacular collapse as the home team lost 9 wickets for 86 runs after being on a strong position of 218/1. This is only the fourth time in history that Sri Lanka have taken the last 8 wickets for a total of 85 runs or lesser while playing away from home.
>>Video – "Fail වුනාට මම බය නැහැ, මම ගහන්නේ මගේ Game එක" – කුසල් පෙරේරා<<
Vishwa Fernando was the star of the show for Sri Lanka as he picked up his maiden 5-fer becoming the highest wicket taking Sri Lankan after Muttiah Muralitharan. He also became the 7th Sri Lankan to pick a Test 5-fer in the rainbow nation. Insterestingly, Fernando's top four best figures have been registered in South Africa.
Most Test wickets in South Africa by a Sri Lankan seamer
Vishwa Fernando- 20 wkts ( 4* Tests)
Dilhara Fernando- 18 wkts (7 Tests)
Suranga Lakmal – 17 wkts (5 Tests)
Lahiru Kumara – 12 wkts (3 Tests)
Chaminda Vaas – 11 wkts (5 Tests)

Vishwa Fernando's best Figures in Tests

101/5 – Johannesburg

62/4 – Durban

71/4 – Durban

62/3 – Port Elizabeth
With a deficit of 145 runs at the board, Sri Lanka lost the big wicket of Kusal Perera in just 3rd over but skipper Dimuth Karunaratne and Lahiru Thirimanne steadied the ship, combining for a 85 run-partnership for the 2nd wicket ruling out a potential 2nd consecutive innings defeat in South Africa.
Thirimanne batted superbly for a 31 but tickled one down the leg side to go out in a tame way. Just after that, Kusal Mendis grabbed a pair as he was dismissed for the 3rd duck of the tour. Sri Lanka lost 3 quick wickets after that successful partnerhship between Karunaratne and Thirimanne, granting the control back to South Africans.
However, Sri Lanka skipper stood tall from the other end despite all the carnage and closed in on his 10th Test century to take Sri Lanka to the lead by 5 runs at the stumps. He showed the way for his team with an unbeaten 90-plus, fighting fire with fire in an enterprising knock. An adventure-loving Dickwella reached unscathed to the stumps while living dangourasly at the other end.
The decisive 3rd day will depend on how well Karunaratne, Dickwella and Sri Lankan lower order handle themselves in the middle agaisnt the home boys. Keep it logged into ThePapare.com for the latest updates, news, photos, videos of this Sri Lanka tour of South Africa.
302/10 (75.4) & 67/0 (13.2)
157/10 (40.3) & 211/10 (56.5)


Batsmen
R
B
4s
6s
SR
Dimuth Karunarathne
c Quinton de Kock b Anrich Nortje
2
32
0
0
6.25
Kusal Perera
c Aiden Markram b Wiaan Mulder
60
67
11
0
89.55
Lahiru Thirimanne
c Faf du Plessis b Wiaan Mulder
17
30
3
0
56.67
Kusal Mendis
c Rassie van der Dussen b Wiaan Mulder
0
4
0
0
0.00
Minod Bhanuka
c Rassie van der Dussen b Anrich Nortje
5
10
1
0
50.00
Niroshan Dickwella
c Quinton de Kock b Anrich Nortje
7
10
1
0
70.00
Dasun Shanaka
c Quinton de Kock b Anrich Nortje
4
17
0
0
23.53
Wanindu Hasaranga
c Quinton de Kock b Lutho Sipamla
29
27
5
0
107.41
Dushmantha Chameera
c Quinton de Kock b Anrich Nortje
22
29
4
0
75.86
Vishwa Fernando
not out
2
11
0
0
18.18
Asitha Fernando
b Anrich Nortje
4
6
1
0
66.67
| | |
| --- | --- |
| Extras | 5 (b 0 , lb 5 , nb 0, w 0, pen 0) |
| Total | 157/10 (40.3 Overs, RR: 3.88) |
| Bowling | O | M | R | W | Econ |
| --- | --- | --- | --- | --- | --- |
| Lungi Ngidi | 10 | 3 | 44 | 0 | 4.40 |
| Anrich Nortje | 14.3 | 1 | 56 | 6 | 3.92 |
| Lutho Sipamla | 9 | 3 | 27 | 1 | 3.00 |
| Wiaan Mulder | 7 | 3 | 25 | 3 | 3.57 |


Batsmen
R
B
4s
6s
SR
Dean Elgar
c Lahiru Thirimanne b Dushmantha Chameera
127
163
22
0
77.91
Aiden Markram
c Kusal Mendis b Asitha Fernando
5
21
0
0
23.81
Rassie van der Dussen
c Niroshan Dickwella b Dasun Shanaka
67
127
12
0
52.76
Quinton de Kock
c Kusal Mendis b Vishwa Fernando
10
20
1
0
50.00
Faf du Plessis
c Niroshan Dickwella b Dasun Shanaka
8
15
1
0
53.33
Temba Bavuma
lbw b Vishwa Fernando
19
30
3
1
63.33
Wiaan Mulder
lbw b Vishwa Fernando
7
17
1
0
41.18
Keshav Maharaj
c Niroshan Dickwella b Asitha Fernando
2
8
0
0
25.00
Anrich Nortje
c Kusal Mendis b Vishwa Fernando
13
16
2
0
81.25
Lutho Sipamla
c Dasun Shanaka b Vishwa Fernando
5
19
1
0
26.32
Lungi Ngidi
not out
14
18
3
0
77.78
| | |
| --- | --- |
| Extras | 25 (b 8 , lb 14 , nb 0, w 3, pen 0) |
| Total | 302/10 (75.4 Overs, RR: 3.99) |
| Bowling | O | M | R | W | Econ |
| --- | --- | --- | --- | --- | --- |
| Vishwa Fernando | 23.4 | 0 | 101 | 5 | 4.32 |
| Asitha Fernando | 19 | 5 | 61 | 2 | 3.21 |
| Dushmantha Chameera | 14 | 1 | 53 | 1 | 3.79 |
| Dasun Shanaka | 15 | 4 | 42 | 2 | 2.80 |
| Wanindu Hasaranga | 4 | 0 | 23 | 0 | 5.75 |


Batsmen
R
B
4s
6s
SR
Dimuth Karunarathne
c Wiaan Mulder b Anrich Nortje
103
128
19
0
80.47
Kusal Perera
b Lungi Ngidi
1
7
0
0
14.29
Lahiru Thirimanne
c Quinton de Kock b Lungi Ngidi
31
57
7
0
54.39
Kusal Mendis
c Quinton de Kock b Lungi Ngidi
0
1
0
0
0.00
Minod Bhanuka
c Keshav Maharaj b Anrich Nortje
1
7
0
0
14.29
Niroshan Dickwella
c Temba Bavuma b Lungi Ngidi
36
68
6
0
52.94
Dasun Shanaka
c Lutho Sipamla b Wiaan Mulder
8
24
1
0
33.33
Wanindu Hasaranga
b Lutho Sipamla
16
32
2
0
50.00
Dushmantha Chameera
c Quinton de Kock b Lutho Sipamla
0
10
0
0
0.00
Vishwa Fernando
not out
1
7
0
0
14.29
Asitha Fernando
b Lutho Sipamla
0
2
0
0
0.00
| | |
| --- | --- |
| Extras | 14 (b 9 , lb 2 , nb 2, w 1, pen 0) |
| Total | 211/10 (56.5 Overs, RR: 3.71) |
| Bowling | O | M | R | W | Econ |
| --- | --- | --- | --- | --- | --- |
| Lungi Ngidi | 15 | 5 | 44 | 4 | 2.93 |
| Anrich Nortje | 19 | 2 | 64 | 2 | 3.37 |
| Wiaan Mulder | 13 | 3 | 52 | 1 | 4.00 |
| Lutho Sipamla | 9.5 | 1 | 39 | 3 | 4.11 |


Batsmen
R
B
4s
6s
SR
Dean Elgar
not out
31
27
5
0
114.81
Aiden Markram
not out
36
53
4
0
67.92
| | |
| --- | --- |
| Extras | 0 (b 0 , lb 0 , nb 0, w 0, pen 0) |
| Total | 67/0 (13.2 Overs, RR: 5.03) |
| Bowling | O | M | R | W | Econ |
| --- | --- | --- | --- | --- | --- |
| Vishwa Fernando | 4 | 0 | 23 | 0 | 5.75 |
| Asitha Fernando | 4 | 1 | 20 | 0 | 5.00 |
| Wanindu Hasaranga | 2.2 | 0 | 16 | 0 | 7.27 |
| Dasun Shanaka | 3 | 1 | 8 | 0 | 2.67 |