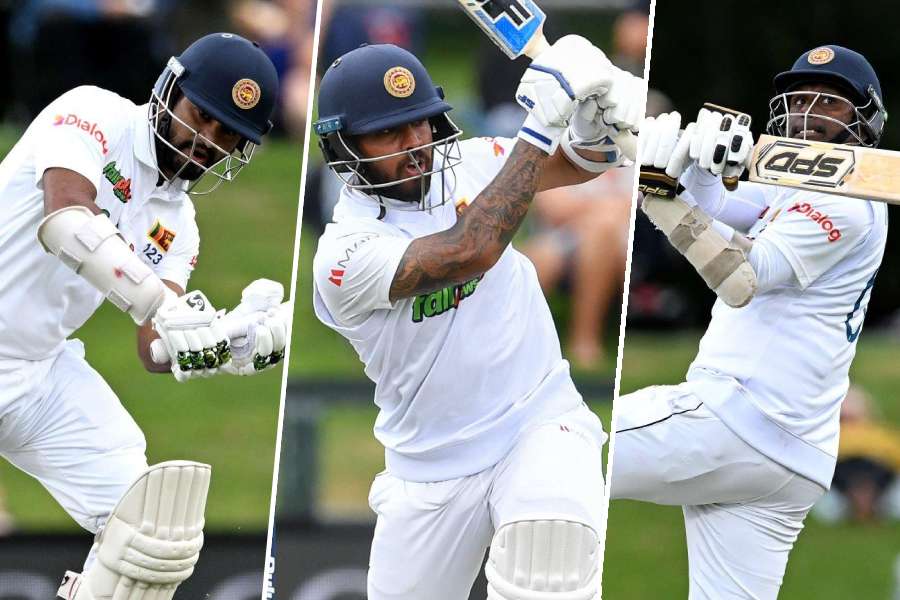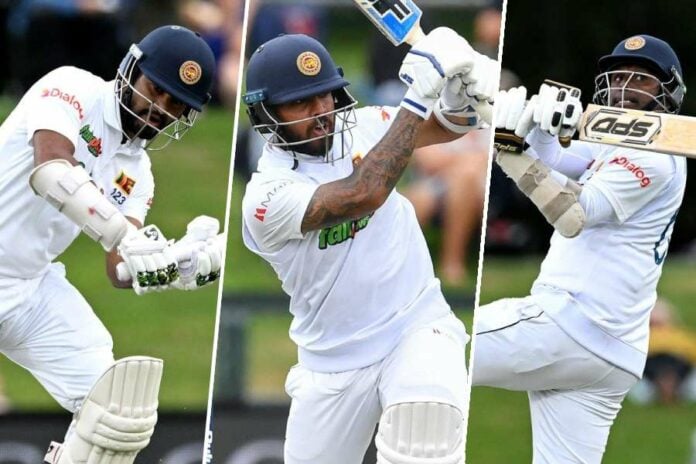 Veteran batter Angelo Mathews overtook former skipper Sanath Jayasuriya and became just the third Sri Lankan player to have scored 7000 Test runs as the island nation made a good start to the first Test against New Zealand in Christchurch.
Mathews scored a valuable 47 on the opening day at Basin Reserve, with Sri Lanka reaching 305/6 at stumps to keep their slim hopes alive of reaching June's ICC World Test Championship final against Australia.
Sri Lanka need to clinch a 2-0 series sweep over the Kiwis in New Zealand and rely on India not defeating Australia in the fourth Test in the concurrent Test in Ahmedabad to reach the World Test Championship decider and they gave themselves every chance of doing so on Thursday after they were sent into bat first by Black Caps captain Tim Southee.
Southee dismissed Oshada Fernando in the seventh over to give the hosts the early ascendancy, only to have Kusal Mendis (87) and opposing skipper Dimuth Karunaratne (50) take the momentum back with a century stand for the second wicket.
Southee (3/44) trapped Mendis lbw just as the pint-sized batter was closing in on an eighth Test century and Karunaratne followed in the ensuing over as New Zealand fought back hard.
But Mathews and Dinesh Chandimal (39) combined for an 82-run stand of their own, with the former going past Jayasuriya's Test total of 6973 runs before being dismissed by Matt Henry just after bringing up his 7000th Test run.
Southee also picked up his own milestone during the day, with the right-armer drawing level with former spinner Daniel Vettori and becoming New Zealand's highest wicket-taker in Test history behind Sir Richard Hadlee (431) with 362 Test scalps.
Dhananjaya de Silva (39*) and Kasun Rajitha (16*) put on some further late runs for Sri Lanka as light faded late in the day, with the duo to return to the crease on the second day and sure to be keen to add further runs to press home their advantage.
373/10 (107.3) & 285/8 (70)
355/10 (92.4) & 302/10 (105.3)


Batsmen
R
B
4s
6s
SR
Oshada Fernando
c Tom Blundell b Tim Southee
13
31
2
0
41.94
Dimuth Karunaratne
c Tom Latham b Matt Henry
50
87
7
0
57.47
Kusal Mendis
lbw b Tim Southee
87
83
16
0
104.82
Angelo Mathews
c Mitchell Santner b Matt Henry
47
98
6
1
47.96
Dinesh Chandimal
c Tom Latham b Tim Southee
39
64
6
0
60.94
Dhananjaya de Silva
c Tom Blundell b Tim Southee
46
59
5
1
77.97
Niroshan Dickwella
lbw b Michael Bracewell
7
13
1
0
53.85
Kasun Rajitha
c William Somerville b Matt Henry
22
39
4
0
56.41
Prabath Jayasuriya
c Tom Blundell b Matt Henry
13
40
0
0
32.50
Lahiru Kumara
not out
13
32
2
0
40.62
Asitha Fernando 
lbw b Tim Southee
10
10
2
0
100.00
| | |
| --- | --- |
| Extras | 8 (b 0 , lb 6 , nb 0, w 2, pen 0) |
| Total | 355/10 (92.4 Overs, RR: 3.83) |
| Bowling | O | M | R | W | Econ |
| --- | --- | --- | --- | --- | --- |
| Tim Southee | 26.4 | 10 | 64 | 5 | 2.42 |
| Matt Henry | 26 | 8 | 80 | 4 | 3.08 |
| Blair Tickner | 20 | 2 | 103 | 0 | 5.15 |
| Neil Wagner | 10 | 1 | 68 | 0 | 6.80 |
| Daryl Mitchell | 7 | 3 | 17 | 0 | 2.43 |
| Michael Bracewell | 3 | 0 | 17 | 1 | 5.67 |


Batsmen
R
B
4s
6s
SR
Tom Latham
b Asitha Fernando 
67
144
7
0
46.53
Devon Conway
lbw b Asitha Fernando 
30
88
2
0
34.09
Kane Williamson
c Dimuth Karunaratne b Lahiru Kumara
1
11
0
0
9.09
Henry Nicholls
c Kasun Rajitha b Lahiru Kumara
2
6
0
0
33.33
Daryl Mitchell
c Niroshan Dickwella b Lahiru Kumara
102
193
6
2
52.85
Tom Blundell
c Niroshan Dickwella b Kasun Rajitha
7
22
0
0
31.82
Michael Bracewell
c Niroshan Dickwella b Prabath Jayasuriya
25
57
2
0
43.86
Tim Southee
c Lahiru Kumara b Kasun Rajitha
25
20
3
1
125.00
Matt Henry
b Asitha Fernando 
72
75
10
3
96.00
Neil Wagner
c Dhananjaya de Silva b Asitha Fernando 
27
24
1
3
112.50
Blair Tickner
not out
2
5
0
0
40.00
| | |
| --- | --- |
| Extras | 13 (b 4 , lb 6 , nb 0, w 3, pen 0) |
| Total | 373/10 (107.3 Overs, RR: 3.47) |
| Bowling | O | M | R | W | Econ |
| --- | --- | --- | --- | --- | --- |
| Kasun Rajitha | 31 | 10 | 104 | 2 | 3.35 |
| Asitha Fernando  | 29.3 | 5 | 85 | 4 | 2.90 |
| Lahiru Kumara | 25 | 5 | 76 | 3 | 3.04 |
| Dhananjaya de Silva | 9 | 2 | 34 | 0 | 3.78 |
| Angelo Mathews | 3 | 0 | 18 | 0 | 6.00 |
| Prabath Jayasuriya | 10 | 1 | 46 | 1 | 4.60 |


Batsmen
R
B
4s
6s
SR
Oshada Fernando
c Tom Blundell b Blair Tickner
28
52
4
0
53.85
Dimuth Karunaratne
c Henry Nicholls b Blair Tickner
17
45
1
0
37.78
Kusal Mendis
c Michael Bracewell b Blair Tickner
14
55
1
0
25.45
Angelo Mathews
c Tom Blundell b Henry Nicholls
115
235
11
0
48.94
Prabath Jayasuriya
c Tom Blundell b Blair Tickner
6
32
0
0
18.75
Dinesh Chandimal
b Tim Southee
42
107
2
0
39.25
Dhananjaya de Silva
not out
47
73
7
0
64.38
Niroshan Dickwella
c Tom Blundell b Matt Henry
0
4
0
0
0.00
Kasun Rajitha
lbw b Matt Henry
14
21
2
0
66.67
Lahiru Kumara
run out (Kane Williamson)
8
6
2
0
133.33
Asitha Fernando 
c Kane Williamson b Tim Southee
0
3
0
0
0.00
| | |
| --- | --- |
| Extras | 11 (b 4 , lb 3 , nb 0, w 4, pen 0) |
| Total | 302/10 (105.3 Overs, RR: 2.86) |
| Bowling | O | M | R | W | Econ |
| --- | --- | --- | --- | --- | --- |
| Tim Southee | 26.3 | 9 | 57 | 2 | 2.17 |
| Matt Henry | 28 | 5 | 71 | 3 | 2.54 |
| Blair Tickner | 28 | 1 | 100 | 4 | 3.57 |
| Neil Wagner | 3 | 0 | 9 | 0 | 3.00 |
| Daryl Mitchell | 12 | 2 | 31 | 0 | 2.58 |
| Michael Bracewell | 8 | 1 | 27 | 0 | 3.38 |


Batsmen
R
B
4s
6s
SR
Tom Latham
b Prabath Jayasuriya
25
80
3
0
31.25
Devon Conway
c & b Kasun Rajitha
5
16
0
0
31.25
Kane Williamson
not out
121
194
11
1
62.37
Henry Nicholls
c Kusal Mendis b Prabath Jayasuriya
20
24
1
0
83.33
Daryl Mitchell
b Asitha Fernando 
81
86
3
4
94.19
Tom Blundell
b Asitha Fernando 
3
5
0
0
60.00
Michael Bracewell
c Chamika Karunaratne b Asitha Fernando 
10
11
1
0
90.91
Tim Southee
c Dhananjaya de Silva b Lahiru Kumara
1
2
0
0
50.00
Matt Henry
run out (Kasun Rajitha)
4
3
0
0
133.33
Neil Wagner
not out
0
0
0
0
0.00
| | |
| --- | --- |
| Extras | 15 (b 5 , lb 3 , nb 1, w 6, pen 0) |
| Total | 285/8 (70 Overs, RR: 4.07) |
| Bowling | O | M | R | W | Econ |
| --- | --- | --- | --- | --- | --- |
| Kasun Rajitha | 17 | 5 | 61 | 1 | 3.59 |
| Asitha Fernando  | 19 | 4 | 63 | 3 | 3.32 |
| Prabath Jayasuriya | 19 | 1 | 92 | 2 | 4.84 |
| Lahiru Kumara | 15 | 3 | 61 | 1 | 4.07 |