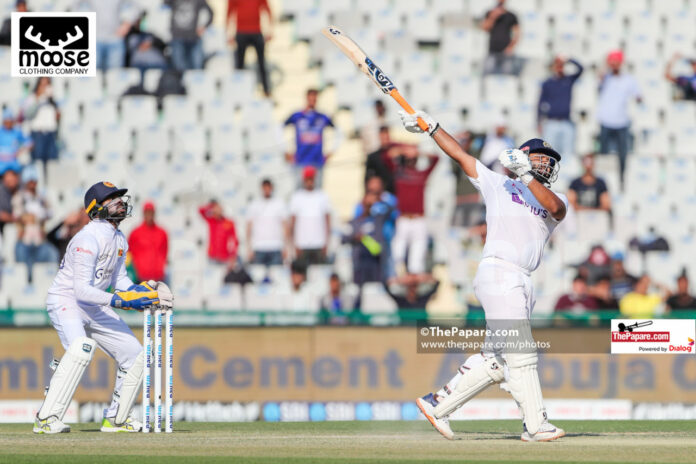 Rishabh Pant struck a destructive 96 off 97 deliveries, to put hosts well on top on day 1 of the 1st Test between India and Sri Lanka. At stumps, the hosts were sitting pretty on 357/6.

India got off to a quick start, scoring as many as 8 boundaries in the 1st 8 overs, with Sri Lanka's 3-pacemen strategy looking more and more dubious. Lahiru Kumara was brought into the attack in the 8th over and was promptly taken to the sword by Sharma, who smashed 4 boundaries off the quick in his first 9 deliveries. Kumara had the last laugh however, as the Indian skipper pulled one straight to the fielder at deep fine-leg to give Sri Lanka the breakthrough they needed.
That helped Sri Lanka stem the flow of runs and Kumara and Embuldeniya bowled well in tandem in the 1st session, despite the pitch not offering much.
Embuldeniya, Sri Lanka's only spinner for the Test got into beautiful rhythm and was rewarded with the wicket of Agarwal and later Virat Kohli, the latter falling short of a half-century by 5 runs. By Tea, the match looked evenly poised, with Sri Lanka chipping away the wickets column, while also getting a hold of the run rate.
Pant build a steady 53-run partnership alongside Shreyas Iyer, before the latter was finally dismissed for the first time this series. Things looked to be in control for Sri Lanka, but that was before Pant, just got stuck into the visitors spinners, smashing 2 sixes and 2 fours off Embuldeniya's 27th over.
That over seemed to be tipping point for the hosts, as Pant raced from 50 off 73 deliveries to 92 off 89 within the span of 4 overs, completely taking away any hope Sri Lanka might have had of restricting the hosts to below 350.
The left-hander fell for 96, his 50th dismissal in the 90s, but had by then taken the game well and truly away from Sri Lanka.
The visitors, who came into this game with 3 pacemen, lost Lahiru Kumara midway through the last session, further debilitating a bowling attack, that has not played any first class cricket since November 2021.
174/10 (65) & 178/10 (60)


Batsmen
R
B
4s
6s
SR
Mayank Agarwal
lbw b Lasith Embuldeniya
33
49
5
0
67.35
Rohit Sharma
c Suranga Lakmal b Lahiru Kumara
29
28
6
0
103.57
Hanuma Vihari
b Vishwa Fernando
58
128
5
0
45.31
Virat Kohli
b Lasith Embuldeniya
45
76
5
0
59.21
Rishabh Pant
b Suranga Lakmal
96
97
9
4
98.97
Shreyas Iyer
lbw b Dhananjaya de Silva
27
48
3
0
56.25
Ravindra Jadeja
not out
175
228
17
3
76.75
Ravichandran Ashwin
c Niroshan Dickwella b Suranga Lakmal
61
82
8
0
74.39
Jayant Yadav
c Lahiru Thirimanne b Vishwa Fernando
2
18
0
0
11.11
Mohammed Shami
not out
20
34
3
0
58.82
| | |
| --- | --- |
| Extras | 28 (b 4 , lb 12 , nb 12, w 0, pen 0) |
| Total | 574/8 (129.2 Overs, RR: 4.44) |
| Fall of Wickets | 1-52 (9.5) Rohit Sharma, 2-80 (18.3) Mayank Agarwal, 3-170 (43.3) Virat Kohli, 4-175 (46.3) Hanuma Vihari, 5-228 (61.1) Shreyas Iyer, 6-332 (80.5) Rishabh Pant, 7-462 (109.4) Ravichandran Ashwin, 8-471 (113.6) Jayant Yadav, |
| Bowling | O | M | R | W | Econ |
| --- | --- | --- | --- | --- | --- |
| Suranga Lakmal | 25 | 1 | 90 | 2 | 3.60 |
| Vishwa Fernando | 26 | 1 | 135 | 2 | 5.19 |
| Lahiru Kumara | 10.5 | 1 | 52 | 1 | 4.95 |
| Lasith Embuldeniya | 46 | 3 | 188 | 2 | 4.09 |
| Dhananjaya de Silva | 18.2 | 1 | 79 | 1 | 4.34 |
| Charith Asalanka | 3.1 | 0 | 14 | 0 | 4.52 |


Batsmen
R
B
4s
6s
SR
Dimuth Karunaratne
lbw b Ravindra Jadeja
28
71
5
0
39.44
Lahiru Thirimanne
lbw b Ravichandran Ashwin
17
60
1
0
28.33
Pathum Nissanka
not out
61
133
11
0
45.86
Angelo Mathews
lbw b Jasprit Bumrah
22
39
1
1
56.41
Dhananjaya de Silva
lbw b Ravichandran Ashwin
1
8
0
0
12.50
Charith Asalanka
lbw b Jasprit Bumrah
29
64
5
0
45.31
Niroshan Dickwella
c Shreyas Iyer b Ravindra Jadeja
2
10
0
0
20.00
Suranga Lakmal
c Ravichandran Ashwin b Ravindra Jadeja
0
2
0
0
0.00
Lasith Embuldeniya
c Mayank Agarwal b Mohammed Shami
0
5
0
0
0.00
Vishwa Fernando
c Rohit Sharma b Ravindra Jadeja
0
5
0
0
0.00
Lahiru Kumara
b Ravindra Jadeja
0
1
0
0
0.00
| | |
| --- | --- |
| Extras | 14 (b 0 , lb 6 , nb 8, w 0, pen 0) |
| Total | 174/10 (65 Overs, RR: 2.68) |
| Fall of Wickets | 1-48 (18.2) Lahiru Thirimanne, 2-59 (24.2) Dimuth Karunaratne, 3-96 (33.6) Angelo Mathews, 4-103 (38.1) Dhananjaya de Silva, 5-161 (57.6) Charith Asalanka, 6-164 (60.4) Niroshan Dickwella, 7-164 (60.6) Suranga Lakmal, 8-173 (63.3) Lasith Embuldeniya, 9-174 (64.5) Vishwa Fernando, 10-174 (64.6) Lahiru Kumara, |
| Bowling | O | M | R | W | Econ |
| --- | --- | --- | --- | --- | --- |
| Mohammed Shami | 12 | 5 | 27 | 1 | 2.25 |
| Jasprit Bumrah | 14 | 3 | 36 | 2 | 2.57 |
| Ravichandran Ashwin | 20 | 7 | 49 | 2 | 2.45 |
| Jayant Yadav | 6 | 2 | 15 | 0 | 2.50 |
| Ravindra Jadedja | 13 | 4 | 41 | 5 | 3.15 |


Batsmen
R
B
4s
6s
SR
Lahiru Thirimanne
c Rohit Sharma b Ravichandran Ashwin
0
9
0
0
0.00
Dimuth Karunaratne
c Rishab Pant b Mohammed Shami
27
42
6
0
64.29
Pathum Nissanka
c Rishab Pant b Ravichandran Ashwin
6
19
1
0
31.58
Angelo Mathews
lbw b
28
75
2
1
37.33
Dhananjaya de Silva
c Shreyas Iyer b Ravindra Jadeja
30
58
5
0
51.72
Charith Asalanka
c Virat Kohli b Ravichandran Ashwin
20
9
2
2
222.22
Niroshan Dickwella
not out
51
81
0
0
62.96
Suranga Lakmal
c Jayant Yadav b Ravindra Jadedja
0
3
0
0
0.00
Lasith Embuldeniya
c Rishab Pant b Ravindra Jadeja
2
42
0
0
4.76
Vishwa Fernando
lbw b Mohammed Shami
0
5
0
0
0.00
Lahiru Kumara
c Mohammed Shami b Ravichandran Ashwin
4
14
0
0
28.57
| | |
| --- | --- |
| Extras | 10 (b 4 , lb 5 , nb 1, w 0, pen 0) |
| Total | 178/10 (60 Overs, RR: 2.97) |
| Fall of Wickets | 1-9 (2.3) Lahiru Thirimanne, 2-19 (6.5) Pathum Nissanka, 3-45 (15.5) Dimuth Karunaratne, 4-94 (32.5) Dhananjaya de Silva, 5-121 (35.3) Charith Asalanka, 6-121 (36.2) Angelo Mathews, 7-121 (36.5) Suranga Lakmal, 8-153 (50.6) Lasith Embuldeniya, 9-170 (53.6) Vishwa Fernando, 10-178 (59.6) Lahiru Kumara, |
| Bowling | O | M | R | W | Econ |
| --- | --- | --- | --- | --- | --- |
| Ravichandran Ashwin | 21 | 5 | 47 | 4 | 2.24 |
| Mohammed Shami | 8 | 1 | 48 | 2 | 6.00 |
| Ravindra Jadedja | 16 | 5 | 46 | 4 | 2.88 |
| Jayant Yadav | 11 | 3 | 21 | 0 | 1.91 |
| Jasprit Bumrah | 4 | 1 | 7 | 0 | 1.75 |