Visakha Vidyalaya and Richmond College Galle dominated this year's first schools' swimming event, the 12th Annual Sri Lanka School's Novices Swimming Championship, taking home Gold in the girls' and boys' team championships.
Photo Album : Sri Lanka Schools Novices Swimming Championship 2019
Visakha Vidyalaya, extending its reign yet again, took home the Girls' overall champion shield with a massive lead over her opponents. Meanwhile, in the Boys' category, Richmond College Galle came in as underdogs to clinch the title over some of the giants in the business.
In the junior age groups, Senudi Dunusinghe of Visakha Vidyalaya managed 2 first place finishes. She topped in the Girls' U12 50m Breaststroke event in 1:07.31 minutes and later swam the 50m Butterfly lap in 1:13.14 minutes.
Sanuji Goonetilleke emerged champion in the Girls' U12 50m Freestyle, over 230 swimmers, with a winning time of 37.39 seconds. Binuthi Withanage grabbed a Gold in the Girls' U16 50m Butterfly event with a final timing of 38.51 seconds.
Sarisha Senanayake performed well in the Under 18 category, winning Gold in the 50m Butterfly with a time of 41.73 seconds, and a Silver in the 50m Breaststroke clocking 49.76 seconds. She also tried her luck in the Girls' 200m Individual Medley but could only collect a 4th place finish.
Read More :Visakha takes lead over defending champions 
Chethya Liyanage managed to hold the fort in the Girls' U20 category winning two Bronze medals and a Silver in her events. She swam the 200m Individual Medley in 4:22.00 minutes to finish second behind R A S Vihansa of Yasodara Balika Vidyalaya who emerged as champion with a time of 4:14.74 minutes.
Chethya went on to win her Bronze medals in the 50m Breaststroke and the 50m Backstroke clocking 53.92 seconds and 51.95 seconds respectively.
Final Girls' Standings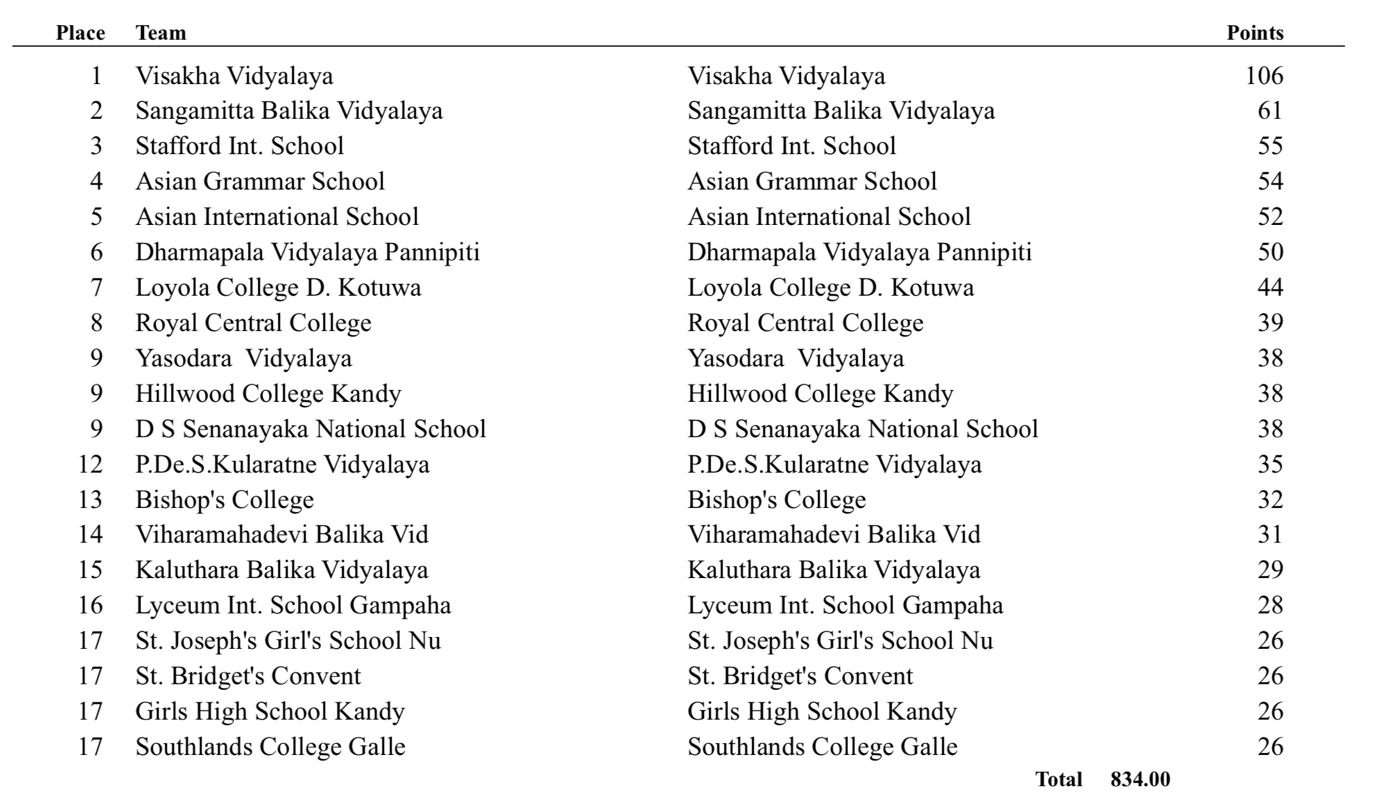 Richmond College, blindsided everyone to win the championship with a final day blitz. Richmond had a variety of swimmers topping multiple events across age groups, particularly in the junior categories, rounding up valuable points which eventually led them to the top spot.
S M Bodhinayake won the U10 50m Breaststroke clocking 43.84 seconds. Guwantha Wathsula and Mehara Boomikethu took charge of the U12's winning the 50m Butterfly and 50m Breaststroke events respectively. Wathsula clocked 41.15 seconds for Gold while Boomikethu clocked 45.83 seconds.
Guwantha Wathsula also took home the Boys' U12 individual championship for his contribution of 19 points to his school's victory.
Photo Album : Sri Lanka Schools Novices Swimming Championshp 2019
Anjana Gamage did well to secure the U16 50m Freestyle in 31.34 seconds while teammate Supun Uthpala grabbed the U16 50m Backstroke in a stupendous final time of 35.58 seconds.
Final Boys' Standings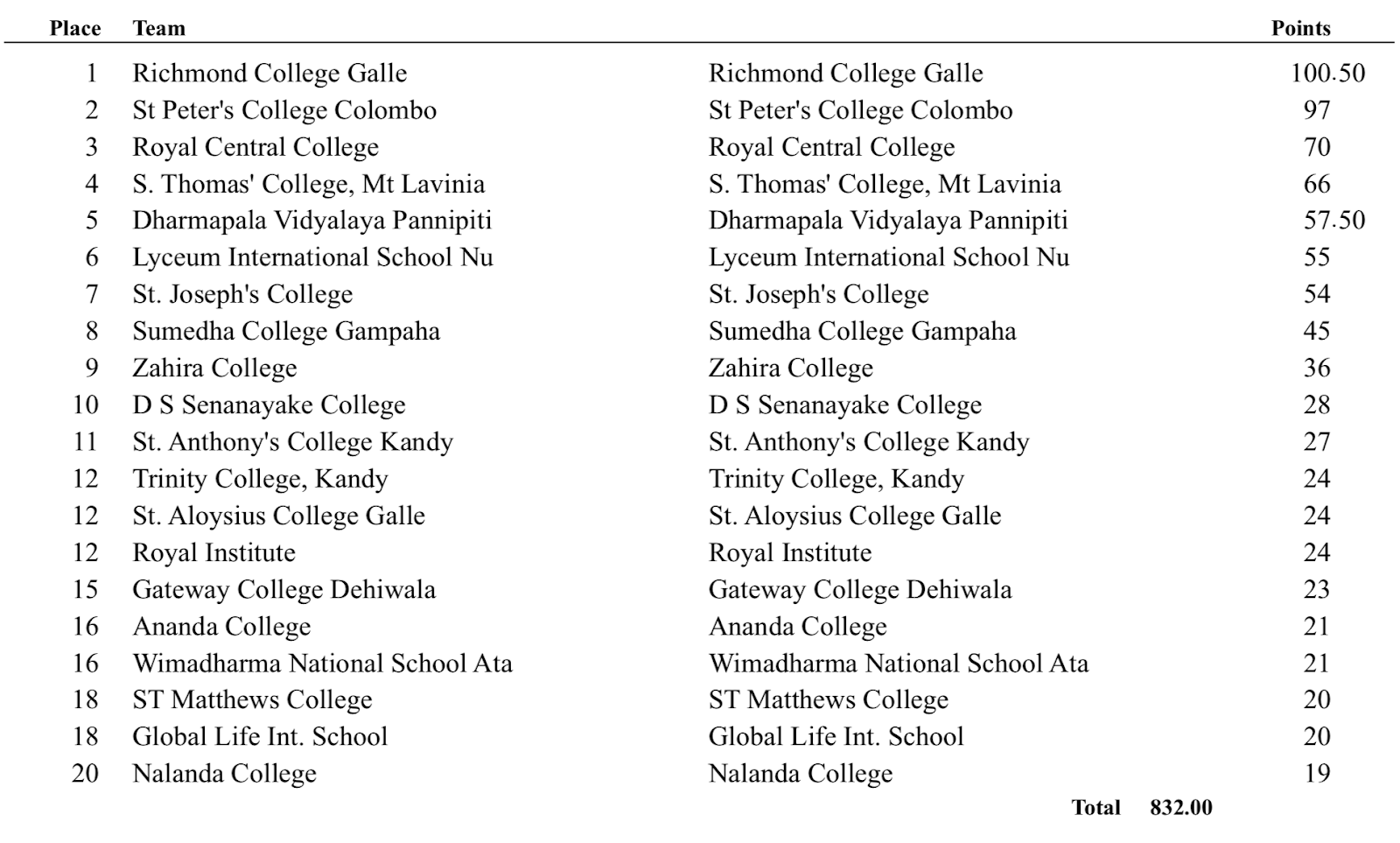 Individual winners of the Sri Lanka School's Novices Swimming Championship 2019