The preliminary round matches of ThePapare Basketball Championship 2018 (TPBC18) girls' category commenced today. The Group "B" matches were played at Gateway College – Colombo (GCC). Home side, Gateway College recorded the first win while, defending champions, St. Joseph`s Girls' School – Nugegoda (SJGS) won the latter.  

Gateway College v Sirimavo Banadaranayake Vidyalaya (SBV)
GCC started off strongly by converting each valuable possession into points. SBV struggled early from the game in terms of scoring. Later into the quarter, SBV improved their defense causing 4 turnovers and converting them into points via fast breaks.  Nevertheless, GCC offence eventually led the quarter by six points, 12-06.
Into the second quarter, GCC improved their defense by adding a quite number of steals and converting them into points on the other end. Moreover, GCC found a solution to penetrate the defense and score more efficiently doubling their lead by 12 points with the half time score of 26-13.
GCC continued the dominance in the game into the entire second half. But SBV did keep a half step back into game outscoring the home side by a point in the penultimate quarter, 13-12. Yet, stepping into the final quarter GCC girls massacred the opposition increasing their lead by 15 points, outscoring SBV, 19-08.
Full Time – Gateway College – 58 Sirimavo Bandaranayake Vidyalaya – 33
Head Coach Of GCC, Tharindu Fernando, speaking to ThePapare.com said,"In terms of our game plan it was to focus on their key player and exert pressure. We had valuable contribution from Aneesha Perera and our defense eased us for a better offense". 
Top Scorers

Gateway College  – Kiara Ekanayake-20 points

Sirimavo Banadaranayake Vidyala – Malmi Hettiarachi-14 points
St. Joseph`s Girls' Schools v Ave Maria Convent (AMC
SJGS started the game strongly with tight defense enabling steals and converting them into fast breaks.  AMC struggled throughout the first quarter finding difficult to find the net and with defensive errors ending the quarter with a 17-point gap with the score being 21-04.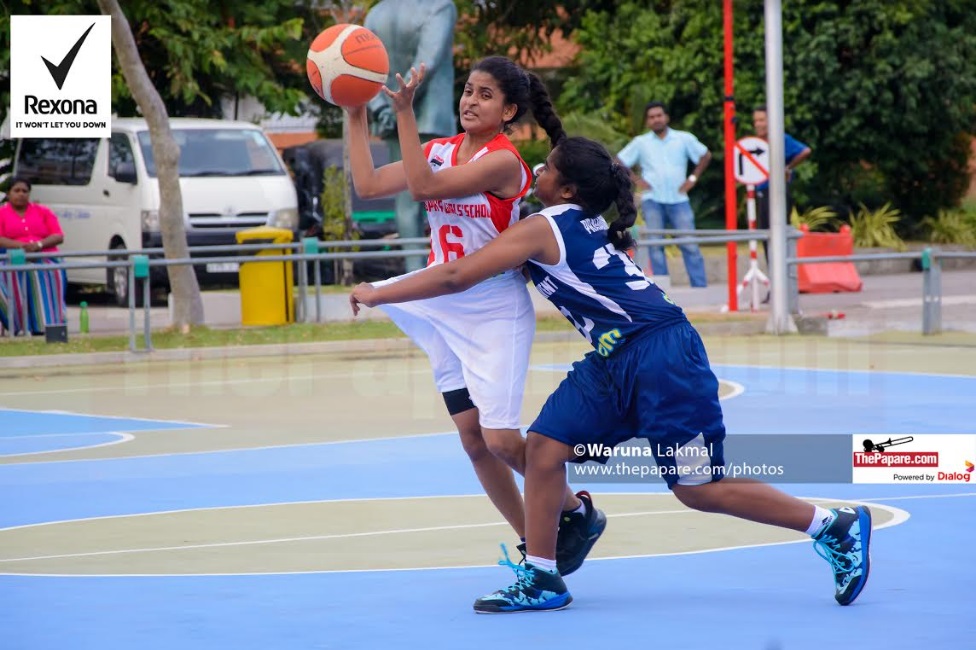 There was not much difference in the second quarter from the first. SJGS continued the same rhythm while AMV struggled to find the way through to the hoop. Girls from Negombo only managed a point for the entire ten minutes. Half time scores read, 35-05.
Towards the second half of the game both teams started to struggle to score. 04 minutes into the third quarter AMC scored the first two points and continued to fight back to cut the deficit. Still, SJGS finally scored a dozen points in the last 3 minutes taking the score to 47-13 with a lead of 35 points.
Through the last moments of the game it could be considered that the winner was decided early. SJGS simply outclassed their offence in every aspect of the game with tight defense leading to easy fast break points and scoring at ease with a rather one sided comfortable win.
Full time: St. Joseph`s Girl School – 63   Ave Maria Convent – 25   
Head Coach of St. Joseph`s Girls' School, Sivashakthi Selvaraja speaking with ThePapare.com said,"It was the skill and the experience of the players that favored their victory. Having quite a few number of players who played for the country simply favored for this result. As the tournament progresses they will take each game step by step."
Top Scorers

St Joseph Girls School Nugegoda – Rashmi Taniya Perera-15 points

Ave Maria Convent – Chetma Fernando-11 points