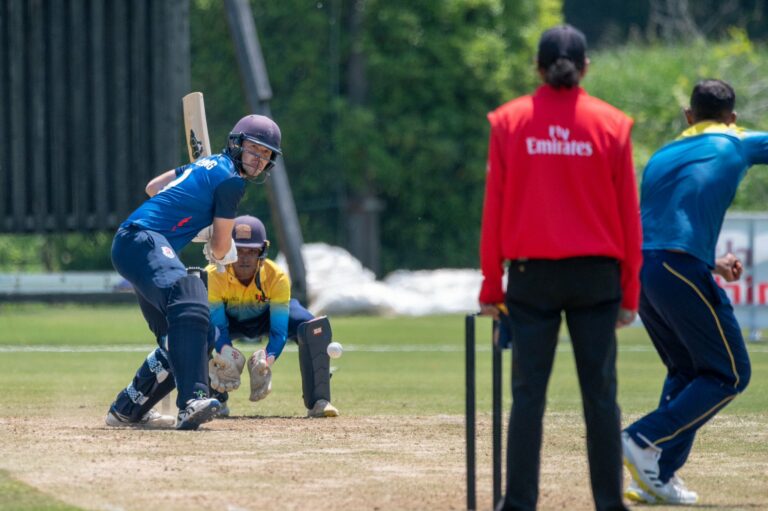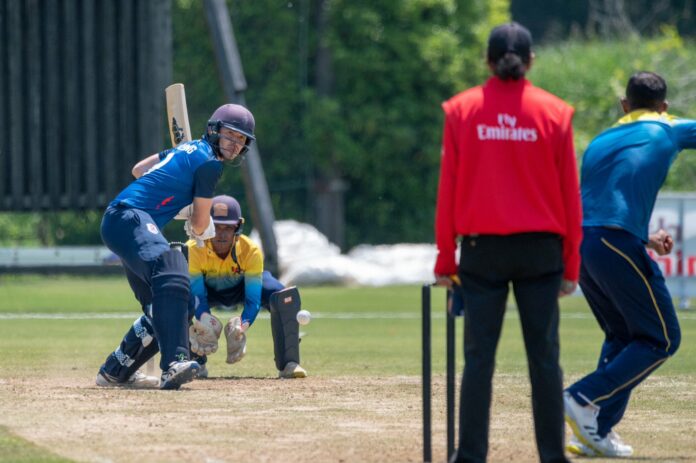 Sri Lanka Emerging Team registered their 4th consecutive win after another comfortable victory in the 4th T20 match against Japan which was held today (14th May) at Sano International Cricket Stadium in Japan.
 >> SL Emerging seal the series after three wins in a row
Sri Lanka Emerging playing XI – Sithara Hapuhinna (WK), Sakuna Liyanage, Hirantha Jayasinghe, Dunith Jayathunga, Yohan Liyanage, Ranmith Jayasena, Imthiyas Slaza, Dellon Peiris (C), Lakshan Gamage, Sithum Dissanayake, Theesan Vithushan

Japan playing XI – Alex Patmore (WK), Lachlan Lake, Tsuyoshi Takada, Vinay Iyer, Kendel Kadowaki Fleming (C), Sabaorish Ravichandran, Reo Sakurano, Kento Ota-Dobell, Samad Khan, Muneeb Siddique, Kohei Kubota
After being asked to bat first, once again Sri Lanka Emerging lost their first three wickets with just 27 runs on the board. Sakuna Liyanage and Ranmith Jayasena were the only two batters who played some positive cricket from the middle order. Liyanage smashed 31 off 19 balls with 5 fours and a six while Jayasena scored a 27-ball 39 as the chief scorer which included 4 fours and a six.
>>Imthiyas Slaza bowls SL Emerging to 2nd win
On the other hand, Kohei Kubota bowled exceptionally well to grab 3 scalps while Muneeb Siddique took a couple of wickets as Japan restricted Sri Lanka Emerging to 131 in 19.5 overs.
Thereafter, Japan began their run chase by looking to claim their first win of this series, but once again the home side crumbled for only 86 in 18.4 overs. Skipper Kadowaki Fleming scored 33 while Alex Patmore was dismissed after scoring 18, but apart from them, no one reached the double figures.
>> All-round Dellon Peiris leads SL Emerging to victory
Upcoming young spinner from Jaffna, Theesan Vithushan got his first opportunity in this tour and he was the pick of the bowlers for Sri Lanka Emerging by picking up 3/18 in his 4 overs. Sithum Dissanayake, Lakshan Gamage and skipper Dellon Peiris scalped two apiece.
Sri Lanka Emerging Team secured a 45-run win to take a 4-0 lead in the 5-match series. The 5th and final T20 match between the two sides will be played tomorrow (15th May) at the same venue.
>> REPLAY – Sri Lanka Emerging Tour of Japan 2023 – 4th T20


Batsmen
R
B
4s
6s
SR
Sithara Hapuhinna
run out ()
5
4
1
0
125.00
Dunith Jayatunga
c Kendel Kadowaki Fleming b Muneeb Siddique
10
12
1
0
83.33
Yohan Liyanage
b Kento Ota-Dobell
5
8
1
0
62.50
Hirantha Jayasinghe
b Kohei Kubota
11
11
1
0
100.00
Sakuna Liyanage
run out ()
31
19
5
1
163.16
Ranmith Jayasena
c Alex Patmore b Kohei Kubota
39
27
4
1
144.44
Dellon Peiris
c Kendel Kadowaki Fleming b Sabaorish Ravichandran
1
2
0
0
50.00
Imthiyas Slaza
c & b Kohei Kubota
10
12
0
0
83.33
Lakshan Gamage
run out ()
3
4
0
0
75.00
Sithum Disanayaka
c Sabaorish Ravichandran b Muneeb Siddique
13
16
0
1
81.25
Theesan Vithusan
not out
1
4
0
0
25.00
| | |
| --- | --- |
| Extras | 2 (b 0 , lb 1 , nb 0, w 1, pen 0) |
| Total | 131/10 (19.5 Overs, RR: 6.61) |
| Fall of Wickets | 1-7 (1.1) Sithara Hapuhinna, 2-19 (3.3) Dunith Jayatunga, 3-27 (4.5) Yohan Liyanage, 4-49 (7.2) Hirantha Jayasinghe, 5-70 (10.1) Sakuna Liyanage, 6-73 (10.5) Ranmith Jayasena, 7-103 (14.4) Dellon Peiris, 8-107 (15.3) Imthiyas Slaza, 9-123 (18.3) Lakshan Gamage, 10-131 (19.5) Sithum Disanayaka, |
| Bowling | O | M | R | W | Econ |
| --- | --- | --- | --- | --- | --- |
| Reo Sakurano | 4 | 0 | 15 | 0 | 3.75 |
| Kohei Kubota | 4 | 0 | 23 | 3 | 5.75 |
| Kento Ota-Dobell | 2 | 0 | 16 | 1 | 8.00 |
| Muneeb Siddique | 3.5 | 0 | 28 | 2 | 8.00 |
| Samad Khan | 2 | 0 | 24 | 0 | 12.00 |
| Sabaorish Ravichandran | 4 | 0 | 24 | 1 | 6.00 |


Batsmen
R
B
4s
6s
SR
Lachlan Lake
c Imthiyas Slaza b Dellon Peiris
2
6
0
0
33.33
Vinay Iyer
b Sithum Disanayaka
0
4
0
0
0.00
Kendel Kadowaki Fleming
st Sithara Hapuhinna b Theesan Vithusan
33
28
5
1
117.86
Alex Patmore
b Lakshan Gamage
18
26
2
0
69.23
Sabaorish Ravichandran
c Sakuna Liyanage b Theesan Vithusan
3
8
0
0
37.50
Tsuyoshi Takada
c Sithara Hapuhinna b Theesan Vithusan
9
19
0
1
47.37
Reo Sakurano
not out
3
6
0
0
50.00
Muneeb Siddique
b Lakshan Gamage
0
1
0
0
0.00
Samad Khan
run out ()
2
4
0
0
50.00
Kohei Kubota
c Lakshan Gamage b Sithum Disanayaka
3
6
0
0
50.00
Kento Ota-Dobell
st Sithara Hapuhinna b Dellon Peiris
2
4
0
0
50.00
| | |
| --- | --- |
| Extras | 11 (b 1 , lb 6 , nb 0, w 4, pen 0) |
| Total | 86/10 (18.4 Overs, RR: 4.61) |
| Fall of Wickets | 1-2 (0.6) Lachlan Lake, 2-2 (1.4) Vinay Iyer, 3-48 (8.4) Kendel Kadowaki Fleming, 4-52 (10.2) Alex Patmore, 5-74 (14.5) Sabaorish Ravichandran, 6-75 (15.2) Tsuyoshi Takada, 7-75 (15.3) Muneeb Siddique, 8-77 (16.1) Samad Khan, 9-82 (17.5) Kohei Kubota, 10-86 (18.4) Kento Ota-Dobell, |
| Bowling | O | M | R | W | Econ |
| --- | --- | --- | --- | --- | --- |
| Dellon Peiris | 3.4 | 0 | 19 | 2 | 5.59 |
| Sithum Disanayaka | 3 | 1 | 8 | 2 | 2.67 |
| Lakshan Gamage | 4 | 0 | 16 | 2 | 4.00 |
| Imthiyas Slaza | 4 | 1 | 18 | 0 | 4.50 |
| Theesan Vithusan | 4 | 0 | 18 | 3 | 4.50 |