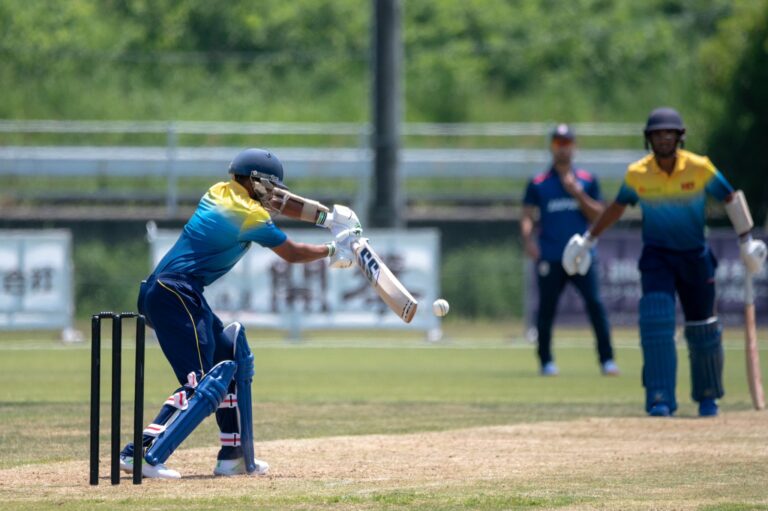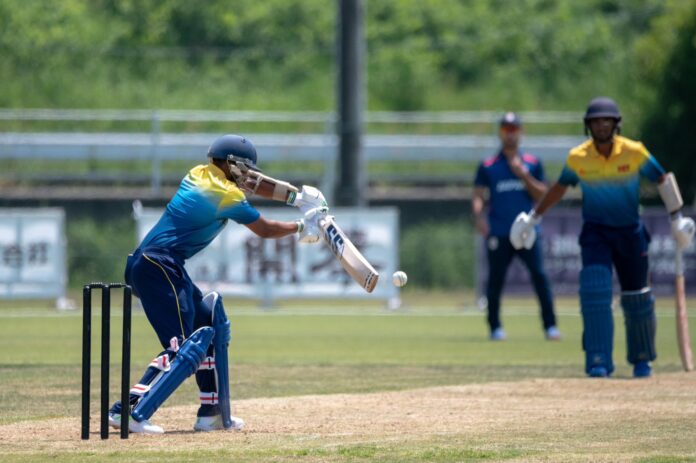 Sri Lanka Emerging Team took an unassailable 3-0 lead after registering a 4-wicket win against Japan in the 3rd T20 match, which was held today (13th May) at Sano International Cricket Stadium in Japan.
Sri Lanka Emerging playing XI – Shehan Fernando (WK), Sakuna Liyanage, Hirantha Jayasinghe, Sahil Dias, Yohan Liyanage, Ranmith Jayasena, Imthiyas Slaza, Dellon Peiris (C), Danal Hemananda, Sithum Dissanayake, Harshana Wickramasinghe

Japan playing XI – Supun Nawarathna, Alex Patmore, Wataru Miyauchi (WK), Kendel Kadowaki Fleming (C), Shogo Kimura, Ibrahim Takahashi, Sabaorish Ravichandran, Makoto Taniyama, Dinesh Sandaruwan, Kohei Kubota, Ryan Drake
Imthiyas Slaza bowls SL Emerging to 2nd win
Sri Lanka Emerging Captain Dellon Peiris won the toss for the first time in this 5-match series and asked Japan to bat first. Supun Nawarathna and Skipper Kadowaki Fleming opened the innings for Japan, but they were unable to get a decent start as Nawarathna was dismissed for a 25-ball 14 off the very first ball after the powerplay, with only 24 runs on the board.
Apart from Fleming, none of their batters scored runs as they would have been hoping for. Skipper Fleming was the only Japanese batter to maintain a strike rate over 100 as he scored 29-ball 43, which included 5 fours and 2 sixes. Dellon Peiris and Harshana Wickramasinghe scalped two apiece as Japan finished on 97/9 in their 20 overs.
All-round Dellon Peiris leads SL Emerging to victory
When chasing 98 to win, Sri Lanka Emerging lost their first three wickets for just 14. However, Sakuna Liyanage (26) and Shehan Fernando (24) added 43 runs to the 4th wicket to ease the chase. Dellon Peiris made an unbeaten 21 by taking his side to victory with 15 balls to spare and Sri Lanka Emerging Team sealed the 5-match T20 series with another two matches to go.
Stay tuned with ThePapare.com for all the updates about Sri Lanka Emerging Team's Tour of Japan as they will be in action again in the 4th T20 match tomorrow (13th May), at the same grounds.
REPLAY – Sri Lanka Emerging Tour of Japan 2023 – 3rd T20


Batsmen
R
B
4s
6s
SR
Supun Nawarathna
c Imthiyas Slaza b Harshana Wickramasinghe
14
25
2
0
56.00
Kendel Kadowaki Fleming
c Harshana Wickramasinghe b Dellon Peiris
43
29
5
2
148.28
Ibrahim Takahashi
run out (Sahil Dias)
2
7
0
0
28.57
Sabaorish Ravichandran
lbw b Dellon Peiris
11
12
0
1
91.67
Alex Patmore
run out (Sakuna Liyanage)
3
7
0
0
42.86
Wataru Miyauchi
b Danal Hemananda
1
3
0
0
33.33
Shogo Kimura
c Danal Hemananda b Sithum Disanayaka
6
12
0
0
50.00
Makoto Taniyama
b Harshana Wickramasinghe
0
2
0
0
0.00
Kohei Kubota
run out (Danal Hemananda)
2
8
0
0
25.00
Dinesh Sandaruwan
not out
9
12
1
0
75.00
Ryan Drake
not out
0
3
0
0
0.00
| | |
| --- | --- |
| Extras | 6 (b 0 , lb 2 , nb 0, w 4, pen 0) |
| Total | 97/9 (20 Overs, RR: 4.85) |
| Fall of Wickets | 1-24 (6.1) Supun Nawarathna, 2-41 (8.5) Ibrahim Takahashi, 3-63 (10.4) Kendel Kadowaki Fleming, 4-76 (12.5) Sabaorish Ravichandran, 5-77 (13.2) Wataru Miyauchi, 6-83 (14.5) Alex Patmore, 7-84 (15.2) Makoto Taniyama, 8-87 (17.2) Shogo Kimura, 9-91 (18.1) Kohei Kubota, |
| Bowling | O | M | R | W | Econ |
| --- | --- | --- | --- | --- | --- |
| Danal Hemananda | 4 | 0 | 13 | 1 | 3.25 |
| Harshana Wickramasinghe | 4 | 0 | 15 | 2 | 3.75 |
| Sithum Disanayaka | 4 | 0 | 15 | 1 | 3.75 |
| Dellon Peiris | 4 | 0 | 23 | 2 | 5.75 |
| Imthiyas Slaza | 4 | 0 | 29 | 0 | 7.25 |


Batsmen
R
B
4s
6s
SR
Yohan Liyanage
b Dinesh Sandaruwan
4
12
0
0
33.33
Sahil Dias
c Makoto Taniyama b Kohei Kubota
0
1
0
0
0.00
Shehan Fernando
run out (Alex Patmore)
24
28
0
0
85.71
Hirantha Jayasinghe
lbw b Ryan Drake
1
3
0
0
33.33
Sakuna Liyanage
c Alex Patmore b Kohei Kubota
26
27
1
0
96.30
Dellon Peiris
not out
21
21
1
0
100.00
Ranmith Jayasena
c Sabaorish Ravichandran b Wataru Miyauchi
12
12
1
0
100.00
Imthiyas Slaza
not out
4
2
1
0
200.00
| | |
| --- | --- |
| Extras | 9 (b 0 , lb 3 , nb 1, w 5, pen 0) |
| Total | 101/6 (17.3 Overs, RR: 5.77) |
| Fall of Wickets | 1-2 (1.1) Sahil Dias, 2-10 (2.6) Yohan Liyanage, 3-14 (3.5) Hirantha Jayasinghe, 4-57 (11.1) Shehan Fernando, 5-63 (12.2) Sakuna Liyanage, 6-97 (17.1) Ranmith Jayasena, |
| Bowling | O | M | R | W | Econ |
| --- | --- | --- | --- | --- | --- |
| Ibrahim Takahashi | 3 | 0 | 13 | 0 | 4.33 |
| Kohei Kubota | 3 | 0 | 18 | 2 | 6.00 |
| Dinesh Sandaruwan | 3 | 0 | 15 | 1 | 5.00 |
| Ryan Drake | 3 | 0 | 15 | 1 | 5.00 |
| Makoto Taniyama | 2 | 0 | 15 | 0 | 7.50 |
| Sabaorish Ravichandran | 3 | 0 | 18 | 0 | 6.00 |
| Wataru Miyauchi | 0.3 | 0 | 4 | 1 | 13.33 |