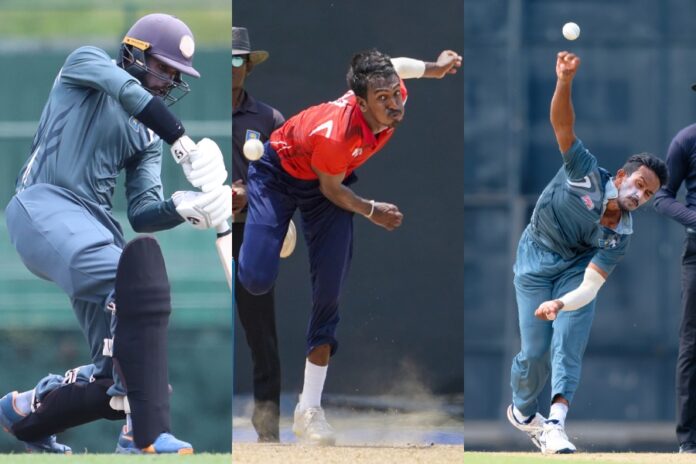 Team Jaffna and Team Galle registered wins in the two encounters of the National Super League 50-Over Tournament 2023, worked off today (28th March) at Colombo. 
Team Jaffna beat Team Kandy by 7 wickets in the 13th match of the National Super League 50-Over Tournament, played today at SSC Grounds.
After winning the toss, Kandy Skipper Niroshan Dickwella opted to bat first and managed to put on a decent score – 249 on the board, thanks to the well-compiled half-centuries made by Sandun Weerakkody and Asel Sigera.
The speedster Shiran Fernando was the pick of the bowlers for Team Jaffna as he grabbed 4 scalps for 62 runs.
Team Jaffna chased down the target of 251 quite comprehensively in the 40th over with 7 wickets in hand. The opening batter Navod Paranavithana struck a match-winning 68-ball 82, helping his side cross over the line. Kasun Abeyratne, Janith Liyanage and Nishan Madushka also contributed with vital half-centuries.
Team Galle registered a 5-wicket win over Team Dambulla in the 14th match of the National Super League 50-Over Tournament played today at R. Premadasa Stadium.
Dambulla Skipper Minod Bhanuka won the toss and decided to bat first in order to get the maximum use of the batting friendly surface at Premadasa. However, things didn't turn out as planned as they were bowled out for 200 runs in 49.5 overs.
Sonal Dinusha was the chief scorer for Dambulla as he made a fighting half-century. Milan Rathnayake, who has made a name for himself in town for his seam bowling, starred with the ball, making no harm to his reputation by picking up 4 wickets for 41 runs, being the best on the show for Team Galle.
It was a walk in the park win for Team Galle as they crossed the finishing line in the 34th over with 5 wickets in hand. Sohan de Livera, who made 76 runs off 71 balls, was the chief architect of Team Galle's successful run-chase.
Team Dambulla, who maintained a continuous unbeaten streak up to now by winning all 5 matches played before this game, suffered their first loss of the tournament.
Brief Scores
Team Kandy 249 (49.4) Sandun Weerakkody 62, Asel Sigera 50, Lahiru Udara 39, Niroshan Dickwella 27, Movin Subasinghe 25, Shiran Fernando 4/62, Dilum Sudeera 2/31, Jeffrey Vandersay 2/50

Team Jaffna 251/3 (39.2) Navod Paranavithana 82, Kasun Abeyratne 54*, Janith Liyanage 53, Nishan Madushka 52

Result – Team Jaffna won by 7 wickets 

Team Dambulla 200 (49.5) Sonal Dinusha 62, Lasith Abeyrathna 37, Dushan Hemantha 29, Chamindu Wijesinghe 24, Milan Rathnayake 4/41, Akila Dananjaya 3/38, Ramesh Mendis 2/37

Team Galle201/5 (33.3) Sohan De Livera 76, Pasindu Sooriyabandara 41, Vishad Randika 34, Lakshan Edirisinghe 25, Dushan Hemantha 2/48, Duvindu Tillakaratne 2/51

Result – Team Galle won by 5 wickets 


Batsmen
R
B
4s
6s
SR
Abishek Liyanarachchi
c Praveen Jayawickrama b Milan Rathnayake
0
11
0
0
0.00
Minod Bhanuka
run out (Akila Dananjaya)
0
0
0
0
0.00
Pavan Rathnayake 
st Sohan de Livera b Akila Dananjaya
14
16
3
0
87.50
Kamindu Mendis
b Akila Dananjaya
3
8
0
0
37.50
Lasith Abeyrathne
lbw b Akila Dananjaya
37
55
1
0
67.27
Sonal Dinusha
c Sohan de Livera b Milan Rathnayake
62
116
4
0
53.45
Dushan Hemantha
c Kavishka Anjula b Ramesh Mendis
29
37
2
0
78.38
Ranitha Liyanarachchi
b Ramesh Mendis
1
4
0
0
25.00
Chamindu Wijesinghe
c Ramesh Mendis b Milan Rathnayake
24
23
1
1
104.35
Duvindu Tillakaratne
c Ramesh Mendis b Milinda Siriwardana
17
27
2
0
62.96
Nuwan Thushara
not out
1
2
0
0
50.00
| | |
| --- | --- |
| Extras | 12 (b 0 , lb 7 , nb 0, w 5, pen 0) |
| Total | 200/10 (49.5 Overs, RR: 4.01) |
| Bowling | O | M | R | W | Econ |
| --- | --- | --- | --- | --- | --- |
| Milan Rathnayake | 8.5 | 1 | 41 | 4 | 4.82 |
| Kavishka Anjula | 4 | 1 | 12 | 0 | 3.00 |
| Akila Dananjaya | 10 | 0 | 38 | 3 | 3.80 |
| Nimesh Vimukthi | 9 | 1 | 33 | 0 | 3.67 |
| Ramesh Mendis | 10 | 1 | 37 | 2 | 3.70 |
| Praveen Jayawickrama | 8 | 0 | 32 | 0 | 4.00 |


Batsmen
R
B
4s
6s
SR
Sohan de Livera
lbw b Dushan Hemantha
76
71
9
1
107.04
Vishad Randika
c Lasith Abeyrathne b Ranitha Liyanarachchi
34
32
6
0
106.25
Pasindu Sooriyabandara
c Minod Bhanuka b Duvindu Tillakaratne
41
49
1
2
83.67
Lakshan Edirisinghe
c Pavan Rathnayake  b Dushan Hemantha
25
37
1
0
67.57
Nimesh Vimukthi
st Minod Bhanuka b Duvindu Tillakaratne
1
4
0
0
25.00
Ramesh Mendis
not out
9
7
0
0
128.57
Pathum Kumara
not out
2
4
0
0
50.00
| | |
| --- | --- |
| Extras | 13 (b 0 , lb 0 , nb 1, w 12, pen 0) |
| Total | 201/5 (33.5 Overs, RR: 5.94) |
| Bowling | O | M | R | W | Econ |
| --- | --- | --- | --- | --- | --- |
| Nuwan Thushara | 3 | 0 | 23 | 0 | 7.67 |
| Chamindu Wijesinghe | 3 | 0 | 24 | 0 | 8.00 |
| Ranitha Liyanarachchi | 3 | 0 | 13 | 1 | 4.33 |
| Sonal Dinusha | 4 | 0 | 23 | 0 | 5.75 |
| Kamindu Mendis | 3 | 0 | 19 | 0 | 6.33 |
| Duvindu Tillakaratne | 9.5 | 0 | 51 | 2 | 5.37 |
| Dushan Hemantha | 8 | 0 | 48 | 2 | 6.00 |


Batsmen
R
B
4s
6s
SR
Niroshan Dickwella
c Janith Liyanage b Lahiru Madushanka
27
23
4
0
117.39
Oshada Fernando
c Ravindu Fernando  b Navod Paranavithana
18
25
0
1
72.00
Sandun Weerakkody
c Ravindu Fernando  b Jeffrey Vandersay 
62
72
6
2
86.11
Lahiru Udara
c Ravindu Fernando  b Dilum Sudeera 
39
64
2
0
60.94
Ahan Wickramasinghe
lbw b Jeffrey Vandersay 
0
1
0
0
0.00
Asel Sigera
c & b Shiran Fernando 
50
61
3
1
81.97
Movin Subasingha
c Lahiru Madushanka b Shiran Fernando 
25
23
2
2
108.70
Pulina Tharanga
lbw b Shiran Fernando 
4
3
1
0
133.33
Ashian Daniel
b Dilum Sudeera 
4
13
0
0
30.77
Chamika Gunasekara
c Nishan Madushka b Shiran Fernando 
2
8
0
0
25.00
Dushmantha Chameera
not out
4
5
0
0
80.00
| | |
| --- | --- |
| Extras | 14 (b 0 , lb 5 , nb 0, w 9, pen 0) |
| Total | 249/10 (49.4 Overs, RR: 5.01) |
| Bowling | O | M | R | W | Econ |
| --- | --- | --- | --- | --- | --- |
| Shiran Fernando  | 9.4 | 0 | 62 | 4 | 6.60 |
| Lahiru Madushanka | 9 | 0 | 44 | 1 | 4.89 |
| Ravindu Fernando  | 5 | 0 | 29 | 0 | 5.80 |
| Navod Paranavithana | 6 | 1 | 13 | 1 | 2.17 |
| Janith Liyanage | 3 | 0 | 15 | 0 | 5.00 |
| Dilum Sudeera  | 7 | 0 | 31 | 2 | 4.43 |
| Jeffrey Vandersay  | 10 | 0 | 50 | 2 | 5.00 |


Batsmen
R
B
4s
6s
SR
Navod Paranavithana
st Niroshan Dickwella b Movin Subasingha
82
68
13
0
120.59
Nishan Madushka
c Asel Sigera b Chamika Gunasekara
52
46
6
1
113.04
Kasun Abeyratne
not out
54
69
4
0
78.26
Janith Liyanage
b Pulina Tharanga
53
53
1
3
100.00
Ravindu Fernando 
not out
6
1
0
1
600.00
| | |
| --- | --- |
| Extras | 4 (b 0 , lb 0 , nb 1, w 3, pen 0) |
| Total | 251/3 (39.2 Overs, RR: 6.38) |
| Bowling | O | M | R | W | Econ |
| --- | --- | --- | --- | --- | --- |
| Dushmantha Chameera | 6 | 0 | 40 | 0 | 6.67 |
| Chamika Gunasekara | 5 | 0 | 42 | 1 | 8.40 |
| Ashian Daniel | 5 | 0 | 46 | 0 | 9.20 |
| Asel Sigera | 9 | 1 | 48 | 0 | 5.33 |
| Pulina Tharanga | 9.2 | 0 | 53 | 1 | 5.76 |
| Movin Subasingha | 5 | 0 | 22 | 1 | 4.40 |