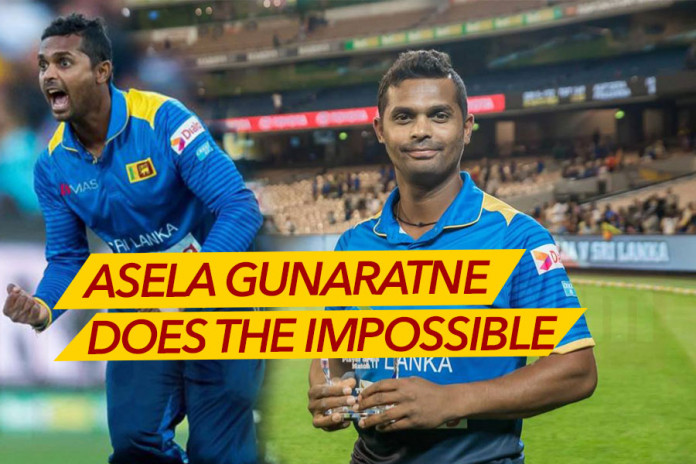 Asela Gunarathne did the impossible! Social media reacts to Sri Lanka's victory.
Needing 36 runs off 12 deliveries after Sri Lanka landed themselves in a devastating 138/7, lone-warrior Asela Gunarathne smashed a 46 ball 84 runs to take the lions to a breathtaking victory at the Geelong Stadium.
When everything was not going Sri Lanka's way with a parade of dismissals in the top order, it was the 31-year-old playing his only 6th T20 international who resurrected the hopes to bring home victory and the series in the final ball of the match.
Social Media was a buzz as the Sri Lankan fans who were having literal heart-attacks went on to celebrate another unbelievablewin in Melbourne.
From the commentary box, it was Russell Arnold who kept the Lankan hope going strong and believing in a win.  He had every right to celebrate after his wish came true.
What a win!!! Asela.. yakek ne !!! #AUSvSL This team is getting better..Well done fellows !! What a joy it was to watch that chase ..Ela Ela

— Russel Arnold (@RusselArnold69) February 19, 2017
Sri Lanka's cricketing legend, Kumar Sangakkara rated this match to be the best he has ever witnessed!
The best t20 ever played by Sri Lanka. What a win. Take a bow Asela. Probably the best knock under pressure. So proud. — Kumar Sangakkara (@KumarSanga2) February 19, 2017
Mahela was full of praise for Gunarathne
Wow… Asela Gunaratne. Take a bow! Amazing finish. Well done boys. ???

— Mahela Jayawardena (@MahelaJay) February 19, 2017
ThePapare's  singular 'private' in Melbourne Sameera Peiris armed with his gear didn't miss out on getting the celebrations from Geelong Park
---
  Looks like the party will not stop!..
Asela Gunaratne: •24•11•21•11114212•16412•1•11••2111•666•44614. He scored 47 off his first 37 before scoring 37 off his last 9. #AusvSL — Freddie Wilde (@fwildecricket) February 19, 2017
That was a lovely way to spend a Sunday morning ….. The Aussies being Walloped …. #AusvSL #Gunaratne is my new hero ….

— Michael Vaughan (@MichaelVaughan) February 19, 2017
Tye failed again to tie the game. Asela Gunaratne – A legend in making ?✌️ #AUSvsSL #AUSvSL — Khurram Siddiquee (@imKhurram12) February 19, 2017
And the man of the moment didn't forget to click a few selfies with the energetic crowd that was cheering him all throughout
Selfies with the man of the moment! ??? #AusvSL pic.twitter.com/cGMTi3RUSv

— cricket.com.au (@CricketAus) February 19, 2017
Sri Lanka won with 36 runs needed off the last 2 overs- the most chased by any team in the last 2 overs! #AUSvSL — Sankha Lakshan (@Sankhalk) February 19, 2017
While people were celebrating, some of the fans dropped hints on the IPL Auction that is set to happen tomorrow.
Now sit back and watch the #ipl auction tomorrow #asela #onemanarmy #SLvsAUS – from espn

— Viraj Gamage (@vigamage) February 19, 2017
Take a look at the breathtaking win –  Photos of Sri Lanka v Australia| 2nd T20I