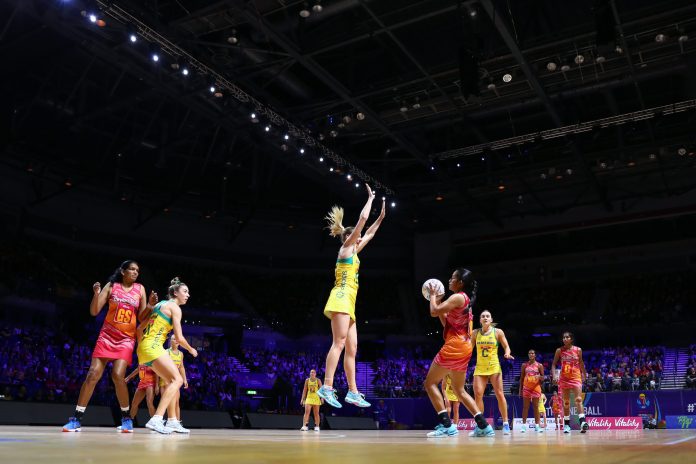 25-year-old Dulangi Wannithilake made her presence felt in Sri Lanka's 99-24 defeat to World Number 1 Australia at the M&S Bank Arena in Liverpool, in the Netball World Cup fixture earlier today.
Coming into the game, Sri Lanka had set themselves a target of making 30 goals against the top-rated Aussies. They fell short of that goal but managed to keep the Australians below the 100-goal mark by holding on to possession in the final few minutes of the match.
An intense 1st quarter saw Sri Lanka finish with 8 goals to Australia's 20. Tharjini Sivalingam didn't start the game but was brought in within the first couple of minutes. She was the first to score for Sri Lanka but chances were hard to come by.
Read More: Spirited Sri Lanka fall short against Zimbabwe
Australia brought up the tempo in the 2nd quarter, with a more physical approach to the game. The goals kept leaking from Sri Lanka but they did keep scoring and registered their highest tally of goals in the 2nd quarter of the game, making 8 to Australia's 27. 
Half Time: Sri Lanka 15 – 47
More of the same continued from both teams in the 2nd half. By this time, Wannithilake had been switched to Goal Attack after starting at Wing Attack and was given the license to take shots.
Read More: Northern Ireland sink mistake-riddled Sri Lanka
The dynamic shooter kept moving the ball on the perimeter of the shooting circle and was able to keep hitting her shots from long range. Nevertheless, Australia continued to dominate, making 27 goals to Sri Lanka's 7.
When the 4th quarter came around, Sri Lanka needed 8 goals to hit their target of 30. It wasn't to be however, as continuous intercepts kept pulling them back. After a 7/7 run in the 1st three quarters and going to 8/8, Wannithilake missed her last two shots of the match as Australia kept the Lankans to 2 goals.
Photo Album: Sri Lanka vs Zimbabwe | Group A | Netball World Cup 2019
The Diamonds pushed towards the 100-goal mark but Sri Lanka managed to keep up the pressure in defense to restrict the defending champions.
Full Time: Sri Lanka 24 – 99 Australia
Though the accuracy of shots for Sri Lanka stand at an acceptable 82%, Sri Lanka were just unable to take more shots on goal as they looked to long-lob the ball to Sivalingam, who was guarded fiercely Sara Klau.
Photo Album: Sri Lanka vs Australia | Group A | Netball World Cup 2019
The tactic of constant ball to Tharjini Sivalingam grew old really fast, as Thilaka Jinadasa was forced to go to plan B, where the Goal Attack, in this case Wannithilake, was given the license to take as many shots as possible.
Considering the circumstances surrounding both teams, Sri Lanka wouldn't be too disappointed with their efforts against Australia, who have dominated the game in the past few years.
Photo Album: Sri Lanka vs Northern Ireland | Group A | Netball World Cup 2019
Australia' No. 2 shooter Caitlin Thwaites was brilliant on court as was Steph Wood, both of whom played the entire 60 minutes, making 99/102 shots.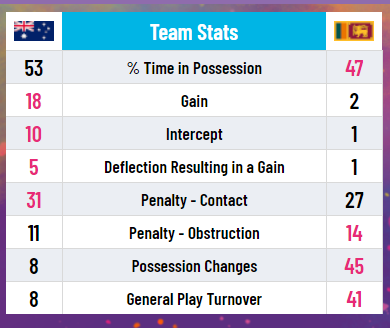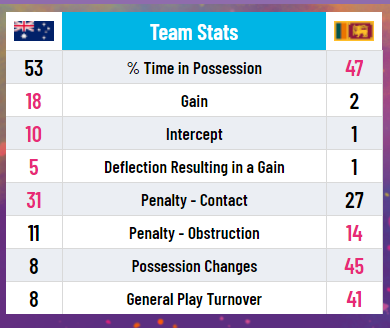 Sri Lanka will move to Group E, made up of the 4 teams that finished in 4th place of their respective Preliminary Stage 1 Groups.
Day 3 Results (14th July)
New Zealand 89 – 21 Singapore
England 90 – 24 Samoa
Malawi 65 – 41 Barbados
Uganda 52 – 43 Scotland
Australia 99 – 24 Sri Lanka
Northern Ireland 49 – 51 Zimbabwe
Jamaica 52 – 55 South Africa
Trinidad & Tobago 67 – 58 Fiji
>>For more Netball News Click Here<<