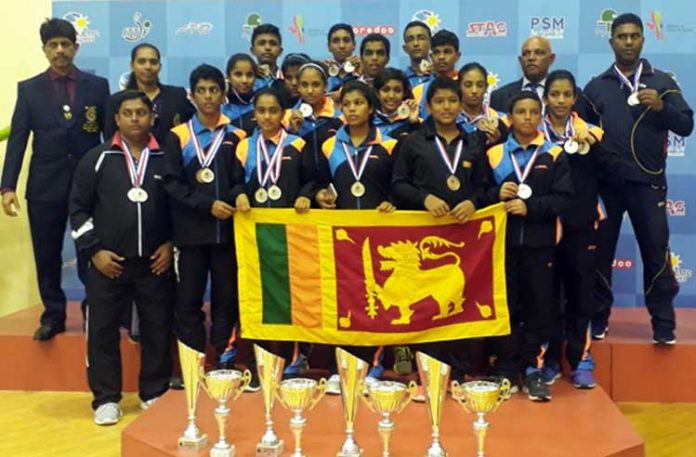 The Sri Lankan junior Table Tennis contingent who took flight to Male, Maldives earlier this week (20th – 23rd April) finished strong with an overall silver medal achievement.
Sri Lanka Junior, Cadet and Hopes teams will be leaving to Maldives..
A team of 8 boys and 8 girls competed in the 2018 South Asian Junior, Cadet and Hopes, Table Tennis Championship against some top performers. Team Sri Lanka competed in 6 main categories and 12 events out of which 11 resulted in medals.
The 6 silver and 5 bronze medals successfully qualified the Juniors to participate in the Asian Junior Table Tennis Championship in Myanmar, scheduled for August 2018.
Sri Lankan men and women have climbed mountains in the..
Silver Medals for Sri Lanka
Boys under 18 Doubles – Nimesh Ranchagoda (Capt.) and Chandupa Alahakoon

Girls under 18 Doubles – Hansani Piyumila (Capt.) and D.H. Kolombage

Boys under 18 Junior Team – Nimesh Ranchagoda, Chandupa Alahakoon, Dishanka Tennakoon and Isuru Anjana

Girls under 18 Junior Team – Hansani Piyumila, D.H. Kolambage, Imasha De Silva and Ayla Chitty

Boys under 15 Cadet Team – Hiruna Warusawithana, Chanula Dulsen and Senura Silva
Bronze Medals for Sri Lanka
Girls under 15 Cadet Team – Jithara Warnakulasuriya, Sanaya Buddhadasa, Kavishka Kavindi

Girls under 18 Singles – Hansani Piyumila

Boys under 15 Cadet Singles – Hiruna Warusawithana and Chanula Dulsen

Girls under 15 Cadet Singles – Jithara Warnakulasuriya

Boys under 12 Hope Singles – Oshan Senaratharachchi

Girls under 12 Hope Singles – Navindi Senevirathne
>> Click here for more Table Tennis News<<