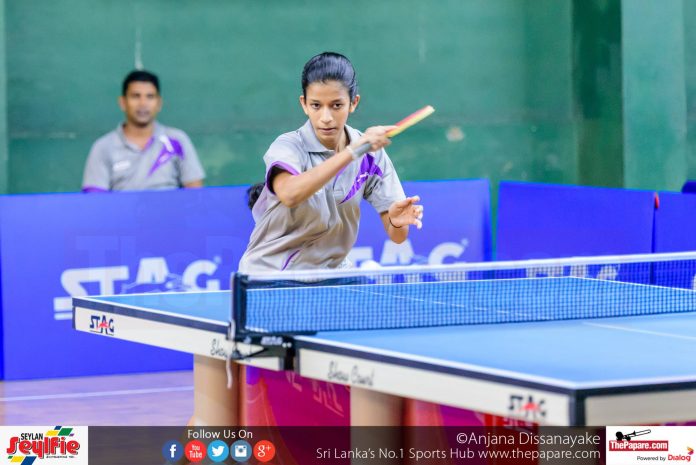 Sri Lanka Junior, Cadet and Hopes teams will be leaving to Maldives to take part in the South Asian Junior, Cadet and Hopes Table Tennis championship 2018, on 19th April. The championship will be held from 20th April to 22nd April with the participation of six south Asian countries, the giant India, Pakistan, Bangladesh, Nepal, Maldives and Sri Lanka. The championship will also be used to select the South Asian nations for the Asian championship which is scheduled to be held in August 2018 in Myanmar.
Royalist Nimesh Ranchagoda and, Visakhian Hansani Piyumila will be leading the Sri Lanka Junior table tennis teams while Hiruna Warusawithana of Dharmashoka College and Jithara Warnakulasuriya of Ladies' college will be leading the Cadet teams respectively. This is Hansani's nineteenth Sri Lanka representation including senior and junior categories and, Nimesh's fifth representation. The team is coached by Mr. D.M.G.S.Kumara and Mr. Buddhika Dikkumbura and the manger is Mr. Rahal Abeyrathne.
The players were selected after a rigorous selection criterion including very competitive selection matches throughout two days in a league basis. The team manager and the coaches are confident that with some exceptional performances this  well-balanced, experienced and talented side, Sri Lanka can compete evenly with the South Asian giants and qualify for the Asian Championship. Last year Sri Lanka hosted the championship in Colombo and, secured 6 silver medals and 7 bronze medals.
Nimesh Ranchagoda(Captain)         – Royal College, Colombo
Chandupa Alahakoon                     – Kingswood College, Kandy
Dishanka Thennakoon                    – Dharmaraja College, Kandy
Isuru Anjana                                 – Dharmashoka College, Ambalangoda
Hansani Piyumila (Captain)            – Visakha Vidyalaya, Colombo
D.H.Kolambage                            – Prajapathi Gothami Girls College, Ambalangoda
Imasha De Silva                           – Dharmashoka College, Ambalangoda
Ayla Chitty                                   – Ladies' College, Colombo
Hiruna Warusawithana(Captain)    – Dharmashoka College, Ambalangoda
Chanul Dulsen                             – Dharmashoka College, Ambalangoda
Senura Silva                                – Ananda College , Colombo
Jithara Warnakulasuriya (Captain)  – Ladies' College, Colombo
Sanaya Buddhadasa                      – Visakha Vidyalaya, Colombo
Kavishka Kavindi                           – Dharmashoka College, Ambalangoda
Oshan Senaratharachchi                – Royal College, Colombo
Navindi Senevirathne                     – Kegalu Balika Vidyalaya
Mr. D.M.G.S.Kumara
Mr. Buddhika Dikkumbura
Mr. Rahal Abeyrathne
Ms. U.P.D.D. Udagedara