Army SC registered a commanding 38-3 victory over CH&FC at Race Course Grounds in the penultimate week of the Dialog Rugby League 2016.
We are into the rear end of this year's club rugby season. With Kandy SC maintaining their unbeaten run this season, CH&FC are stuck at the bottom with zero wins under their belt. Army SC have had their good moments his season but their inconsistency has cost them a spot in the top four.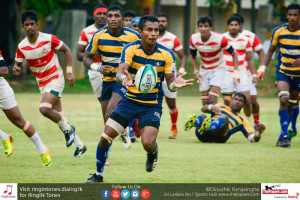 CH&FC kicked off the match. Army looked threatening from the word go as they were remained inside CH 22m for the first ten minutes of the game. The CH&FC defense showed desperation and fight but the Soldiers finally broke through when Sudarake Dikkumbura went over the line to break the deadlock. Gayan Salinda missed out on the extras.
CH&FC drew back the deficit a few moments later through a penalty taken by Janith Chandimal. The Soldiers dominated possession in the first half but missed out on quite a lot of opportunities to score.
 Photo Album – Army SC v CH&FC (Dialog Rugby League 2015/16) 
army scored their second try in the 28th minute. Ranjan Jayarathne stormed his way through the defenses from the 22m mark and went all the way to score under the post. Gayan made no mistake in adding the extras.
Minutes before halftime, Army scored their third try. It was Sampath Rosa who took the ball from the ruck inside the CH&FC 5m and pushed his way over the line. Gayan Salinda added the two points with a successful conversion. CH&FC played in their usual manner, making too many errors with some really sloppy rugby.
Halftime: Army SC 19 – CH&FC 3
The second half was almost a repeat of the first half. The only difference was that the wetness of the field had a big effect on the game. Army was the first to trouble the scoreboard in the second half with a converted try by Rosa Sampath. CH&FC's defense was all over the place, creating enough space for Army to work their way to the try line.
Sudarake Dikkumbura scored his second try a few minutes later. He was unstoppable for the lackluster CH&FC players as he ran around the defenders to score for his team. CH&FC was clueless, just as they have been right throughout this season.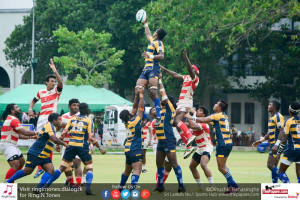 The soldiers wrapped up this good performance with converted try in the very last minute by Omantha Panthiyawaththa. The CH&FC fullback kicked the ball straight into Sudarake Dikkumbura's hands, he cut back in and broke through from the 22m. Omantha taking the ball from Sudarake, pushed himself through a gap in the defense line to score and seal a commanding victory for Army SC.
Fulltime: Army SC 38 – CH&FC 3
ThePapare.com's Man of the Match – Sudarake Dikkumbura (Army SC)
Points scorers for Army SC: Sudarake Dikkumbura 2T, Rosa Sampath 2T, Ranjan Jayarathna 1T, Omantha Panthiyawaththa 1T, Gayan Salinda 3C, Bawantha Perera 1C
Point scorers for CH&FC: Janith Chandimal 1P