17 years. That is how long it took for Sri Lanka to defeat Australia in a Test match after they gained Test status in 1982. In an odd parallel, it took them another 17 years before the second win was reached. It happened in the same city against the number one ranked side in the world on both occasions.
In many ways, the last two years of Sri Lankan cricket could well have been another 17 years. It has certainly felt like it. And as each ball was blocked by Steven O'Keefe and Peter Neville for their 29.4 over resistance, including a record 137 balls without a run, it felt like another 17 years would pass before Sri Lanka could pick up the two remaining wickets needed for victory.
Back in 1999, Sri Lanka arrived home to face the Australians on the back of a heavy innings defeat against Pakistan in the Asian Test Championship Final. However, unlike the side that turned out to face Australia in Pallekele in 2016, the Sri Lankan side nearly two decades ago was one brimming with big names. Jayasuriya, Atapattu, De Silva, Jayawardene, Ranatunga, Vaas, Zoysa, Murali. It was essentially an all-time all-star team. And there was a strong sense around the team that they could pull one over the Australians while they were not looking.
2016 has been a dire year for Sri Lanka. They had won only 4 matches across all formats in 25 attempts before this Test. And all coming in the white ball variety. Two of those were wins were against Ireland and one against Afghanistan. India was the unlucky fourth in a T20I.  Their Test performances over the last two years has been so gory that it makes Tarantino movies seem PG-13. Series defeats to England, New Zealand, Pakistan and India stretch all the way back to December 2014, with only the solitary series win against West Indies at home in 2015.
The recent England tour was just the latest addition to an episodic torture inflicted upon Sri Lanka's supporters. A real sense of hopelessness had beset the fans. As the team headed home, the fans were pleading for something to believe in. Anything. They wanted a hero. They wanted their captain to take this team by the collar and shake loose a performance worthy of the Sri Lankan teams of yore. Winning wasn't even a requirement. They knew slaying dragons would be too hard just at the minute.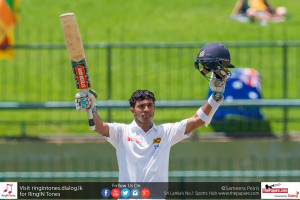 However, the Australian tour was expected to be much of the same as seen in England. It would be nice for Kusal Mendis to get some runs. Maybe even a hundred. Herath will always get some wicket at home. Rain might help Sri Lanka draw a game. That would do.
After all, this was Australia. The number one ranked side in the world. A side that had not lost a Test under Steve Smith. They had arrived two weeks before the series. They had prepared in Australia by getting their cricket board to make them "spin" pitches. They hired Murali to teach their spinners the dark arts and to apparently also send the SLC back to their high-school insecurities.
But no one expected a win. Well, no one expected anything other than an Australian win after the first day. If the 1999 side that bested Australia was a lineup for the ages, the 2016 team could be one of complete anonymity. Sandakan, Mendis, de Silva. These are the names that will appear in the papers in the coming days and that people all over the Island will read about. These are the little to unknown names that put Sri Lanka back in this contest after the first day and put the pedal down and didn't look back.
As each dropped catch, each indecisive mistake outside off stump cost the batsmen their wicket and as each failure by Angelo Mathews to grasp the match situation in England passed by, all Sri Lankan supporters wanted was a chance to say that the team gave it all they had. That they exhausted all avenues before coming up short. As a hypothesis was being established that this team lacked the mental edge to compete.
But in Kusal Mendis they have found a batting talent that Graham Ford deems worthy to call the "Prince". Mendis did indeed play a princely innings. It was raw talent being yielded into one of the greatest innings ever played by a Sri Lankan. It was a counter-attacking masterpiece, which bordered on insanity, given where Sri Lanka was in the match. Mendis's batting has shades of Sri Lanka's great batsmen of the past but his style and approach is also fiercely individual to him.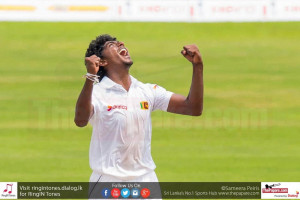 In Sandakan, they have finally struck on a spin bowling talent that has seen the prefaced hype justified. With Rangana Herath's days slowly drawing to an end there has been an ember of worry about who will have the capacity to take on this future void in the team. Jeffrey Vandersay and Tharidu Kaushal have been tried in minimal bursts. Vandersay has been impressive but Kaushal has been a bit of a letdown. So doubts have remained about Herath's lineage.
Sandakan however, at least in this game, eased those worries greatly. With three first class years behind him, he has arrived at the national squad an almost finished product. What was perhaps most impressive was his control of not just wrist spin but left arm wrist spin. At times, a chinaman almost seems a gimmick, and that may largely be because we see so very few of them. But in Sandakan Sri Lanka have a fully developed attacking wrist spinner. The booming rip and turn, the confusing wrong un. The control. Oh, the control.  In great contrast to Kaushal, who arrived with similar street cred, Sandakan posed a considerable threat to the batsman whenever he bowled. It is hopefully the birth of a great career, not just for Sri Lankan cricket, but the entire cricketing fraternity.
What must not be ignored also is the considerable effort that the entire Sri Lankan team put in for this victory. Nuwan Pradeep contributed two crucial breakthroughs in the first innings with his dismissals of David Warner and Adam Voges. A heartening addition to his hard work from England. Dinesh Chandimal and Dhananjaya de Silva partnered Mendis in crucial stands in the second innings. It was also de Silva who broke through the fortress of steel that Peter Neville and Steven O'Keefe had built in an attempt to tempt the weather gods for respite. Angelo Mathew's went on all-out attack with his three spinners and an umbrella field.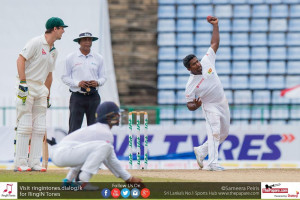 And Herath, well Herath just did what he does.  He, of course, had been there in 1999. Not on the field but watching and learning and absorbing it all. He debuted in the second Test of that series. For the younger ones out there, picture a much skinnier version of Herath now. But with the same hair. He teased Ricky Ponting and Steve Waugh with what would become the classic Herath delivery, coming in on the angle and looking for its destiny with the edge of the bat as it spun away gently. Herath seemed to channel the heroes of 1999 through a time vortex as he led the charge in Australia's destruction in 2016.
17 years apart two wildly different Sri Lankan sides have shot down Australia from the sky. In 1999, Sri Lanka did it on the back of Aravinda, Mahela, Vaas and Murali. Aravinda was already a legend at the time. Mahela was the young pretender to the throne. Murali had 200 Test wickets to his name. Vaas was the workhorse extraordinaire.  Back then it was an achievement, but not a surprise. In a tricky chase of 95 runs, Sri Lanka stumbled to 39 for 3. It was the old brigade of Ranatunga and De Silva that dragged the side to the finish line.
This time, it was done through players who are aiming to redefine what Sri Lankan cricket is. In a time when Sri Lanka are looking to re-enter the light. Under a captain who is looking for generals in his battles.  And as Sri Lanka's dance of spinners found its rhythm,  Mathews could finally see a future of a side that he could make his own. This can, of course, be labelled a flash in the pan. And not something we should read too much into. Just one win. But what a win.