As Sri Lanka Cricket embarks on their latest challenge against Australia, the home team's newest batting sensation, Kusal Mendis spoke exclusively to ThePapare.com about his journey to being a national cricketer, before the all-important Warne-Muralitharan trophy kicked-off.
The beginning

Born and raised in the cricket-crazy town of Moratuwa, 21-year old Mendis was inspired to play the sport we all love by his biggest fan, his father – Dinesh Mendis,
My father was the one who inspired me to play cricket. He is like my shadow, he is my biggest critic. When I was a kid, he sent me for training at the Moratuwa Cricket Academy under the watchful eyes of Jayalath Aponso who really taught me the ABC's of cricket.
Even as a youngster at Prince of Wales' College, Moratuwa, Mendis was renowned for his batsmanship as he scored heaps of runs and tormented many school bowling attacks. Mendis got his 1st taste of national duty when he was just 15 and was eventually bestowed the responsibility of leading Sri Lanka in the ICC U19 World Cup in 2014.
Sri Lanka Under 19 captain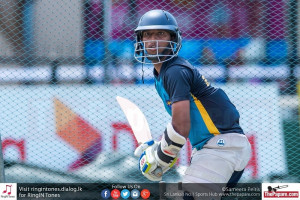 "In 2012, I could not make the Sri Lanka U19 squad for the ICC U19 World Cup in Australia but from that point onwards, I was determined to somehow make the next U19 squad and since the start of 2013, I led Sri Lanka U19s until the World Cup in 2014 in UAE. It was a great honour for me to lead my country." Mendis recalled his glory days leading Sri Lanka as a teenager.
The Turning Point

Playing for the Sri Lanka Emerging Squad against the South Africa Emerging Squad in August, 2015 Mendis impressed one and all, scoring 170 runs in 2 four-day matches which got him the nod to tour India with the Sri Lanka Development Squad under the captaincy of Milinda Siriwardana.  Mendis rates the tour to India to play the Moin-ud-Dowlah three-day tournament in Hyderabad in September, 2015, 'the turning point' of his career which led to an unanticipated national call up, "I made a century (156) and two half-centuries during that tour and I believe that's the whole reason I was called-up against West Indies. I'm thrilled I got the opportunity to play my Test debut here in Sri Lanka when I was just 20 years old."
The first-class career
With just handful of first-class matches under his belt, Mendis was fast-tracked into the national team solely due to his raw talent; he has only played 23 first-class matches since making his first-class debut 18 months ago and has scored just over 1200 at 31.07. The transition from domestic cricket to international cricket was unsurprisingly challenging but Mendis has managed to make it as seamless as possible. "I think there is a big difference between domestic cricket and international cricket. Even though I did not possess much first-class experience, I was helped a lot in getting accustomed to the team culture. I was always given the freedom to express myself on the field."
Play the ball on its merit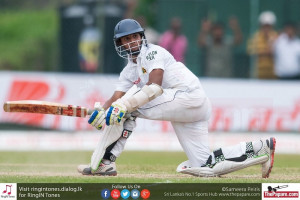 Even though Mendis started as a no.3 batsman against the Windies, he was asked to open the batting in New Zealand. He was once again shifted to the no. 3 position in England and has managed to make that prestigious batting position his own, at least for the foreseeable future, after a strong showing against the Poms.
"Everyone, including the Captain, Vice-captain, Manager and all the coaches gave me immense confidence and just asked me to play my natural game. I was never intimidated by the names of Southee, Boult, Anderson or Broad. I just played the ball on its merit."

The disappointments in England
Scoring a Test half-century is always a dream come true for any cricketer and Mendis ticked that off his list with a 'back against the wall' half century in Leeds. His performance in the Tests prompted the selectors to give him a long-run in the ODIs as well where he scored 3 half-centuries in 7 games and currently averages over 30 in both formats.
"Whenever I'm at ease scoring 20-30 runs, I always look to bat through and make it a long innings. I was happy that I got past the 50-run mark several times but disappointed that I could not convert those 50s into 100s. "

Mendis, the wicket-keeper and fielder
Mendis has been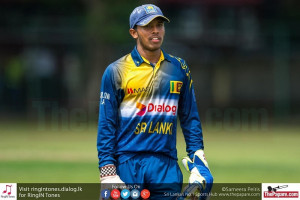 a wicket-keeper from a young age and credits being a stumper as having a big impact on his batting, "As a wicket-keeper, our eyes are always set on the ball. It has certainly helped my batting. Now I focus a lot on my fielding as I need to be at the same level as the others" a determined Mendis stated on the importance of transforming into a regular fielder from being a wicket-keeper.
The batting technique
To succeed at the international level, any batsman should have a strong base, an unwavering temperament and a sound technique. Sri Lanka Coach Graham Ford too has earmarked Mendis as a player who has a wonderful technique and believes he can survive wherever he goes in world cricket.
Not one to tinker too much with a technique that has helped him get this far, Mendis admits that sometimes a few minor adjustments need to be made according to the conditions. "I never made many adjustments to my batting technique in England but I batted with a low bat-lift, a small initial movement which helped me to counter the seam and swing. Angelo and Chandimal suggested that I bat on the off-stump, not on the middle-stump as it allowed me to leave balls outside my hitting zone."
The upcoming Australian tour
The likes of Mitchell Starc, Josh Hazelwood, Mitchell Marsh and Jackson Bird will look to rip through the Lankan top-order cheaply in the coming Test series but they will have a diminutive stroke-maker in Mendis to counter.

"It's a whole new tour against a quality side, I cannot just dwell on the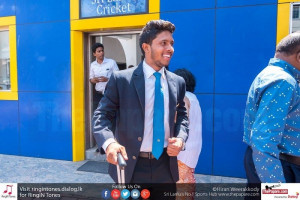 performances during the England tour, I will take the good things, continue to play my normal game and contribute to my team here in Sri Lanka. I want to play match-winning knocks against Australia, probably score my first Test hundred as well. As a team, we are pretty confident of making things right against the Aussies." Mendis looked ahead confidently on what awaits in the coming weeks.  

Final Say
Mendis' finesse and elegance in batting and his fearlessness is just what the doctor ordered for Sri Lanka Cricket as they look to fill the voids left by Kumar Sangakkara and Mahela Jayawardene.
But as a young cricketer at the beginning of his career, there is no doubt that he bears the burden of expectation on his shoulders – a burden made easier by those whose support he is grateful for, "I was never reprimanded or treated poorly during the days when I failed with the bat or made a blunder in the field. All the players and support staff helped me a lot, which is why I could play well in England. My parents, aunts, uncles called me whenever possible and gave me enough strength to overcome the bad days. I sincerely thank all the people who have been with me and ask them to have faith in me."

We at ThePapare.com thank Kusal Mendis for his time and wish him all the very best in what we hope will be a long and fruitful career in the national jersey.