Chinaman bowlers are a rare commodity in cricket and in Lakshan Sandakan Sri Lanka Cricket possess one of the few such commodities that could make it to the international scene in the near future.
The 25-year old lad from Wattala has played two matches for Sri Lanka 'A', one each against West Indies 'A' and Pakistan 'A' here in Sri Lanka, with limited opportunities to showcase his talents. He was picked in the Sri Lanka ODI squad when England toured the Island in December 2014 but was not selected in the final XI. Sri Lanka is yet to field a front-line chinaman in international cricket and Sandakan is itching to be the first.
He is currently in the United Kingdom with the Sri Lanka 'A' team for the tri-series against Pakistan A and England Lions, which is the first tour outside Asia for the future Sri Lanka prospect. Sandakan spoke about his side of the story with ThePapare.com before flying to the UK.
The Start of a Journey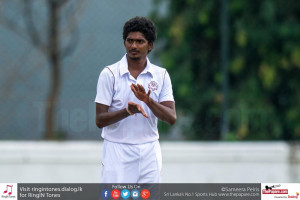 As a toddler it was always Lakshan's dream to pursue a career in football until the latter stages of his teenage years, when he realized his potential on the cricket field, "I played football since I was 10 but when I was 17, I started playing cricket at Karunarathna Buddhist College, which was a division 3 cricket playing school and in 2008, I moved to De Mazenod College where I initially played as a batsman. I even played 1st XI football at De Mazenod College as a forward. "Sandakan said.
It was not an easy transformation for Sandakan from matting cricket to turf cricket. He struggled initially at De Mazenod to bowl on turf wickets but after grabbing 27 wickets in the final 3 games of the 2008/09 first XI season, Sandakan performed with both bat and ball in his 2nd and final season in 2009/10 taking 57 scalps in 10 matches and scoring nearly 500 runs.
Entry into Club Cricket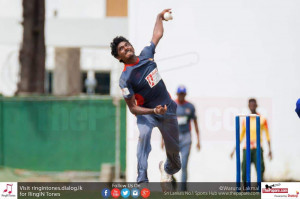 Sandakan commenced his club cricket career at Xaviarites Sports Club in the SLC P. Sara Tournament 2010/11 where he took 49 wickets in 8 games and scored almost 400 runs to bag the 'Best All-rounder' award. Later, he moved to Colombo Colts Cricket Club for the SLC U23 division one tournament and became the highest wicket-taker grabbing 31 wickets in 7 games in his solitary season at Havelock Town.
After being successful with Saracens Sports Club where he made his first-class debut, Sandakan moved to Colombo Cricket Club to play in the SLC U23 division one Tournament in 2013, where he took 32 wickets in 5 matches, and has stuck with them up to now.
The Best in the Domestic Circuit
The 2013/14 Premier season changed the fortunes for Sandakan as he finished as the best bowler of the tournament taking 54 wickets in 10 matches at 19.14. In the following season, Sandakan ended in fourth place of the wicket taker's list picking up 45 scalps. In the recently concluded 2015/16 Premier League tournament, Sandakan once again reached the pinnacle, taking 52 wickets in 10 games to end as the top-wicket taker.
The Art of Wrist Spin
The regulation chinaman spins the ball into the right-hander and away from the left-hander, similar to a right-arm off-spinner but he uses his wrist to generate spin. A Chinaman is a mirror image of the right-arm leg-spinner.
Ellis Achong, Chuck Fleetwood-Smith and Garry Sobers are some of the chinaman bowlers from yesteryear while Paul Adams, Michael Bevan, Brad Hogg, and Dave Mohammed have practiced the art in more recent times.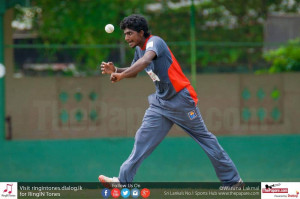 Wrist spin is a rhythmic art and constant practice is crucial to ensure success as a professional cricketer, "I do a lot of gym training and fitness training with the guidance of our trainers. I bowl quite a lot to a specific spot in the nets and then bowl to the batsmen"
Bowling the 'Googly' is not an easy thing for a wrist-spinner. It is quite difficult to control the back of the hand, twister, but things are a little different for Sandakan "From the start of my career, I did not like to bowl the orthodox spinner; even the coaches did not change it. While playing softball cricket, I wanted to try out the Googly, which came out well in the end."
As an unorthodox spinner, Sandakan idolizes two Aussie legends, Shane Warne and Brad Hogg, "I watch a lot of videos of Warne and Hogg. They have really mastered the art of wrist-spin bowling; I believe it's a very tough challenge."
Speaking on how he plans to get batsmen out Sandakan said, "As a spinner, I like it when the batsman tries to attack me, it gives a lot of chances to get them out. If they keep on defending, I use my variations."
Dressing Room with Sanga and Mahela
After Sandakan showcased his talent during the Champions League T20 Tournament 2014 in India with the Southern Express team; he was called up to the Sri Lanka ODI squad to face England. Even though he did not get the opportunity to don the national jersey, he cherished every moment of it, "It was a very big challenge for me and an honour to be a part of a squad which had the players in the caliber of Sangakkara, Mahela, Dilshan, Malinga and Mathews. It was fantastic to be sharing the dressing room with them, they always stay in game mode; they always talk about the game strategies, field settings and plans to give 200% to the game. That is the experience which they gained after playing for so long." Sandakan said.
Final Aspiration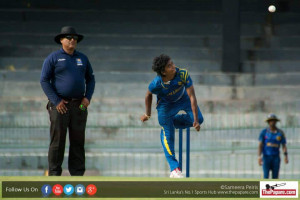 At a time when Sri Lanka is struggling to come out of their 'rebuilding phase', Sandakan might just be the answer to the team's bowling woes, "I think the country needs a spinner who concedes less runs and takes more wickets. I hope to rectify all my mistakes and do everything possible to bring glory to my country when I get the opportunity. I want to be a match-winner for Sri Lanka."
Sandakan is a wild-life enthusiast but loves playing video games and roaming around with friends during his leisure time. He thanked the following people for the success he has gained so far , "The first coaches at Karunarathne Buddhist College, Buddhi Prasan and Madawa Higuran, Provincial Coach at the time of my entry into De Mazenod College, Keerthi Gunarathne. Keethi Malik, Amal Fernando and Sanjeewa Mendis helped me lot including the principal at De Mazenod, Rev Bro. Bertram Perera. I would also like to thank Alex Nishantha, Nishantha Weerasinghe, Gayan Wijekoon, Dinuk Hettiarachchi, Tharanga Dhammika,Oshadee Weerasinghe, Piyal Wijethunga and Avishka Gunawardene and my senior players Prasanna Jayawardena, Chamara Silva, Indika De Saram, Sachith Pathirana. A special thanks goes to our CCC President Shammi Silva and finally, my friends and family for helping me immensely. "
We at ThePapare.com thank Lakshan Sandakan for his valuable time and wish him all the very best in his future endeavors.