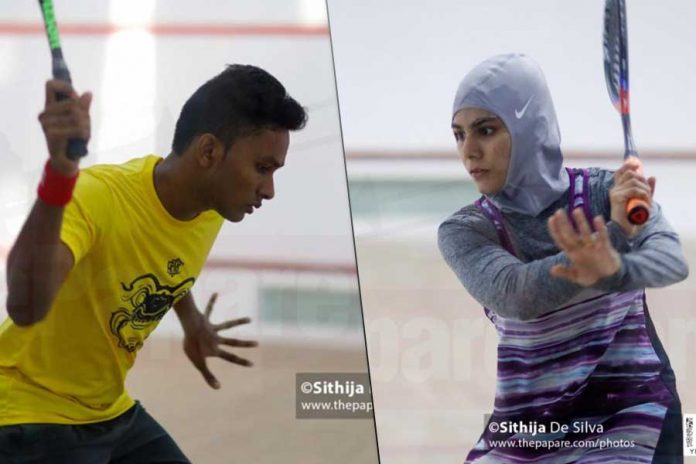 The SAG Bronze medalists and history-making squash stars Fathoum Issadeen and Ravindu Laksiri dominated the recently concluded SLS Open Squash Tournament final on the 26th January at the SSC squash court.
The SLS Open squash tournament is the first open ranking tournament of the local squash arena for this decade, drawing many adolescents and senior talents from all around the island.
The SAG contenders Fathoum Issadeen and Ravindu Laksiri claimed the Women's and Men's Open Championships, defeating national teammates Kasuni Gunawardena and Gihan Suwaris in their respective finals.
The Women's final was an exciting one with the two top-ranking squash players in the women's category battling it out for the title. 
The defending national champ beat Kasuni Gunawardena with a 3-0 scoreline; with the scores reading 11/7, 11/3, 11/3 to retain the championship title. Kasuni managed to put up a good fight against her national teammate while Sameera Deen defeated D Gallage in the 3rd-4th play-off.
>>The winners and runners up of the SLS Open Tournament 2020<<
The Men's final was a battle of the current number one ranked player Ravindu Laksiri and the experienced campaigner Gihan Suwaris. The first set was a win for Ravindu Laksiri as scores read 11/8, 11/6 in the first two sets. The third set much was crucial to Suwaris if he wanted to keep the game alive, but Ravindu managed to win the third set of the game 11/6 to take home the title. The 3rd-4th play-off match was won by M. Hakeem against MAM Ushama.
Sri Lanka's most well-known Squash player Ravindu Laksiri held onto his 7 th Read: Maiden title for …….
>>Click here for more Squash<<