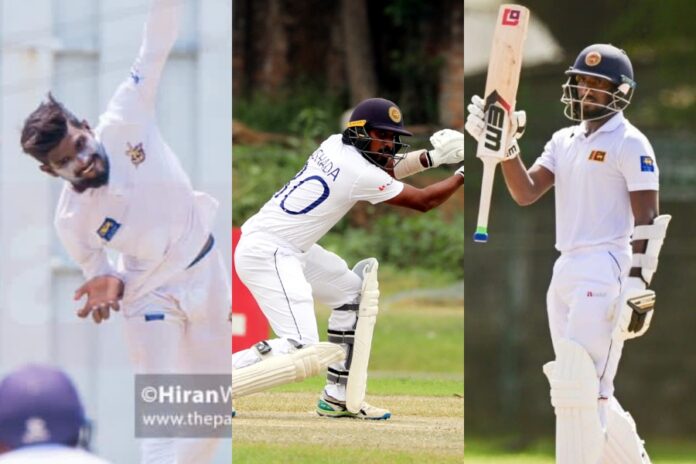 Nishan Madushka continued his stunning form, scoring another fine century for Ragama Cricket Club today (10th September) in the SLC Major League Tournament 2022.  
23-year old Madushka, the leading run-scorer of the tournament, stroked his 4th century in 5 innings. He made 107, 62, 300*, 100* and 150 in his last 5 outings with the bat.
Sri Lanka's Test opening batter Oshada Fernando stroked a classy half-century for Ace Capital Cricket Club against Nugegoda Sports and Welfare Club. Fernando made an unbeaten 93 runs off 155 balls with 4 fours and a six.
Navin Kavikara of Navy Sports Club and Suwath Mendis of Nugegoda Sports & Welfare Club lit up the day with brilliant all-round performances for their respective clubs. Kavikara scored 55 runs and picked up 6 wickets for 159 with the ball, while Mendis starred with the bat, scoring 63 runs while dismissing 4 scalps for 44.
Lakshan Rodrigo (95), Shalin de Mel (92), Sukitha Manoj (89) and Manelker De Silva (81) stamped their authority with brilliant knocks with the bat, while Nimesh Vimukthi and Methushan Thilina stood up with the ball taking 5-wicket hauls.
Brief Scores
Navy Sports Club 190 (67.4) Lahiru Jayakody 46, Asantha Singappuli 38, Sahan Kosala 34, Sachithra Senanayake 29, Chalana De Silva 5/84, Parvez Rasool 4/70 & 160/9 (42) Navin Kavikara 55*, Adeesha Nanayakkara 21, Supun Leelaratne 21, Parvez Rasool 5/53, Chalana De Silva 3/84

Badureliya Cricket Club 359 (77.5) Parvez Rasool 135*, Gihan Rupasinghe 75, Malindu Maduranga 45, Rameez Alam 27, Alankara Asanka Silva 26, Ranesh Silva 20, Navin Kavikara 6/159, Sachithra Senanayake 4/121

Stumps – Day 2

Burgher Recreation Club 160 (47.1) Malinda Jayod 44, Lahiru Samarakoon 30, Tillakaratne Sampath 24, Eshan Malinga 4/39, Janith Liyanage 3/33, Kalhara Senarathne 2/25 & 41/1 (14) Leo Fransisco 26*

Ragama Cricket Club 413/9d (118) Nishan Madushka 107, Dulaj Bandara 74*, Janith Liyanage 71, Nipun Malinga 35, Saminda Fernando 35, Sanjula Bandara 31, Tillakaratne Sampath 2/53, Malka Madusanka 2/56, Duvindu Tillakaratne 2/60, Dushan Hemantha 2/133

Stumps – Day 2

Galle Cricket Club 231 (105.1) Kavindu Ediriweera 54, Chathura Lakshan 41, Raghu Sharma 29, Dilshan Kanchana 24, Sameen Kandanearachchi 20, Methushan Thilina 5/80, Ravindra Karunaratne 2/33 & 38/0 (13) Dilshan Kanchana 20*

Kandy Customs Sports Club 146 (56.2) Irosh Samarasooriya 46, Harindu Jayasekera 40, Methushan Thilina 20*, Raghu Sharma 7/56

Stumps – Day 2

Panadura Sports Club 426/9d (125.1) Parth Palawat 96, Lakshan Rodrigo 95, Roshan Wijenayake 77, Abhishek Gupta 48, Pawan De Silva 46, Tharindu Kaushal 27, Chanaka Komasaru 4/126, Hasnain Bokhari 2/79

Bloomfield Cricket and Athletic Club 111/6 (52) Gajitha Kotuwegoda 32, Charitha Kumarasinghe 24, Nimesh Vimukthi 5/39

Stumps – Day 2

Chilaw Marians Cricket Club 391 (131.1) Gaurav Jathar 139, Raveen Yasas 87, Anuj Jotin 74, Ayon Fernando 43, Avindu Theekshana 20, Sandun Mendis 4/123, Kavika Dilshan 4/130

Saracens Sports Club 139/4 (49) Sithara Gimhan 36, Nipun Karunanayake 27*, Navindu Vithanage 27, Daniyal Hussain 25, Sheshan Silva 2/32

Stumps – Day 2

Kurunegala Youth Cricket Club 306 (83) Dinushka Malan 72, Dhanushka Dharmasiri 58, Damith Perera 56, Lahiru Jayaratne 24, Sanjeewan Priyadharshana 21, Miranga Wickramage 3/37, Rajeewa Weerasinghe 3/75, Yasiru Rodrigo 2/54, Sandun Abeyawardhana 2/58 & 84/1 (17) Mohammad Mohsin 55*

Lankan Cricket Club 174 (70.4) Yasiru Rodrigo 33*, Shehan Fernando 31, Miranga Wickramage 27, Dinushka Malan 3/30, Sakidu Wijerathna 3/47

Stumps – Day 2

Nondescripts Cricket Club 282 (69.4) Sandun Weerakkody 95, Lahiru Udara 59, Nipun Ransika 25, Vinuka Rubasinghe 25, Lasith Embuldeniya 22, Kaumal Nanayakkara 5/76 & 149/6 (48.1) Sahan Arachchige 36. Lahiru Udara 34, Asel Sigera 32*. Sandun Weerakkody 24, Kaumal Nanayakkara 3/39, Asanka Manoj 2/35

Army Sports Club 108 (48.3) Dinesh Chandimal 27, Mahesh Kumara 24, Thulina Dilshan 21, Ashian Daniel 4/30, Lasith Embuldeniya 3/29, Raveen Sayer 2/2

Stumps – Day 2

Sinhalese Sports Club 394/5d (88) Manoj Sarathchandra 110*, Nuwanidu Fernando 100, Lakshitha Manasinghe 86, Sammu Ashan 73, Deshan Seneviratne 3/61

Kalutara Town Club 204 (69.1) Sukitha Manoj 89, Hiruna Sigera 31, Tharindu Siriwardene 22, Prabath Jayasuriya 4/62, Nimnaka Jayathilake 2/23 & 50/2 (18)

Stumps – Day 2

Colombo Colts Cricket Club 125 (40.2) Dhananjaya Lakshan 30, Sangeeth Cooray 21, Hashan Dumindu 20, Vishwa Fernando 5/36, Malinda Pushpakumara 3/22 & 136/5 (48) Shalin De Mel 92, Avishka Perera 21, Malinda Pushpakumara 3/51

Colombo Cricket Club 236 (78.1) Minod Bhanuka 68, Chamindu Wijesinghe 56, Pavan Rathnayake 30, Malinda Pushpakumara 25, Dunith Wellalage 3/52, Dhananjaya Lakshan 2/31, Sangeeth Cooray 2/45, Kavishka Anjula 2/77

Stumps – Day 2

Police Sports Club 107 (36.4) Lahiru Diyantha 24, Supun Madushanka 22, Tharindu Ratnayake 7/47, Chamikara Edirisinghe 2/36 & 214/8 (71) Chathuranga Kumara 51, Uday Kaul 42, Supun Madushanka 34, Nadeera Balasooriya 27, Chamikara Edirisinghe 3/80, Shashrika Pussegolla 2/41, Tharindu Ratnayake 2/7

Sebastianites Cricket and Athletic Club 218 (68.1) Manelker De Silva 81, Akshdeep Nath 71, Nuwan Pradeep 4/54, Lahiru Diyantha 2/35, Supun Madushanka 2/49

Stumps – Day 2

Nugegoda Sports & Welfare Club 322 (101.3) Murtaza Trunkwala 123, Suwath Mendis 63, Aravinda Premaratne 35, Rahul Gunasekera 24, Roshan Jayatissa 4/79, Sithum Disanayaka 2/83 & 28/1 (17)

Ace Capital Cricket Club 197 (56.5) Oshada Fernando 93*, Pramud Hettiwatte 48, Suwath Mendis 4/44, Aravinda Premaratne 3/17, Chaminda Bandara 2/41

Stumps – Day 2

Tamil Union Cricket and Athletic Club 345 (89.5) Ravindu Fernando 67, Navod Paranavithana 61, Dilum Sudeera 52, Ron Chandraguptha 46, Kavindu Pathiratne 30, Sadeera Samarawickrama 24, Sithara Hapuhinna 27, Gayan Sirisoma 5/135, Dulanjana Mendis 3/71 & 117/3 (30.5) Navod Paranavithana 42, Kamesh Nirmal 30*, Ron Chandraguptha 22, Dulanjana Mendis 2/20

Air Force Sports Club 209 (60.2) Udayawansha Parakrama 49, Movin Subasingha 45, Kalana Wijesiri 29, Deshan Fernando 27, Lasanda Rukmal 26, Dilum Sudeera 4/85, Ravindu Fernando 4/73

Stumps – Day 2