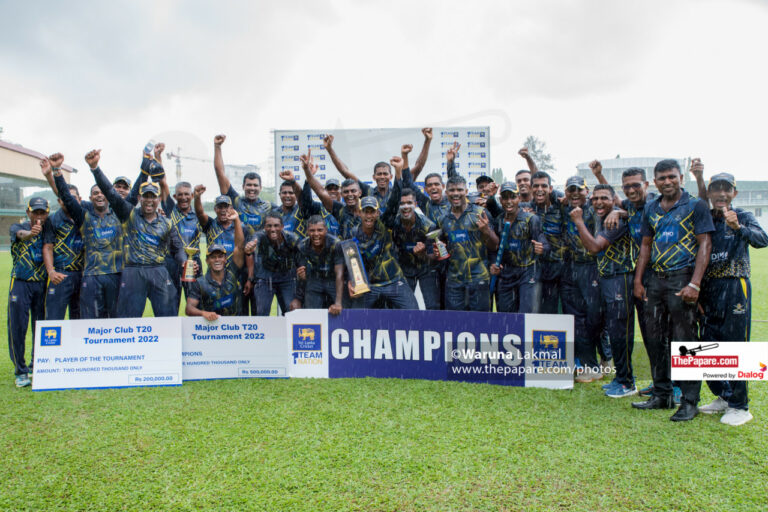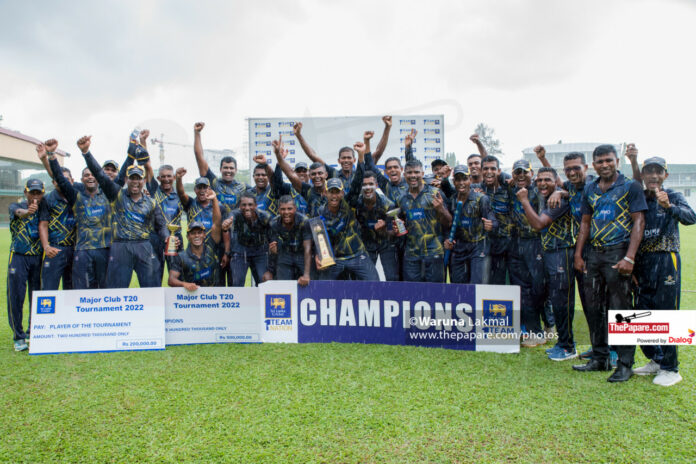 SLC Major Clubs T20 Tournament organized by Sri Lanka Cricket will be played from 27th May to 11th June.
22 Teams are segregated into four groups and the winner of each group will advance to the semi-finals of the competition. The final of the tournament will be played on the 11th June at SSC Grounds, Colombo.
The defending champions Army Sports Club will compete in Group A while the last year's runner up Colts Cricket Club will compete in the Group B.
Groups
| | | | |
| --- | --- | --- | --- |
| Group A | Group B | Group C | Group D |
| ARMY SC | COLTS CC | ACE CAPITAL CC | BRC |
| PANADURA SC | RAGAMA CC | SSC | MOORS SC |
| AIR FORCE SC | SEBASTIANITES C & AC | TAMIL UNION C & AC | GALLE CC |
| POLICE SC | NUGEGODA S & WC | BADURELIYA CC | CCC |
| NCC | BLOOMFIELD C & AC | KURUNEGALA YCC | KANDY CUSTOMS CC |
| CHILAW MCC | | | NEGOMBO CC |
Schedule
| | | | | |
| --- | --- | --- | --- | --- |
| Date | Time | Team 1 | Team 2 | Venue |
| 27th May | 10 am-1.10pm | ARMY SC | CHILAW MCC | P.Sara |
| | 2pm-5.10pm | MOORS SC | KANDY CUSTOMS SC | P.Sara |
| | 10am-1.10pm | PANADURA SC | NCC | Surrey |
| | 2pm-5.10pm | GALLE CC | CCC | Surrey |
| 28th May | 10 am-1.10pm | RAGAMA CC | BLOOMFIELD C & AC | SSC |
| | 2pm-5.10pm | BADURELIYA CC | TAMIL UNION C &AC | SSC |
| | 10am-1.10pm | NUGEGODA S & WC | SEBASTIANITES C & AC | P.Sara |
| | 2pm-5.10pm | SSC | KURUNEGALA YCC | P.Sara |
| | 10am-1.10pm | AIR FORCE SC | POLICE SC | Panagoda |
| | 2pm-5.10pm | BRC | NEGOMBO CC | Panagoda |
| 29th May | 10 am-1.10pm | AIR FORCE SC | PANADURA SC | CCC |
| | 2pm-5.10pm | NCC | ARMY SC | CCC |
| | 10am-1.10pm | CCC | NEGOMBO CC | NCC |
| | 2pm-5.10pm | POLICE SC | CHILAW MCC | NCC |
| | 10am-1.10pm | GALLE CC | MOORS SC | Panagoda |
| | 2pm-5.10pm | BRC | KANDY CUSTOMS SC | Panagoda |
| 30th May | 10 am-1.10pm | KURUNEGALA YCC | ACE CAPITAL | CCC |
| | 2pm-5.10pm | BLOOMFIELD C & AC | COLTS CC | CCC |
| | 10am-1.10pm | TAMIL UNION C &AC | SSC | NCC |
| | 2pm-5.10pm | SEBASTIANITES C & AC | RAGAMA CC | NCC |
| 31st May | 10 am-1.10pm | CHILAW MCC | PANADURA SC | SSC |
| | 2pm-5.10pm | BRC | CCC | SSC |
| | 10am-1.10pm | NCC | AIR FORCE SC | P.Sara |
| | 2pm-5.10pm | KANDY CUSTOMS SC | Galle CC | P.Sara |
| | 10am-1.10pm | ARMY SC | POLICE SC | Surrey |
| | 2pm-5.10pm | NEGOMBO CC | MOORS SC | Surrey |
| 1st June | 10 am-1.10pm | COLTS CC | NUGEGODA S & WC | SSC |
| | 2pm-5.10pm | ACE CAPITAL | BADURELIYA CC | SSC |
| | 10am-1.10pm | BLOOMFIELD C & AC | SEBASTIANITES C & AC | NCC |
| | 2pm-5.10pm | KURUNEGALA YCC | TAMIL UNION C &AC | NCC |
| 2nd June | 10 am-1.10pm | GALLE CC | BRC | CCC |
| | 2pm-5.10pm | PANADURA SC | POLICE SC | CCC |
| | 10am-1.10pm | MOORS SC | CCC | Panagoda |
| | 2pm-5.10pm | CHILAW MCC | NCC | Panagoda |
| | 10am-1.10pm | NEGOMBO CC | KANDY CUSTOMS SC | NCC |
| | 2pm-5.10pm | AIR FORCE SC | ARMY SC | NCC |
| 4th June | 10am-1.10pm | NEGOMBO CC | Galle CC | P.Sara |
| | 2pm-5.10pm | CHILAW MCC | AIR FORCE SC | P.Sara |
| | 10am-1.10pm | ARMY SC | PANADURA SC | Surrey |
| | 2pm-5.10pm | POLICE SC | NCC | Surrey |
| 5th June | 10am-1.10pm | BADURELIYA CC | KURUNEGALA YCC | P.Sara |
| | 2pm-5.10pm | ACE CAPITAL | SSC | P.Sara |
| 6th June | 10 am-1.10pm | BRC | MOORS SC | SSC |
| | 2pm-5.10pm | CCC | KANDY CUSTOMS SC | SSC |
| | 10 am-1.10pm | COLTS CC | RAGAMA CC | CCC |
| | 2pm-5.10pm | NUGEGODA S & WC | BLOOMFIELD C & AC | CCC |
| 7th June | 10 am-1.10pm | TAMIL UNION C &AC | ACE CAPITAL | NCC |
| | 2pm-5.10pm | SEBASTIANITES C & AC | COLTS CC | NCC |
| | 10am-1.10pm | SSC | BADURELIYA CC | P.Sara |
| | 2pm-5.10pm | RAGAMA CC | NUGEGODA S & WC | P.Sara |
| | | | | |
| 9th June | 10 am-1.10pm | Winner Group-A | Winner Group-D | P.Sara |
|  (Semi-Finals) | 2pm-5.10pm | Winner Group-B | Winner Group-C | P.Sara |
| | | | | |
| 11th June (Final) | 10am- 1.10pm | Winner Semi Final 1 | Winner Semi Final 2 | SSC |