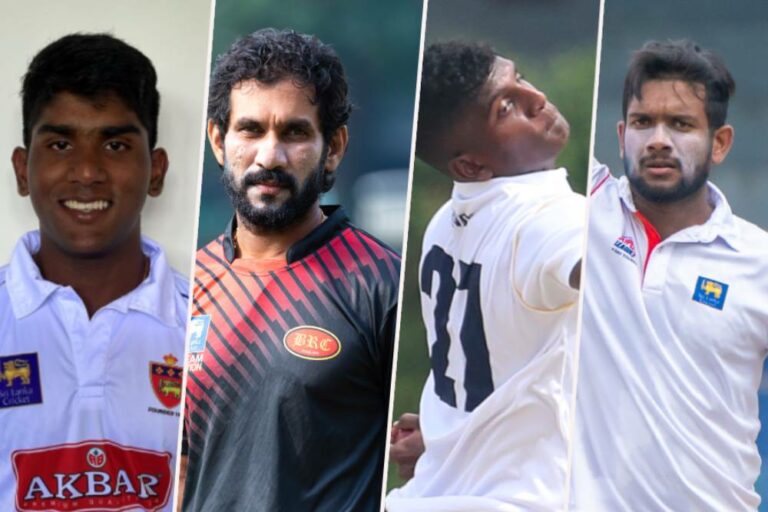 Eight matches of the SLC Major Clubs 3-Day Tournament 2023 concluded today (7th November) at several venues across the island.
The left-arm spinner Wanuja Sahan picked up a match bag of 10 wickets to lead Ace Capital CC to a thrilling 1-wicket win over Moors SC. Sahan grabbed 4 wickets for 49 runs in the first innings and bettered his performance in the second innings, claiming 6 wickets for 53 runs.
>>NCC ride on Upul Tharanga's brilliance to edge out Day 1 honours
Sri Lanka's premier Test off-spinner Ramesh Mendis playing for Moors SC also shone with the ball, claiming 8 wickets for 84 runs in the match.
The seven remaining games ended in draws, but there were some significant individual performances with both bat and ball. Shevon Daniel, T. M. Sampath, Lahiru Udara and Ashen Bandara stood out with the bat, scoring brilliant centuries for their respective clubs.
Daniel scored an unbeaten 137 runs off 147 balls with 11 fours and 7 sixes for SSC, while TM Sampath hit 133 runs off 202 balls with 4 fours and 5 sixes for Nugegoda S & WC. Lahiru Udara and Ashen Bandara came up with more aggressive stroke play to hit blistering centuries.
Udara stroked 123 runs off 85 balls with 10 fours and 6 sixes, while Bandara made an unbeaten 102 runs off 84 balls with 5 fours and 4 sixes.
>>Kandy Customs beat Negombo CC; Subasinghe, Vidura, Abeyrathna stroke tons
In terms of bowling performances, Ramesh Mendis, Nalin Priyadarshana, Gayan Sirisoma, Chamod Sandaru, Chanaka Komasaru, Movin Subasinghe, Malinda Pushpakumara stood out above the rest, taking 5-wicket hauls for their respective clubs.
Brief Scores 
Moors Sports Club – 159 (54.5) Ramesh Mendis 45, Wanuja Sahan 4/49, Roshan Jayatissa 3/50, Sithum Dissanayake 2/21 & 152 (39.2) Sohan de Livera 47, Mohammed Shamaaz 42, Ramesh Mendis 33, Wanuja Sahan 6/53, Roshan Jayatissa 2/57

Ace Capital Cricket Club – 181 (58) Pawantha Weerasinghe 63, Sithara Gimhan 26, Ravindu Rathnayake 20, Ramesh Mendis 3/34, Praveen Jayawickrama 3/48, Thilanga Udeshana 2/21 & 131/9 (38.5) Roshan Jayatissa 40, Sakuna Liyanage 25*, Ravindu Rathnayake 24, Ramesh Mendis 5/50, Milan Rathnayake 2/17, Praveen Jayawickrama 2/40

Result – Ace Capital CC won by 1 wicket
Nondescripts Cricket Club – 301 (71.3) Upul Tharanga 92, Kavin Bandara 60, Niroshan Dickwella 34, Lahiru Udara 32, Ashian Daniel 32, Chanaka Komasaru 5/97, Parvez Rasool 4/150 & 221/3 (29) Lahiru Udara 123, Sahan Arachchige 41*, Niroshan Dickwella 35, Parvez Rasool 2/114

Badureliya Sports Club – 273 (92) Anuk Fernando 58, Parvez Rasool 58, Ranesh Silva 57, Adil Reshi 51, Lasith Embuldeniya 4/108, Sampath Nishshanka 2/17

Result – Match Drawn
Tamil Union Cricket & Athletic Club – 248 (70.5) Ravindu Fernando 90, Dilum Sudeera 45*, Vijayakanth Viyaskanth 34, Ron Chandraguptha 29, Sithara Hapuhinna 21, Rajinda Punchihewa 7/50, Lasith Lakshan 3/79 & 216/7d (39.1) Navod Paranavithana 85, Kamesh Nirmal 63, Ron Chandraguptha 26, Chamod Sandaru 5/49

Chilaw Marians Cricket Club – 206 (57.3) Kasun Vidura 60, Vishwa Chathuranga 28, Lasith Lakshan 25, Shiran Fernando 3/33, Dilum Sudeera 3/52, Vijayakanth Viyaskanth 2/22, Ravindu Fernando 2/64 & 51/3 (11) Vishwa Chathuranga 20, Dilum Sudeera 2/15

Result – Match Drawn
Negombo Cricket Club – 268 (102) Jatin Saxena 77, Himasha Liyanage 42, Madawa Warnapura 36, Pasindu Thirimadura 35, Suwath Mendis 4/32, Dilshan Abeysinghe 3/35, Lahiru Gamage 2/61 & 26/1 (12)

Nugegoda Sports and Welfare Club – 179 (67.5) T M Sampath 133, Chanura Fernando 3/36, Jatin Saxena 2/8, Upul Indrasiri 2/56

Result – Match Drawn
Air Force Sports Club – 255 (82.2) Chanaka Ruwansiri 85, Kemira Wijenayake 54, Geeth Kumara 40, Movin Subasinghe 34, Malinda Pushpakumara 5/92, Charuka Pramodh 2/18, Supun Madushanka 2/50 & 122/8d (44.4) Geeth Kumara 43, Vihanga Ruwanara 23, Nalin Priyadarshana 5/65, Malinda Pushpakumara 3/31

Police Sports Club – 101 (29.2) Danuja Induwara 45,Movin Subasinghe 5/36, Chanaka Ruwansiri 2/10, Dulanjana Mendis 2/14 & 218/6 (40.4) Ashen Bandara 102*, Supun Madusanka 25, Dhanuja Induwara 23, Tharusha Silva 22, Movin Subasinghe 2/43

Result – Match Drawn
Galle Cricket Club – 183 (61.3) Oshada Fernando 70, Harsha Withana 42, Vishwa Wijerathna 27, Gayan Sirisoma 5/51, Buddika Sanjeewa 3/44

Kandy Customs Sports Club – 109/5 (27.1) Sameen Kanadanearachchi 45, Sadeesh Jayawardena 21, Sahan Kosala 21, Sachithra Perera 2/49

Result – Match Drawn
Sinhalese Sports Club – 237/3d (49) Shevon Daniel 137*, Avishka Fernando 36, Asela Sampath 2/62

Panadura Sports Club – 93/6 (23) Sukitha Manoj 36*, Samarth Seth 24, Nisala Tharaka 2/14, Prabath Jayasuriya 2/47

Result – Match Drawn
Colombo Cricket Club – 140/5 (34) Lasith Croospulle 62, Shyamsunder Krishnasriram 3/54, Akila Dananjaya 2/34

Colts Cricket Club

Result – Match Drawn