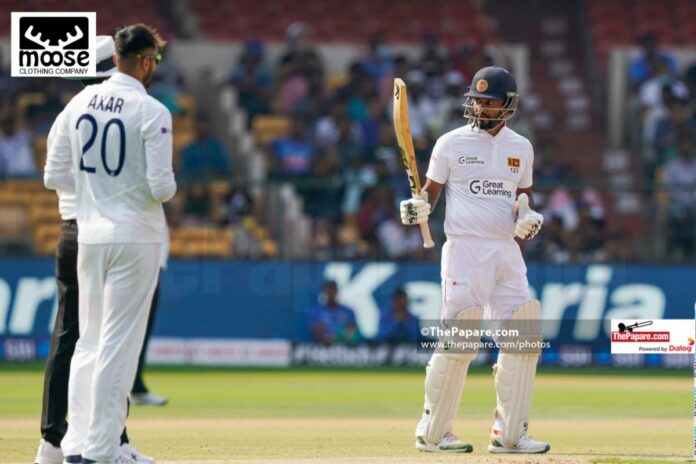 Captain Dimuth Karunaratne this week reached his career best ICC Ranking when he emerged as the number five ranked batter in the world. In the lead up to the pink ball Test in Bangalore, the 33-year-old was placed eighth. A fine hundred, his 14th, saw him pole-vaulting three positions.
In the last five years, Virat Kohli, Steve Smith, Joe Root and Kane Williamson have remained the world's top four batters, scoring loads of runs for their teams. While Kohli has fallen off the radar in the last six months, South African born Australian batter Marnus Labuschagne has joined the Fab Four. Dimuth is not far behind, having hit a purple patch last January. Since then, in nine Test matches, Dimuth has scored five hundreds and three half-centuries.
This year Sri Lanka are set to play a lot of Test match cricket and you can expect Dimuth to knock off some barriers and reach new milestones. His Test average has rapidly improved in the last 15 months and it's on the verge of touching 40 for the first time. Currently, he is on 39:57 and once he reaches that mark of 40, he will be recognized as one of the finest opening batsmen to play the game and probably the best Sri Lanka has produced.
Among Sri Lanka's openers only T.M. Dilshan (40:98) and Sanath Jayasuriya (40:07) averaged above the benchmark of 40 and both of them were makeshift openers and by nature attacking players. Dimuth is the old school type of opener who relies on a solid defense and plays long vigils.
This year, Sri Lanka is left with eight Test matches. Altogether, the team would have played ten Tests by the end of 2022. This gives a fine opportunity for Dimuth to finish the year as the world's highest run getter. Last year he finished as the world's third highest run scorer with 902 runs  in seven Tests while Joe Root topped the table after 15 Tests and Rohit Sharma finished second having played 11 Tests.
If Dimuth tops the run chart, it will be a key milestone for Sri Lanka as it will be the first time since 2014 they will have a top run getter in Test cricket. That was a remarkable year for Sri Lankan cricket as Kumar Sangakkara finished the year as highest run getter in the world in both Test and ODI cricket while Angelo Mathews was a close second in both formats. Since then, it has all been downhill.
In a team sport like cricket, you should not delve too much into individual performance. But sometimes when a team is struggling, a single player needs to bail out the team time and again. That's what Dimuth has done for Sri Lanka.
Time was when Sri Lanka's fortunes heavily depended on the shoulders of Aravinda de Silva. Similarly, Zimbabwe banked too much on Andy Flower and in recent times Shakib Al Hasan has been an indispensable member of the Bangladesh side.
Sri Lanka owe last year's Test series wins to the brilliance of Dimuth.
Dimuth's 14 Tests hundreds is now on par with Sanath Jayasuriya's tally. A total of 25 Test hundreds and 8000 runs are realistic goals for Dimuth at the moment or perhaps he would want to target 30 hundreds.
One gets the feeling that Dimuth is expanding his game and we will see more consistency from him moving forward. Until last year, apart from hundreds at home, he had only touched three figures in UAE and New Zealand. Then there was a massive breakthrough at the Wanderers as Dimuth was a cut above the rest of his teammates and now again in Bangalore where India's formidable attack was too good for the Sri Lankan batters.
India's attack comprising Bumrah, Shami, Ashwin, Jadeja and Patel was absolutely sensational. Apart from their wicket taking ability, what was very impressive was the manner in which they created the pressure and it was just a matter of time before good deliveries accounted for batsmen.
Despite a terribly one-sided series, Dimuth's effort was an assurance to the Indian fans that all is not doom and gloom with cricket in Sri Lanka.
A maiden Test win on Indian soil was wishful thinking but it is guys like Dimuth who are making us live in hope. A lot of people say that his captaincy was not spectacular but sadly he doesn't have much say in planning. Pity that we didn't play the First Class tournament before the Indian series. That would have been some good preparation against a team that is ranked second.
Interestingly, Sri Lanka drew two Tests during their last tour to India. This time losing both games inside three days is indication that we have headed in the wrong direction. We need to come out of the slump.