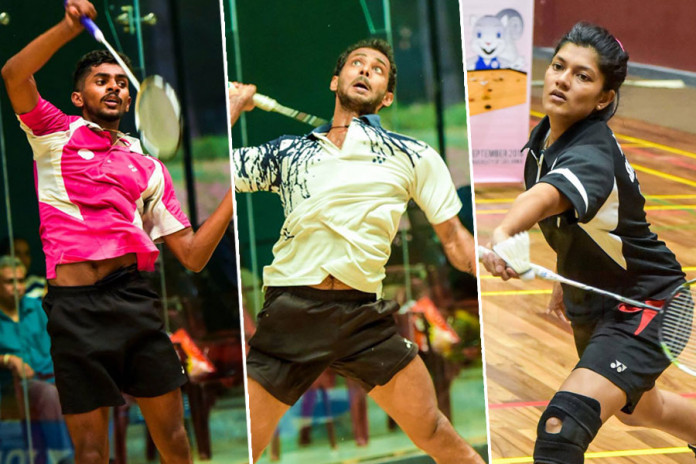 The seven-member Sri Lanka contingent for the Badminton Asia Championship took flight to China ahead of the Badminton Asia Championship 2017 which is set to take place in the Wuhan district from the 25th to the 30th April.
The shuttlers who left the country are the country's top seeded players who will look to improve on their respective world rankings. The Sri Lankans will need to play a qualifier before they get entry to the main draw due to the intensity of the competition.
Champion shuttler and Olympian Niluka Karunaratne retained his national Mens' Open Singles title for the sixteenth time running..
World rank 67th and Sri Lanka national champion, Niluka Karunaratne will be playing the Men's Singles qualifier ahead of the main draw and will play Ahmad Alshannik of Jordan and Artyom Savatyugin of Uzbekistan in the group D.
The recently crowned Brazil International Series champion should easily make it to the main draw and it will be competitive action from there onwards. The Men's singles draw includes the top seeded players such as Lee Chong Wei, Lin Dan and Tian Houwei.
The sports minister Dayasiri Jayasekara has decided to dissolve the newly appointeD..
Lekha Shehani will be playing the Women's Singles qualifier and has a tough challenge being grouped in the group D in the qualifiers. Shehani has a world ranking of 741 and will need to top the group to get into the main draw.
The Sri Lankan national doubles champions Sachin Dias and Buwenaka Goonathileke will be the representation in the Men's Doubles. They too will play the qualifiers before making it to the main draw.
Achini Ratnasiri and Upuli Samanthika Weerasinghe will be battling it out in the Women's Doubles qualifier and will need to win against Ng Tsz Yau and Yeung Nga Ting of Hong Kong to make it through.
Sachin Dias will later pair up with Thilini Hendahewa for the Mixed Doubles contest which they must battle out from the qualifiers. Sri Lanka will meet the Chinese Taipei duo Yang Lee & Hsu Ya Ching.