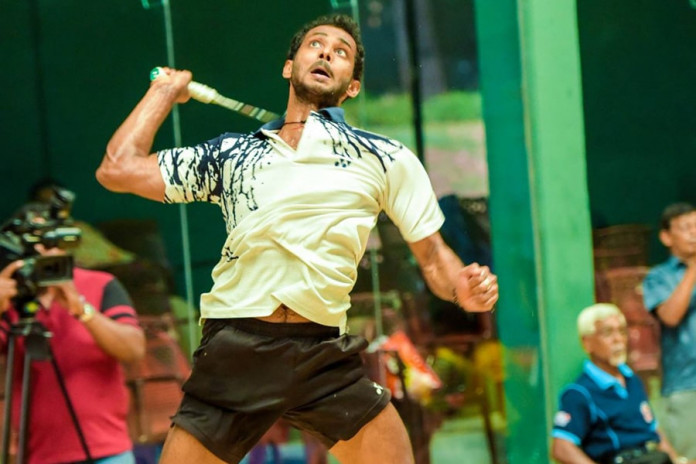 Champion shuttler and Olympian Niluka Karunaratne retained his national Mens' Open Singles title for the sixteenth time running, defeating his younger sibling Chamika Karunaratne in finals that were played at the VIR Army Camp Badminton Stadium in Kurunegala last weekend.
The Sri Lanka Junior and Senior National Championship took place in collaboration with the national body and the schools' body for the first time and in the Sri Lanka Badminton Association's purview of taking the racket sport outside of the Colombo metropolitan, the tournament took place in Kurunegala hosted by the Kurunegala Badminton Association.
Defending champion Niluka Karunaratne gained entrance to the finals defeating Sachin Dias in the semi-finals while Chamika Karunaratne defeated elder sibling Dinuka Karunaratne 2-0 to make it to the finals.
It was another easy call for Niluka Karunaratne in the finals as he defeated Chamika Karunaratne 2-0 to win his 16th title. From winning his first national title in the year 2001, Niluka has been phenomenal to keep up his form for a record sixteen-year streak.
Meanwhile, Thilini Hendahewa secured the Women's Open Singles title for the year 2016 defeating Kavindi Ishadika in the finals winning the tie 2-0. Thilini defeated Achini Ratnasiri in the semi-finals to get her ticket to the finals.
However, the most intense competition in the tournament was the Men's Open Doubles final that took place between the Karunaratne siblings; Niluka and Dinuka competing against Buwaneka Gunathilake and Sachin Dias. After fierce competition, it was the Gunathilake-Dias duo who overpowered the Karunaratne siblings to win the title 2-1.
Thilini Hendahewa teamed up with her finals opponent Kavindi Ishadika to win the Women's Open Doubles defeating the Achini Ratnasiri-Upuli Samanthika duo.
The event was graced by the presence of Hon. Minister of Sports Dayasiri Jayasekara who was also present for the awards ceremony.