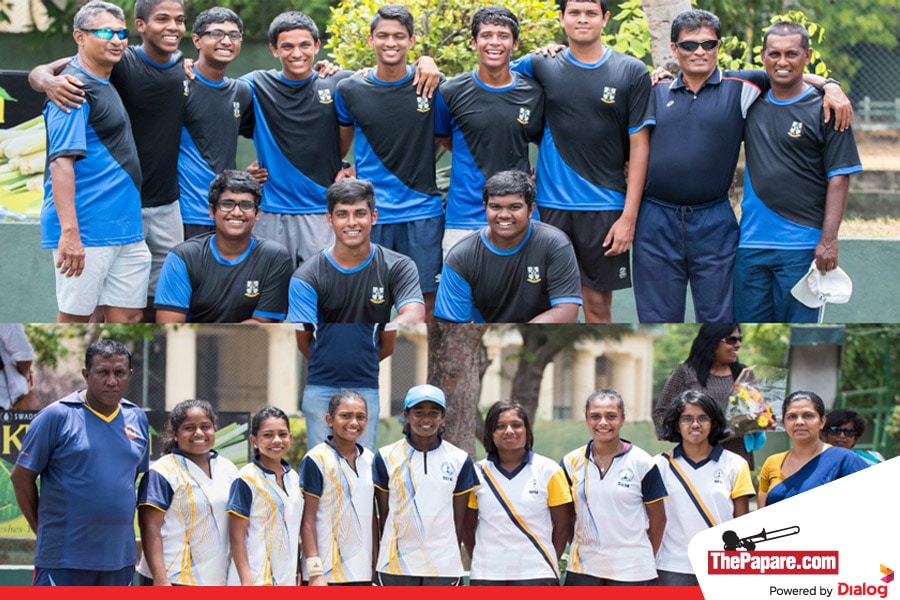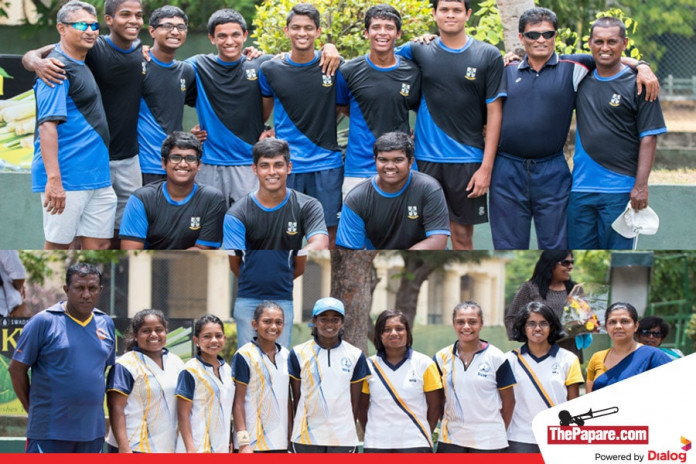 S. Thomas' College Mount Lavinia and Visakha Vidayalaya retained their National School Games under 19 Tennis championship titles defeating St. Peter's College and Ladies' College respectively at the Sri Lanka Tennis Association (SLTA) courts a short while ago.
The National School Games Tennis Championship that saw a start at the SLTA courts on the 3rd of September witnessed a participation of over 20 schools from around the island competing for the prestigious silverware.
The under 19 tennis championship is a team event where each school plays two singles and a doubles encounter, and the respective teams are drawn accordingly before the tournament. The Thomians made their way to the finals of this year's Boys' Championship defeating Ananda College 2-0 while their counterparts, St. Peter's College fended off Royal College 2-0.
Setting the winning tone, Viranka Fernando of S. Thomas' College took his team to a formidable 1st Single victory defeating Isuru Wijeratne 6-0, 6-2. With S. Thomas' one game up, it was the junior champion Avindra Perera who did the rest of the work for the lads from Mount Lavinia, winning the 2nd Single 6-0, 6-2 against Udayachandra Srinath of St. Peter's.
The Girls' battle for silverware was no different to that of the Boys' where it was Visakha's top two seeds Nethmi Waduge and Hasindhi Lokuge who did the needful to retain the title for another year. Waduge went on to defeat Anika Seneviratne 7-5, 6-3 to take the 1st Single while Hasindhi Lokuge whitewashed Sethara Ambawatte 6-0, 6-0 to win the final tie 2-0.
With this win, both Visakha Vidyalaya and S. Thomas' finish off their tennis season taking home the All Island Public Schools' under 19 title as well as the National School Games trophy.
The third-place play-off in the girls' category held between Bishop's College, and Holy Family Convent came down to the wire in the final 2nd Single involving Janali Manamperi of HFC and Savini Jayasuriya of BC. The last set of the game went down to the tie-breaker and at the end it was Manamperi who took her team to victory. The final scores of the encounter read 4-6, 6-0, 7-6(7) in favour of the Familian.
The Boys' playoff went to the Anandians who outwitted Royal College to win the tie 2-0. For Ananda it was Vibuda Wijebandara and Nuwantha Dissanayake who won their respective 1st and 2nd Singles.
Girls' Final Results:
Nethmi Waduge (VV) defeated Anika Seneviratne (LC) 7-5, 6-3
Hasindhi Lokuge (VV) defeated Sethara Ambawatte (LC) 6-0, 6-0
Boys' Final Results:
Viranka Fernando (STC) defeated Isuru Wijeratne (SPC) 6-0, 6-2
Avindra Perera (STC) defeated Udayachandra Srinath (SPC) 6-2, 6-0
Third Place Play-off Girls'
Vitini De Alwis (BC) defeated Kaveesha Thevarapperuma (HFC) 6-2, 6-3
Tarah Grieg & Fathoum Issadeen (HFC) defeated Isuni Dharmasiriwardena & Senithi Weerasekara (BC) 6-0, 6-4
Janali Manamperi (HFC) defeated Savini Jayasuriya (BC) 4-6, 6-0, 7-6(7)