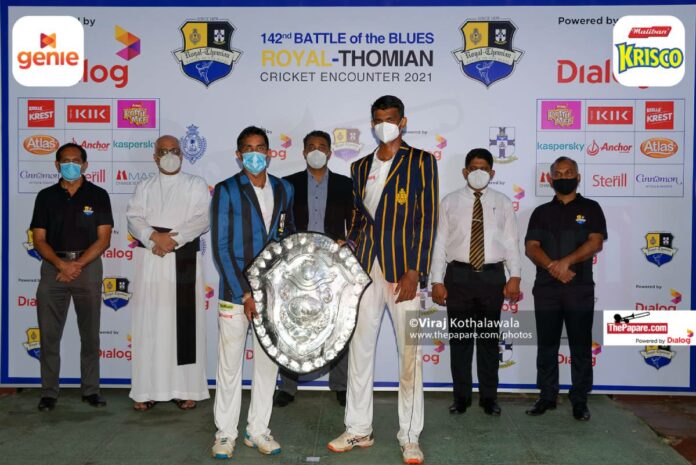 The 142nd Battle of the Blues came to a close as a draw after three days of frustration due to rain.
After several postponements due to the COVID-19 pandemic, the revered Battle of the Blues for the year 2021 is finally unfolded behind closed doors at Sinhalese Sports Club.
The Royal team led by former Sri Lanka U19 cap, Ahan Wickramasinghe, took on the Shalin de Mel-led Thomian outfit for the coveted D. S. Senanayake Memorial Shield.
Having lost a day and a half to Sri Lankan monsoons, this 142-year long battle got underway on the 2nd afternoon, thanks to the unwavering efforts of the ground staff and the organisers.
As the pitch was under the covers for over 24 hours at a stretch, it was crucial that you win the toss and bowl first. The blood-red Dukes ball and the grey cloud cover were an added bonus.
The luck was in favour of the Royalist with the toss, but what unfolded after that cannot be credited to the fortune's account.
Royal College Playing XI: Ahan Wickramasinghe (C), Kavindu Pathirathne, Sehan Herath (WK), Gishan Balasooriya, Sonal Amarasekara, Prashan Kalhara, Isivara Dissanayake, Dasis Manchanayake, Sineth Jayawardena, Dan Poddiwela, Sadisha Rajapaksa.

S. Thomas' College Playing XI: Shalin de Mel (C), Ryan Fernando, Yasiru Rodrigo, Caniston Gunaratnam, Anuk Palihawadana, Romesh Mendis, Nathan Caldera, Thenuka Liyanage, Mahith Perera, Rajindu Tilakaratne, Senesh Hettiarachchi.
Opening the bowling for Royal, Pathirathne and Sonal staged one of the best pace bowling spells the Royal-Thomian has seen in a while. The pair used the condition to maximum effect and kept the batsmen on their toes all the time
Amarasekera, who was eventually named as the man of the match, bowled incredibly on the 2nd morning of the game by picking up 3 quick wickets to upset S. Thomas'.
He was supported by their ace left-arm spinner, Gishan Balasooriya, who ended the game with the best bowling figures of the match – 4 for 39.
S. Thomas' were bowled out cheaply for 89 runs, which was also their lowest total since the year 2000.
Yasiru Rodrigo played a lone hand for S. Thomas' in the first innings as he ran out of partners with 30 runs to his name.
Royal got off to a fine start on day 3, as the game began after lunch due to wet ground conditions.
The openers put up a 40-run stand and it was capitalised by the skipper, Ahan Wickramasinghe and Isivara Dissanayake who helped Royal post a quick 112 runs before pulling out a sporty declaration.
Dissanayake scored a fine 47 runs with some delightful drives on the offside while the skipper walked back with 26 runs to his name.
S. Thomas' second innings was a mere formality, which ended early due to bad light.
The game ended in a frustrating draw as the school by the sea retained the D.S. Senanayake Shield.
The individual awards were as follows,
Best batsman – Isivara Dissanayake
Best bowler – Gishan Balasooriya
Best fielder – Sineth Jayawardena


Batsmen
R
B
4s
6s
SR
Anuk Palihawadana
lbw b Dan Poddiwela
7
37
0
0
18.92
Romesh Mendis
lbw b Sonal Amarasekara
0
4
0
0
0.00
Shalin De Mel
lbw b Sonal Amarasekara
1
8
0
0
12.50
Ryan Fernando
c Sadisha Rajapaksha b Sonal Amarasekara
0
3
0
0
0.00
Shenesh Hettiarachchi
lbw b Kavindu Pathirathna
1
3
0
0
33.33
Caniston Gunathan
c Ahan Wickramasinghe b Gishan Balasuriya
12
29
0
0
41.38
Nathan Caldera
c Kavindu Pathirathna b Gishan Balasuriya
9
19
1
0
47.37
Thenuka Liyanagae
c Sineth Jayawardena b Gishan Balasuriya
0
7
0
0
0.00
Yasiru Rodrigo
not out
30
95
2
0
31.58
Mahith Perera
b Gishan Balasuriya
22
64
1
0
34.38
Rajindo Thilakarathna
c Dasis Manchanayake b Kavindu Pathirathna
0
19
0
0
0.00
| | |
| --- | --- |
| Extras | 7 (b 4 , lb 0 , nb 1, w 2, pen 0) |
| Total | 89/10 (48.5 Overs, RR: 1.82) |
| Fall of Wickets | 1-4 (1.4) Romesh Mendis, 2-6 (3.4) Shalin De Mel, 3-8 (5.1) Ryan Fernando, 4-9 (6.1) Shenesh Hettiarachchi, 5-21 (11.4) Anuk Palihawadana, 6-31 (16.4) Caniston Gunathan, 7-32 (18.1) Nathan Caldera, 8-35 (19) Thenuka Liyanagae, 9-73 (40.1) Mahith Perera, |
| Bowling | O | M | R | W | Econ |
| --- | --- | --- | --- | --- | --- |
| Kavindu Pathirathna | 9.5 | 1 | 17 | 2 | 1.79 |
| Sonal Amarasekara | 10 | 6 | 8 | 3 | 0.80 |
| Dan Poddiwela | 5 | 1 | 12 | 1 | 2.40 |
| Gishan Balasuriya | 16 | 4 | 39 | 4 | 2.44 |
| Prashan Silva | 7 | 2 | 9 | 0 | 1.29 |
| Dasis Manchanayake | 1 | 1 | 0 | 0 | 0.00 |


Batsmen
R
B
4s
6s
SR
Sineth Jayawardena
c Thenuka Liyanagae b Nathan Caldera
18
32
0
0
56.25
Isiwara Dissanayake
b Rajindo Thilakarathna
47
65
3
0
72.31
Ahan Wickramasinghe
b Yasiru Rodrigo
26
30
2
0
86.67
Sadisha Rajapaksha
lbw b Yasiru Rodrigo
7
4
0
0
175.00
Kavindu Pathirathna
not out
3
5
0
0
60.00
Sonal Amarasekara
not out
1
1
0
0
100.00
| | |
| --- | --- |
| Extras | 10 (b 0 , lb 2 , nb 6, w 2, pen 0) |
| Total | 112/4 (21.5 Overs, RR: 5.13) |
| Fall of Wickets | 1-40 (10.3) Sineth Jayawardena, |
| Bowling | O | M | R | W | Econ |
| --- | --- | --- | --- | --- | --- |
| Yasiru Rodrigo | 7.5 | 0 | 32 | 2 | 4.27 |
| Caniston Gunathan | 4 | 0 | 26 | 0 | 6.50 |
| Anuk Palihawadana | 4 | 0 | 8 | 0 | 2.00 |
| Nathan Caldera | 3 | 0 | 21 | 1 | 7.00 |
| Shalin De Mel | 1 | 0 | 9 | 0 | 9.00 |
| Rajindo Thilakarathna | 2 | 0 | 14 | 1 | 7.00 |


Batsmen
R
B
4s
6s
SR
Anuk Palihawadana
not out
12
43
1
0
27.91
Romesh Mendis
b Sonal Amarasekara
0
6
0
0
0.00
Shalin De Mel
not out
20
29
1
1
68.97
| | |
| --- | --- |
| Extras | 0 (b 0 , lb 0 , nb 0, w 0, pen 0) |
| Total | 32/1 (13 Overs, RR: 2.46) |
| Bowling | O | M | R | W | Econ |
| --- | --- | --- | --- | --- | --- |
| Kavindu Pathirathna | 3 | 2 | 3 | 0 | 1.00 |
| Sonal Amarasekara | 5 | 1 | 15 | 1 | 3.00 |
| Gishan Balasuriya | 4 | 2 | 11 | 0 | 2.75 |
| Dan Poddiwela | 1 | 0 | 3 | 0 | 3.00 |