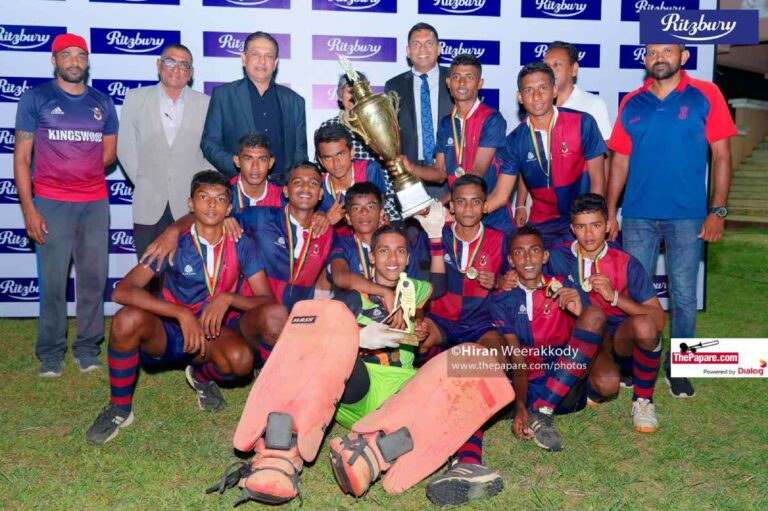 The Ritzbury Thomian Hockey 7's tournament organized by the Matale Old Thomians' Hockey association was held on April 9th, 2023, at the University of Peradeniya grounds. The competition saw 18 schools from all over the country competing for the coveted AJ Wijesinghe Memorial Trophy.
The group stages saw the teams split into five groups, with the top two teams from each group advancing to the knockout stage. After a grueling knockout stage, four teams managed to reach the semifinals, Kingswood College Kandy, St. Aloysius' College Galle, Hindu College Matale, and Ananda College Colombo.
The first semifinal was contested between St. Aloysius' and Ananda College, with both teams unable to break the deadlock in regulation time. It was only through a penalty shootout that St. Aloysius' was able to secure their place in the final, winning with a score of 1-0. This was the fourth consecutive penalty shootout win for St. Aloysius, a testament to their resilience and determination.
The second semifinal saw Kingswood College face off against Hindu College Matale, with both teams undefeated until the match. In another closely contested match, neither team could score in regulation time, and the game was once again decided in a penalty shootout. The shootout went on for an incredible eight rounds before Kingswood College scored the decisive goal to progress to the final.
Ananda College beat Hindu College in the third-place match, setting up an enthralling final between Kingswood College and St. Aloysius' College. It was a thrilling contest between two top sides, with Kingswood College managing to score the winning goal in the second half, emerging as the champions of the Ritzbury Thomian Hockey 7's tournament. This victory turned out to be a sweet one for Kingswood College, as they were the hometown team, and it was a moment of disappointment for the boys from down south.
Janidu Harshana, the Kingswood College goalkeeper, was adjudged the Goalkeeper of the Tournament, while Kushan Rathnasooriya, the St. Aloysius' College star, was named the Best Player.
The tournament provided an excellent opportunity for young athletes to showcase their talent and passion for Hockey. And the competitive spirit and performances shown by all of them was commendable, making the Ritzbury Thomian Hockey 7's tournament a resounding success.