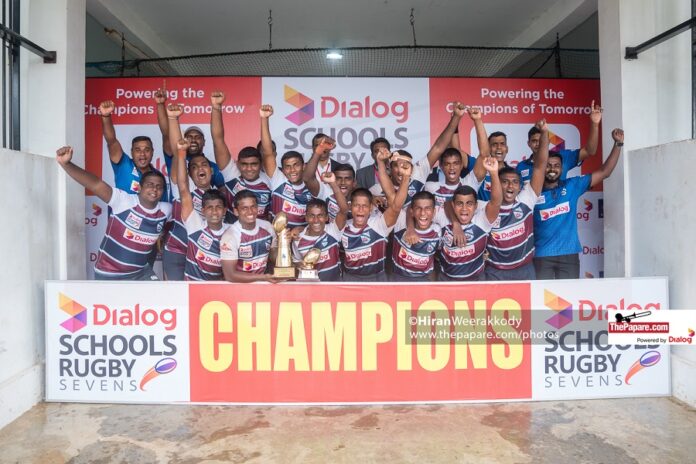 Richmond College beat St Aloysius' College by 21 points to 7 to clinch the Cup Championship in the Southern Province Dialog Schools Rugby Sevens Championship, held at St Aloysius' College Sports Complex.
The cup finals started off in exhilarating fashion, with both teams scoring back-to-back tries. The first points for Richmond came through Thilosha Mendis who ran along the touch line to score under the post. The home side responded immediately through their Skipper Shehan Manilka who ran a few yards and cut back in to beat the last two defenders. Richmond did not hang back as they took back the lead with another converted try from Prasad Sanjana, who was left with acres of space on the wings to run all the way.
REPLAY – Dialog Schools Rugby 7s- Sabaragamuwa Province
The second half started with Richmond leading by 14 points to 7. The home side needed to score in the first few minutes, but they blew their opportunities and were left in regret. Richmond on the other hand showed no mercy and kept their focus on the prize. They sealed the deal two minutes before the final whistle with a stunning try from Mendis, who used his pace and skill to outsmart the Aloysius Boys.
Early on, Richmond College started off with a massive win by 77 points to nil over Debarawewa Central College. Their second game was a walk over St Servatius' College, who did not turn up for the tournament. In their last group game, they beat Devapathiraja College by 29 points to nil to book their place in the cup finals.
St Aloysius College started off hastily against Rahula College with a close 7-5 victory. In their second game, The Aloysians thumped Vidyaloka College by 60 points to nil. They secured the spot in the cup final after beating Mahinda College by 24 points to nil in the final group game.
WATCH – Highlights | Trinity vs Kingswood – Dialog Schools Rugby 7s Cup Final
Full Time: Richmond College 21 (3T, 3T) – St Aloysius College 7 (1T, 1C)
Player of the Tournament: Thilosha Mendis (Richmond College)
Most Popular Team: Rahula College
The Shield Championship was awarded to Vidyaloka College who got a walk over.
Bowl final
Mahinda College 39 – 0 Debarawewa College
The bowl finals was played between Mahinda College and Debarawewa College. The whole game was dominated by Mahinda College, who racked up 39 points in the game. Sadeema Gimhan notched up a hatrick of tries for Mahinda, as the game was forfeited after a collision caused two Debarawewa Players to be carried off the field.
Plate finals
Dewapathiraja College 17 – 0 Rahula College, Matara
Dewapathiraja got the better of Rahula College to clinch the Plate Championship. Tries from Ranmin, Dissanayake and Geesara helped Dewapathiraja score 17 points while Rahula College failed to get any points on board.