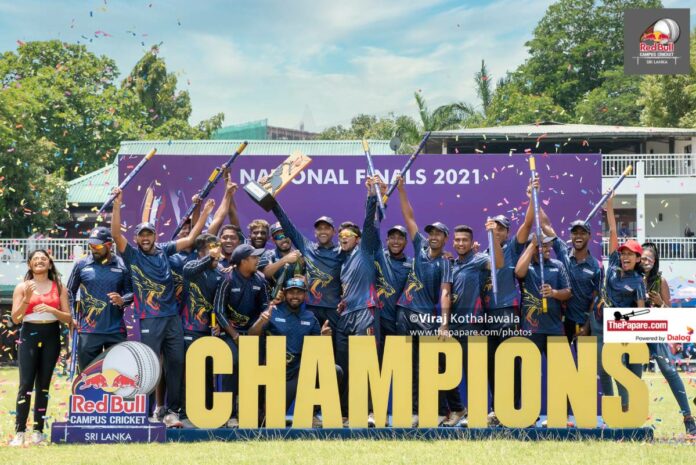 Imperial College of Business Studies won the 9th edition of the Red Bull Campus Cricket Tournament after a thrilling final against Central Campus Colombo at BRC grounds today (14).
Central Campus who were firm favourites of the tournament were stunned by the underdogs, Imperial College who plucked a win. 
Central Campus skipper Avishka Perera set the tone right for a high riding victory for the CCC early in their innings. Perera scored a rigorous 47 off 36 balls before running himself out.
But CCC soon lost their way as the middle-order vaporized in no time courtesy of the fightback from the Imperial bowlers. 
The elegant right-hand opener, Sajith de Silva, chipped in with a cameo of a bowling performance returning figures of 2 for 36. 
The pick of the bowlers for Imperial was Rusira Dineth who bagged 2 for 23 in his 4 overs.
Walking in with his team in trouble at 91 for 6, Rohan Sanjaya, played brilliant innings for CCC that gave his team something to bowl at. The southpaw struck four sixers and a four in his knock of 38 runs. 
CCC posted 135 runs for the loss of 8 wickets at the end of their quota of overs.
Imperial College got off to a faulty start as they slipped to 33 for 6 at the halfway mark of their innings. It all seemed like CCC was heading towards a cake-walk victory. 
Then, Thiwanka Lakruwan happened. Lakruwan walked at number eight for Imperial College and changed the entire complexion of the game. He also used the Energizer over to maximum effect that he became the pinnacle of their win. 
The left-hander struck 39 runs in 18 balls including an 18-run Energizer over. 
Suddenly, by the end of 15th over Imperial College were looking at a feasible equation at 99 for 7.
The rest of the game was set on fire as both teams kept pulling it either as it was eventually 1 to get off the last ball with number 11 of Imperial College on strike. The last ball was a full-toss from Chamindu Wijesinghe which was carved to the extra-cover fence by Ayesh Harshana to seal the deal for Imperial College. 
Chamindu Wijesinghe of CCC, who had an exceptional tourney with both bat and ball was adjudged the man of the series by the match referees. 
Imperial College will now embark to Oman representing Sri Lanka in the World Finals later this year.
Imperial College of Business Studies
139/9 (20)


Batsmen
R
B
4s
6s
SR
Navod Paranavithana
c Sachintha Ravidu b Rusira Dineth
1
2
0
0
50.00
Avishka Perera
run out ()
47
36
4
2
130.56
Heshan Danushka
b Sajith Priyal
10
17
0
0
58.82
Chamindu Wijesinghe
c Sajith Priyal b Rusira Dineth
4
8
0
0
50.00
Kavindu Madarasinghe
c Ayesh Harshana b Sajith Priyal
18
19
0
1
94.74
Manisha Rupasinghe
c Chathura Lakshan b Revan Kelly
5
8
0
0
62.50
Nipun Malinga
c Chathura Lakshan b Revan Kelly
3
4
0
0
75.00
Rohan Sanjaya
not out
38
17
1
4
223.53
Jithesh Wasala
run out ()
3
9
0
0
33.33
Chinthaka Kumara
not out
1
1
0
0
100.00
| | |
| --- | --- |
| Extras | 5 (b 0 , lb 0 , nb 1, w 2, pen 2) |
| Total | 135/8 (20 Overs, RR: 6.75) |
| Fall of Wickets | 1-11 (1.2) Navod Paranavithana, 2-43 (6.5) Heshan Danushka, 3-63 (10.1) Avishka Perera, 4-68 (11.2) Chamindu Wijesinghe, 5-87 (14.3) Kavindu Madarasinghe, 6-91 (15.2) Manisha Rupasinghe, 7-94 (16) Nipun Malinga, 8-117 (19) Jithesh Wasala, |
| Bowling | O | M | R | W | Econ |
| --- | --- | --- | --- | --- | --- |
| Ayesh Harshana | 4 | 0 | 19 | 0 | 4.75 |
| Rusira Dineth | 4 | 0 | 23 | 2 | 5.75 |
| Sajith Priyal | 4 | 0 | 36 | 2 | 9.00 |
| Malshan Rodrigo | 2 | 0 | 14 | 0 | 7.00 |
| Malshan Kavishka | 3 | 0 | 20 | 0 | 6.67 |
| Revan Kelly | 3 | 0 | 23 | 2 | 7.67 |


Batsmen
R
B
4s
6s
SR
Revan Kelly
b Chamindu Wijesinghe
7
4
1
0
175.00
Sajith Priyal
lbw b Chamodya Rajapaksha
16
19
2
0
84.21
Hhn Haggala
b Navod Paranavithana
0
3
0
0
0.00
Rusira Dineth
c Manisha Rupasinghe b Chamindu Wijesinghe
0
3
0
0
0.00
Chathura Lakshan
lbw b Navod Paranavithana
3
12
0
0
25.00
Sachintha Ravidu
st Kavindu Madarasinghe b Heshan Danushka
5
16
0
0
31.25
Tharindu Roshan
c Chamindu Wijesinghe b Rohan Sanjaya
30
25
0
1
120.00
Thiwanka Lakruwan
c & b Rohan Sanjaya
39
18
1
5
216.67
Malshan Rodrigo
not out
16
16
0
0
100.00
Malshan Kavishka
c Heshan Danushka b Chamindu Wijesinghe
1
1
0
0
100.00
Ayesh Harshana
not out
8
2
2
0
400.00
| | |
| --- | --- |
| Extras | 14 (b 0 , lb 0 , nb 0, w 5, pen 9) |
| Total | 139/9 (20 Overs, RR: 6.95) |
| Fall of Wickets | 1-8 (1) Revan Kelly, 2-9 (1.5) Hhn Haggala, 3-14 (2.4) Rusira Dineth, 4-23 (5.2) Chathura Lakshan, 5-31 (9) Sachintha Ravidu, 6-33 (9.4) Sajith Priyal, 7-88 (13.2) Thiwanka Lakruwan, 8-128 (19) Tharindu Roshan, 9-130 (19.3) Malshan Kavishka, |
| Bowling | O | M | R | W | Econ |
| --- | --- | --- | --- | --- | --- |
| Chamindu Wijesinghe | 4 | 0 | 33 | 3 | 8.25 |
| Navod Paranavithana | 4 | 0 | 11 | 2 | 2.75 |
| Nipun Malinga | 1 | 0 | 11 | 0 | 11.00 |
| Rohan Sanjaya | 4 | 0 | 15 | 2 | 3.75 |
| Heshan Danushka | 4 | 0 | 33 | 1 | 8.25 |
| Chamodya Rajapaksha | 3 | 0 | 27 | 1 | 9.00 |