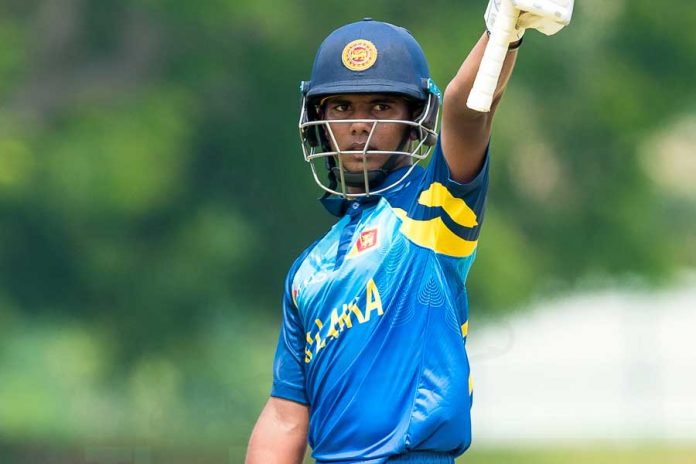 The rain played spoilt sport at the Rangiri Dambulla International Stadium, as the 1st Youth ODI between Sri Lanka and Bangladesh ended in no result on Tuesday(30).
The visitors won the toss and sent Sri Lanka U19s in to bat in helpful conditions for bowlers with opener Muditha Premadasa falling for 02, before the duo of Navod Paranavithana and Nipun Dananjaya added 73 runs for the second wicket.
Mrittunjoy Chowdhury broke the partnership to reduce Sri Lanka U19s to 83/2 as the Bangladeshis all of a sudden seemed to be all over the hosts with Chowdhury going on to capture 4/46.
Amongst all the chaos, gritty left handed batsman Sonal Dinusha fought a lone battle, to guide Sri Lanka U19s to respectability crossing the 200 run mark. They ended with 207/9 batting out the quota of 50 overs while Sonal Dinusha made an eye catching 59.
Photo Album – Sri Lanka U19 vs Bangladesh U19 | 1st Youth ODI
Rakibul Hasan the star from the 2nd Youth Test captured 2/25 for Bangladesh while Soriful Islam also chipped in with a couple of wickets.
Bangladesh U19s were cruising at 66/1 in the 14th over when the heavens opened up, as the game never resumed from the break before the umpires eventually called it off with no result.
Read: Gritty Navod Paranavithana shines on opening day
T Tanim though already hit a belligerent half century being the only man dismissed as Sri Lanka U19s would count themselves lucky to go into the second match with the series still at 0-0.
// var socket=io('http://localhost:8080'); var socket=io('http://202.124.184.250:8080');
jQuery( document ).ready(function() { console.log( "ready" ); var prev_bat_team = 0;
socket.on('message',function (message) { message = JSON.parse(message); console.log(message); if( message.data.cric.commentary){ jQuery('#cmt_wrap').prepend('
'+message.data.cric.commentary.event+'
'+message.data.cric.commentary.comment+'
'); } if(message.data.cric.match){ console.log(message.data.cric.match.teams_1_inn2_r[0]); function ove(balls) { var overs = 0; if(balls %6 == 0){ overs = balls/6; }else{ overs = parseInt(balls/6)+"."+(+balls - +parseInt(balls/6)*6); } console.log(overs); return overs; }
if(!message.data.cric.match.teams_1_inn2_r[0]){
jQuery('#score_1_'+message.data.cric.match.teams_1_r[0]['id']).html(message.data.cric.match.teams_1_r[0]['score'] + " / " + message.data.cric.match.teams_1_r[0]['wkts']); jQuery('#over_1_'+message.data.cric.match.teams_1_r[0]['id']).html("("+ove(message.data.cric.match.teams_1_r[0]['balls'])+" overs)"); }else { jQuery('#score_1_'+message.data.cric.match.teams_1_r[0]['id']).html(message.data.cric.match.teams_1_r[0]['score'] + " / " + message.data.cric.match.teams_1_r[0]['wkts']+" & "+message.data.cric.match.teams_1_inn2_r[0]['score']+" / "+message.data.cric.match.teams_1_inn2_r[0]['wkts']); jQuery('#over_1_'+message.data.cric.match.teams_1_r[0]['id']).html("("+ove(message.data.cric.match.teams_1_inn2_r[0]['balls'])+" overs)"); } if(!message.data.cric.match.teams_2_inn2_r[0]){
jQuery('#score_2_'+message.data.cric.match.teams_2_r[0]['id']).html(message.data.cric.match.teams_2_r[0]['score'] + " / " + message.data.cric.match.teams_2_r[0]['wkts']); jQuery('#over_2_'+message.data.cric.match.teams_2_r[0]['id']).html("("+ove(message.data.cric.match.teams_2_r[0]['balls'])+" overs)"); }else { jQuery('#score_2_'+message.data.cric.match.teams_2_r[0]['id']).html(message.data.cric.match.teams_2_r[0]['score'] + " / " + message.data.cric.match.teams_2_r[0]['wkts']+" & "+message.data.cric.match.teams_2_inn2_r[0]['score']+" / "+message.data.cric.match.teams_2_inn2_r[0]['wkts']); jQuery('#over_2_'+message.data.cric.match.teams_2_r[0]['id']).html("("+ove(message.data.cric.match.teams_2_inn2_r[0]['balls'])+" overs)"); }
if(message.data.cric.match.teams_1_r[0]['extras']!=null){ jQuery('#extras_1_r_'+message.data.cric.match.teams_1_r[0]['id']).html("("+ove(message.data.cric.match.teams_1_r[0]['extras'])); } if(message.data.cric.match.teams_2_r[0]['extras']!=null){ jQuery('#extras_2_r_'+message.data.cric.match.teams_1_r[0]['id']).html("("+ove(message.data.cric.match.teams_2_r[0]['extras'])); } if(message.data.cric.match.teams_1_inn2_r[0]['extras']!=null){ jQuery('#extras_1_r_2_'+message.data.cric.match.teams_1_inn2_r[0]['id']).html("("+ove(message.data.cric.match.teams_1_inn2_r[0]['extras'])); } if(message.data.cric.match.teams_2_inn2_r[0]['extras']!=null){ jQuery('#extras_1_r_2_'+message.data.cric.match.teams_2_inn2_r[0]['id']).html("("+ove(message.data.cric.match.teams_2_inn2_r[0]['extras'])); }
//extras_1_r_2_ // if(prev_bat_team != message.data.cric.team_id){ jQuery('#widget_wrapper').load(document.URL + ' #widget_wrapper'); // } // prev_bat_team = message.data.cric.team_id // }
}); });
No Result
Sri Lanka U19's Innings
Batting
R
B
Navod Paranavithana
c N Nabil b Mrittinjoy
33
50
Muditha Premadasa
c A Hasan b Shiwan
2
8
Nipun Dananjaya
c A Ali b Mrittinjoy
32
41
Mohomed Shamaz
st A Ali b Rakibul
5
18
Sonal Dinusha
c S Patwari b Shoriful
59
51
Avishka Tharindu
b Rakibul
23
41
Chamindu Wijesinghe
c T Hasan b Shoriful
1
4
Raveen de Silva
c Shoriful b Mrittinjoy
16
25
Naveen Fernando
c A Hasan b Mrittinjoy
5
10
Ashan Daniel
not out
3
7
Rohan Sanjaya
not out
0
0
Fall of Wickets:
1-10 (M Premadasa), 2-83 (N Dananjaya), 3-83 (N Paranavithana), 4-103 (M Shamaz), 5-154 (A Tharindu), 6-157 (C Wijesinghe), 7-193 (S Dinusha), 8-194 (R de Silva), 9-206 (N Fernando)
| Bowling | O | M | R | W | E |
| --- | --- | --- | --- | --- | --- |
| Shoriful Islam | 10 | 1 | 50 | 2 | 5.00 |
| Shahin Alam | 10 | 1 | 38 | 1 | 3.80 |
| Mittunjoy Chowdhury | 10 | 0 | 46 | 4 | 4.60 |
| Shanim Patwary | 7 | 0 | 23 | 0 | 3.29 |
| Towhid Hridoy | 3 | 0 | 16 | 0 | 5.33 |
| Rakibul Hasan | 10 | 1 | 15 | 2 | 1.50 |
Ban U19's Innings
Batting
R
B
Hasan Tamim
b R de Silva
50
61
Prantik Nabil
not out
13
14
Hassan Joy
not out
1
5
| Bowling | O | M | R | W | E |
| --- | --- | --- | --- | --- | --- |
| Naveen Fernando | 5 | 0 | 33 | 0 | 6.60 |
| Ashan Daniel | 5 | 0 | 29 | 0 | 5.80 |
| Raveen de Silva | 2 | 0 | 1 | 1 | 0.50 |
| Chamindu Wijesinghe | 1 | 0 | 2 | 0 | 2.00 |