"The team that played together are still friends on and off the field and yeah it was great experience."
A former Junior Sri Lankan Rugby Tusker, Rahul Silva spoke with ThePapare.com and shared his experience on the tours and the jolly old days when he toured overseas. Rahul was the vice-captain of the team which won the U19 B division junior tournament which was held in Taiwan in his year. He got into the Junior Sri Lankan team mainly due to his excellent performances at Wesley College as the scrum half. He led his team to victory in the Milo Presidents' Trophy that year (2013).
The different kids from different rugby cultures and playing schools, come together to strive towards a single goal and the team needs to jell together as a single unit.
The Sri Lanka men's rugby team are all set to travel to Malaysia..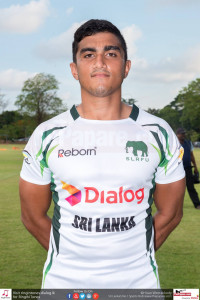 He pointed out that it is the basics that must be done right before anything else.
Talking about the current team, his thoughts were that the experience the young tuskers now have are way more superior because players like Naveen Henankankamge has had Sri Lanka Nationals experience and most of the boys toured in the 7s'Asiad U18 Championships and are currently involved in Club Rugby arena as well.
"Naveen and my schoolmate Lee, hopefully he'll get a chance to play; Should lead from the front and if everyone plays as a team; I know Hong Kong is a good and professional team and very hard to beat but if we play as a team and we have the home advantage as well, we can give them a good fight."
Rahul invites all the Sri Lankan Rugby fans to be there at the Havelock Park to witness a thrilling encounter of Rugby and support the junior tuskers.
Sri Lanka will play Hong Kong on the 10th of December at the Havelock Park at 2.45 p.m. which is the first leg and the second leg will be held on the 16th of December in Hong Kong.
ThePapare.com is proud to be the Official Broadcaster of the Asia Under 19 Championship that will kick off on the 10th of December. Make your way to Havelock Park on the 10th to support the schoolboy heroes or catch the action LIVE and exclusively on ThePapare, Dialog TV Channel 1 & MyTv