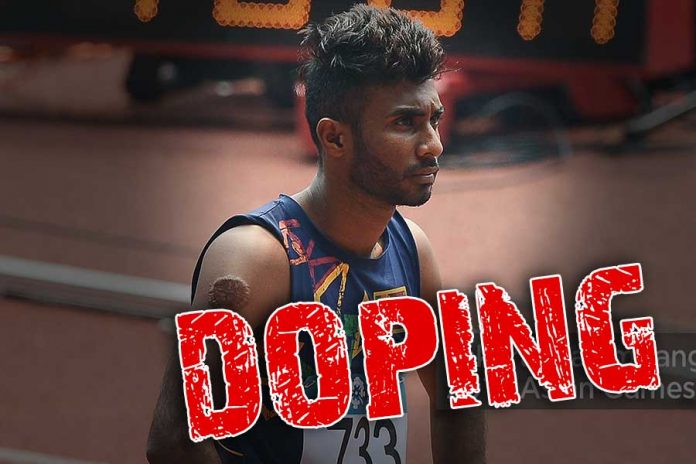 Kalinga Kumarage, a premier 400m athlete who represented Sri Lanka at the Asian Games, has been provisionally suspended after having tested positive for a banned substance and is expected to receive a lengthy ban barring him from all sporting activities.
The quarter miler is in trouble after his sample collected at the Sri Lanka Army Athletic meet tested positive for a steroid that is prohibited by the World Anti-Doping Agency (WADA). Kumarage was informed of the result in December and he opted to go for a 'B' Sample test earlier this month which has also turned out positive for the banned steroid.
Kumarage is one of the very few Sri Lankan athletes to have clocked a sub 46sec time in the 400m, having clocked his personal best time of 45.99secs at the Asian Games which was held in Indonesia last year. He also impressed with a terrific time of sub 21secs in the 200m at the Army Athletic Championship and was an integral part of the Athletic Association of Sri Lanka's (AASL) plans of fielding a strong relay team from Sri Lanka at the upcoming Asian Athletic Championship and the many international meets to follow with an eye on the World Championships and Olympic qualification.
He is the second Sri Lankan 400m athlete to be banned for the use of a banned substance within the span of two years with Pradeep Kumara, another quarter miler, receiving a 4-year ban after testing positive for a banned substance in 2017.  Pradeep Kumara was in India as part of the Men's 4X400 team at the Asian athletic Championship and was immediately recalled when his sample collected in Sri Lanka tested positive.
Sri Lankan 400m athlete, 23-year-old Pradeep Kumara has been..
An independent panel appointed by the Sri Lanka Anti-Doping Agency (SLADA) will hold a disciplinary inquiry on the matter where external parties who have information on the offense are also allowed to testify in front of the panel. The disciplinary committee will then decide the punishment that will be handed to the athlete. Kalinga, if found guilty, is looking at a ban that could well draw curtains on his career as  the use of steroids is treated as a severe offense which could carry a ban up to 4 years from any sporting activity.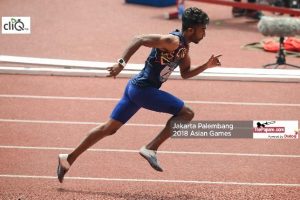 The SLADA will also be on the lookout for any persons believed to have administered, aided or supplied the athlete with banned substances and will be taking legal action where perpetrators could face a jail sentence up to two years, coupled with a possible ban.
If Kumarage is not in agreement of the punishment handed down by the disciplinary committee of SLADA, he is able to appeal for reconsideration. If the athlete feels that the result of his appeal is not satisfactory he can then escalate the matter to the Court of Arbitration for Sport where the matter can be resolved.
Speaking to ThePapare.com on the menace of doping which has threatened to derail careers and lives of promising athletes in the country, Dr Seevali Jayawickrama – Director General of SLADA, added that "In 2018 we have seen a slight increase in the number of positive cases from the previous year. We do random and targeted testing at major sporting events in the country and out of the 274 samples we have sent for testing, 7 have turned positive as opposed to 5 in 2017. We will be holding aggressive awareness campaigns targeting the school children and the young athletes to make them understand the dangers of using the banned substances and the adverse effects it may have on their health"