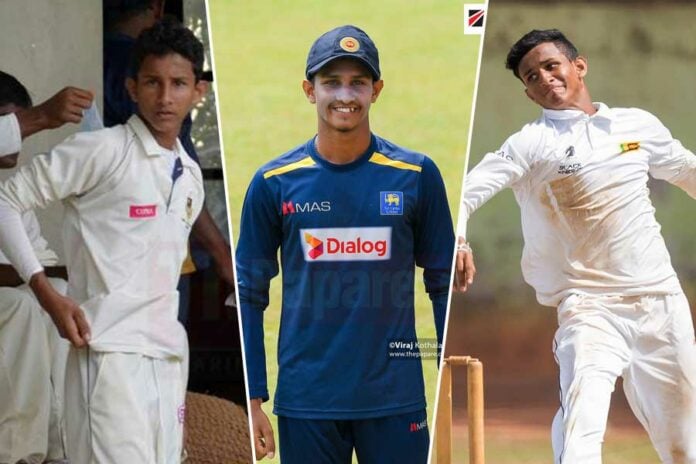 Kalutara is a coastal city in the Western Province of Sri Lanka, just a drive of 60-90 minutes from Colombo. A further 10-minute drive from the town along the Palatota road will lead you to a house beside a plot of land used as a vehicle yard. 
The family in this house owns the Driving School of which vehicles are parked in this yard. Leave alone vehicles, you could never fail to see a very loud game of cricket played between the 4 brothers of this family during the early 2010s. The second brother usually out-batted the others and bossed the daily games. He was crafty and most importantly a left-arm spinner. 
Read: Sri Lanka's bowling dilemma
With time as he found better opponents at school, his mornings before school and afternoons after school were spent playing against them – still the best player on the park. This gang of 11-year-old boy turned up for the school's U13 hardball cricket selections was picked. He could bat and bowl with his left arm – sometimes orthodox spin, at times a chinaman, and even seam ups if required – a bits and pieces player. But according to his father, his biggest fan, it was his batting you needed to keep an eye on, lanky and stylish like Marvan Atapattu.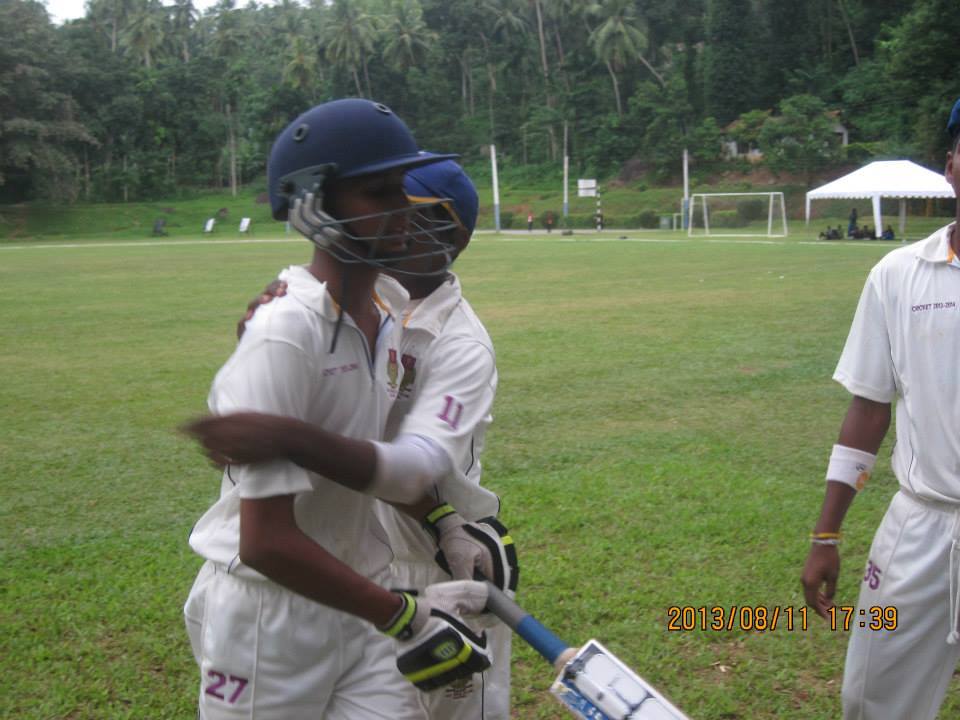 This left-arm spinner is Praveen Jayawickrama, who received the 156th Test Cap for Sri Lanka today (29th) in Kandy becoming just the 2nd cricketer from Holy Cross College Kalutara to play for Sri Lanka (left arm spinner Jayantha Silva who played 7 Tests and 1 ODI for Sri Lanka in the 90s is the first).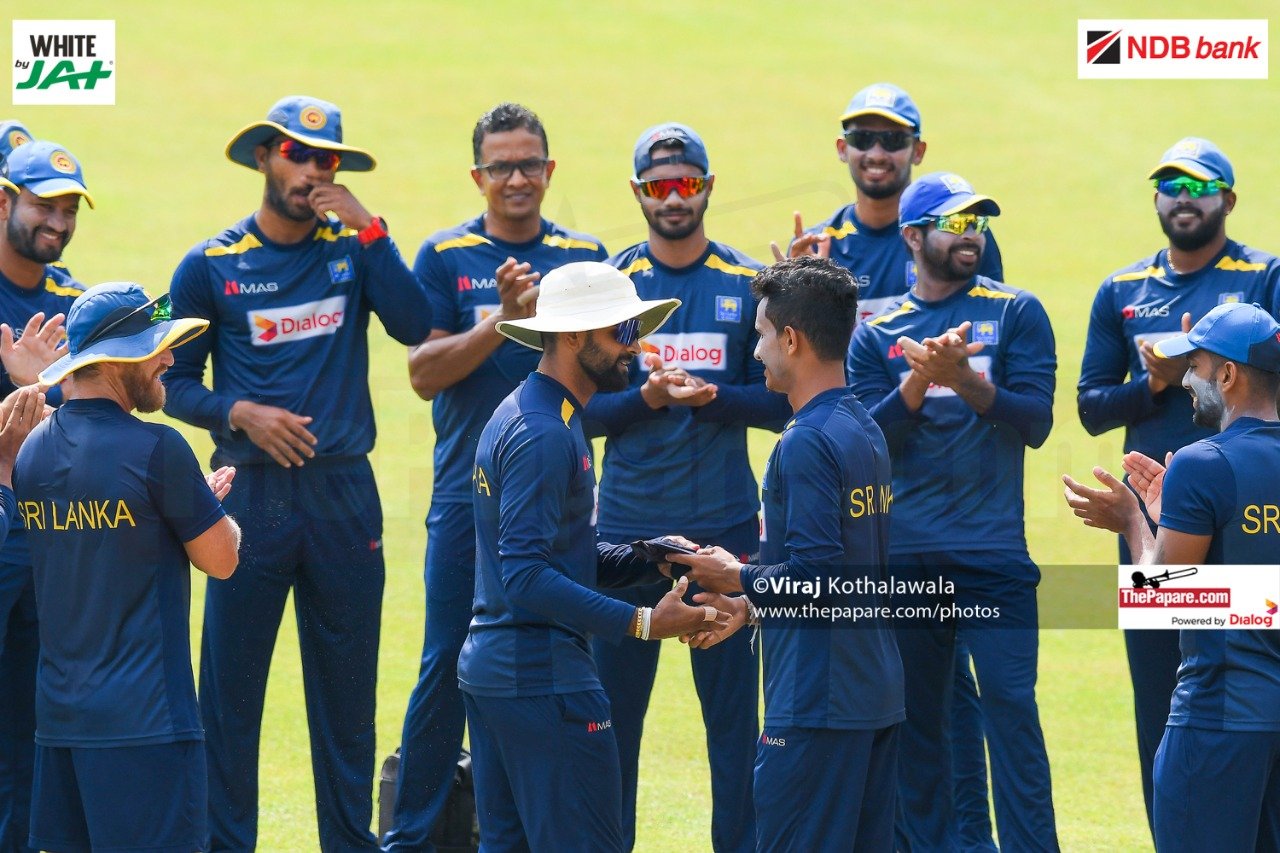 When his school decided to merge the U13 selections with the junior cricket academy of the school which practiced thrice a week throughout the year, he got the opportunity to undergo proper, regular training – that's when his father had to forget the dream of Atapattu as his son started idolizing Muttiah Muralitharan, of course, left-armed with a much more orthodox action. 
Read: දඟපන්දුවෙන් ප්‍රවීණයෙක් වීමට උත්සාහ කරන "ප්‍රවීන්"
He was included in the U19 1st XI squad soon after his last year in U13 cricket. He played his first U19 game as a 14-year-old in the 2012/13 season. Jayawickrama became the face of Holy Cross Cricket while Sri Lanka's 155th Test Cap Pathum Nissanka was leading the way for the neighboring school Kalutara Vidyalaya. The rivalry between Kalutara Vidyalaya and Holy Cross, which was always spicy, had a new rivalry between bat and ball, Jayawickrama vs Nissanka was a treat to watch.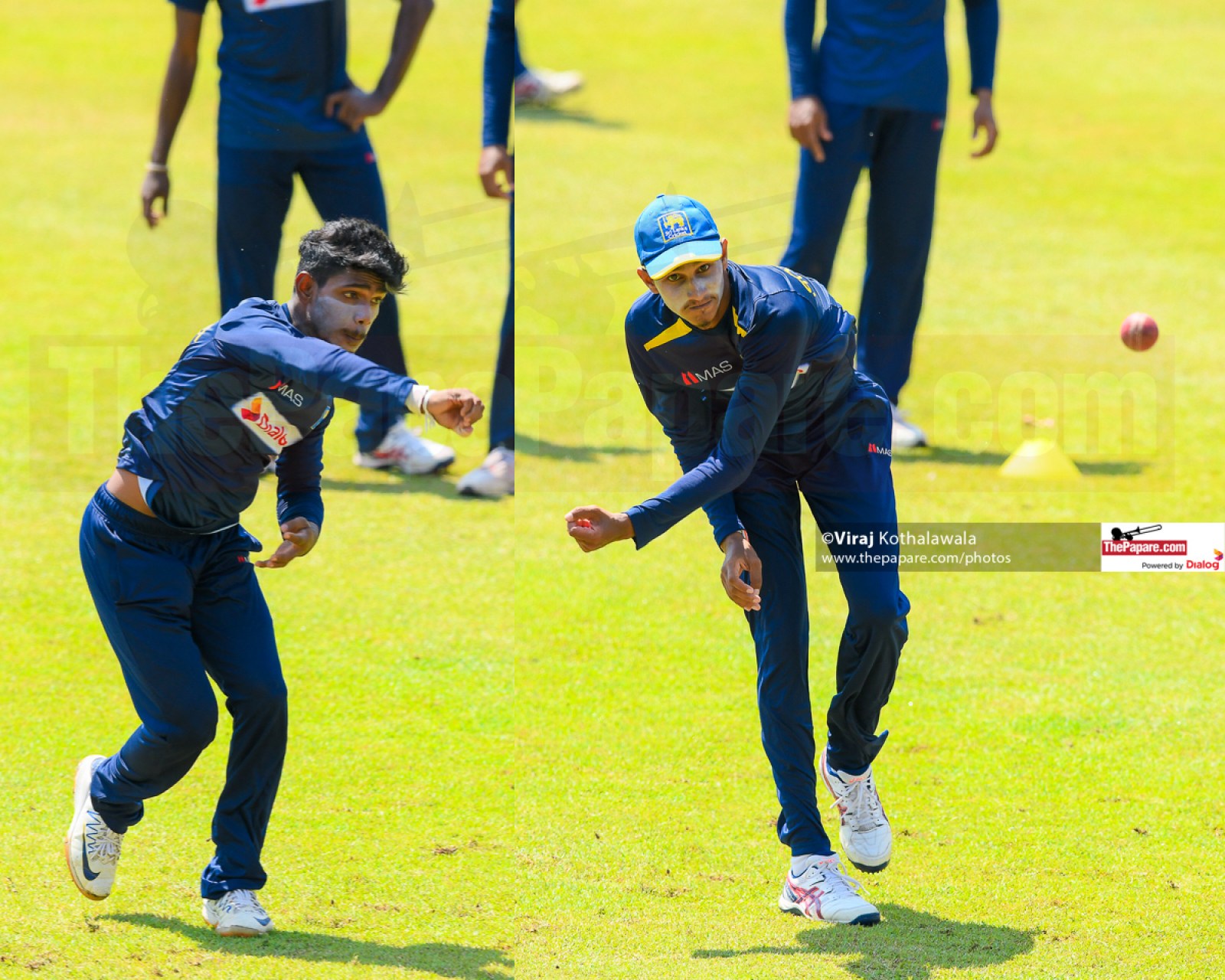 Along with Jayawickrama's growth as a prospect, the audience for the matches which Holy Cross played increased. Jayawickrama was always followed by his entire family. His father's cheer would boost not just him but the entire team. The Jayawickrama family became a constant at every Holy Cross match. After successfully getting through to the second round of the U15 tournament in 2013, by which time Jayawickrama was also picked for the Kalutara District team from which he later went onto represent the province team, the saddest day of Jayawickrama's life arrived – his biggest fan, his father, passed away due to a sudden heart attack in July. A big blow for the family. 
Read: From Holy Cross to St. Sebastian's, the rise of Praveen Jayawickrama
Jaywickrama came back for the second-round of matches in August, this time shouldering his father's dreams too. He led Holy Cross to the pre-quarterfinal stage and also ended up winning the Best Bowler award in the 2013 Prima U15 Provincial Tournament in September, representing the Western Province South Outer team.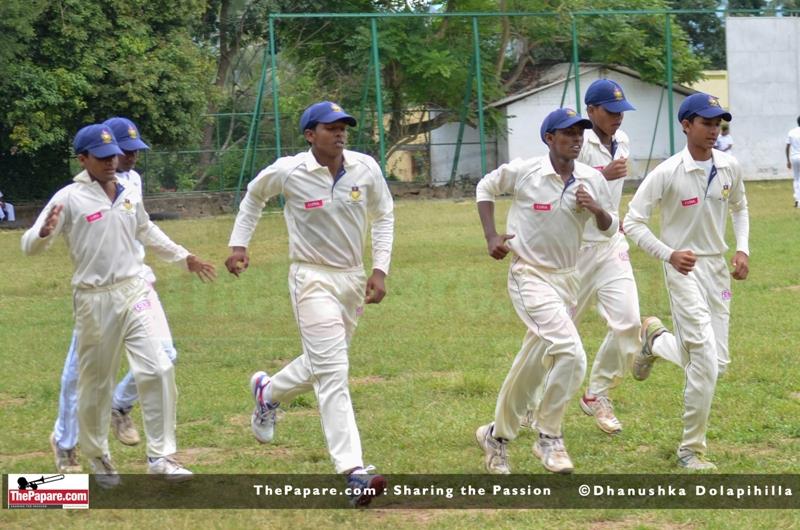 This saw whispers of his ability travel beyond Kalutara. He was starting to get offers from other schools. He took his time. The Holy Cross U19 team, which was on the brink of getting demoted from Division 1 could not afford to let him go. He even sacrificed a junior national trial to play a relegation match against St. Anthony's College Kandy at the Kalutara Esplanade in 2014 as Holy Cross College managed to knock out the Antonians and remain in the top division for one more year.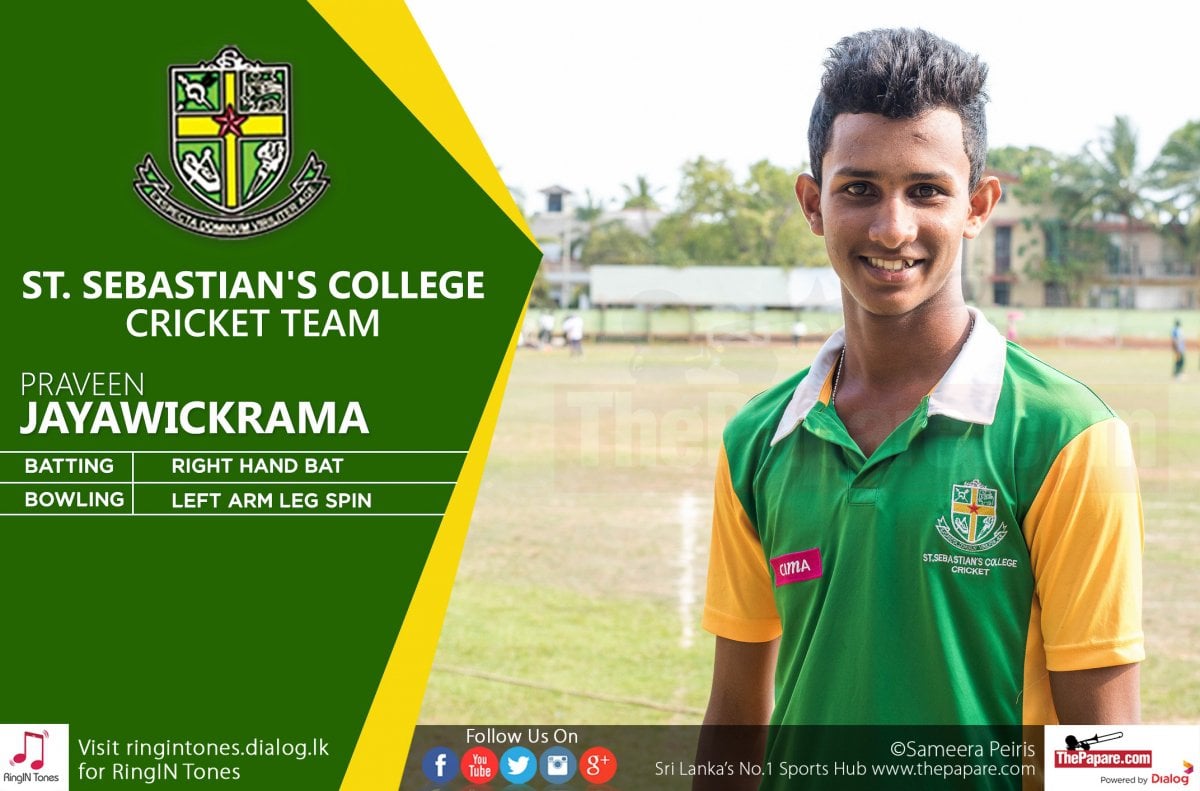 However, it was just a matter of time to make a move for Jayawickrama as he accepted the offer from St. Sebastian's College Moratuwa to which he left after his O/Ls. He played 3 seasons there starting from the 2015/16 season in which he picked up 89 wickets for the Moratuwa school. This earned him a call-up to the Sri Lanka U19 team and the rest is history. He ended his Sri Lanka U19 career after participating in 2 Asia Cups (2016 & 2017 – in 2016 he became the highest wicket-taker as Sri Lanka became runners-up) and a Youth World Cup under his belt as Sri Lanka's 3rd highest wicket-taker in Youth ODIs. (47 wickets in 28 matches)
His club cricket career started with a disappointment as he injured a finger in his bowling arm just after the U23 tournament began. He moved to Colts CC from SSC and had a successful U23 season becoming the best bowler of the competition. Then he made another switch to where he is now with Moors SC. As the lead left-arm spinner for Moors he grabbed 31 wickets in 6 First-Class matches, 11 wickets in 5 U23 games and 15 wickets in 7 List A matches in the recently concluded domestic season. Even though he has played just a handful of domestic matches he promises to play the Sri Lankan Brand of Cricket. He is lanky, crafty and lion-hearted. He is the type of player who feels defeat and moves on after a win.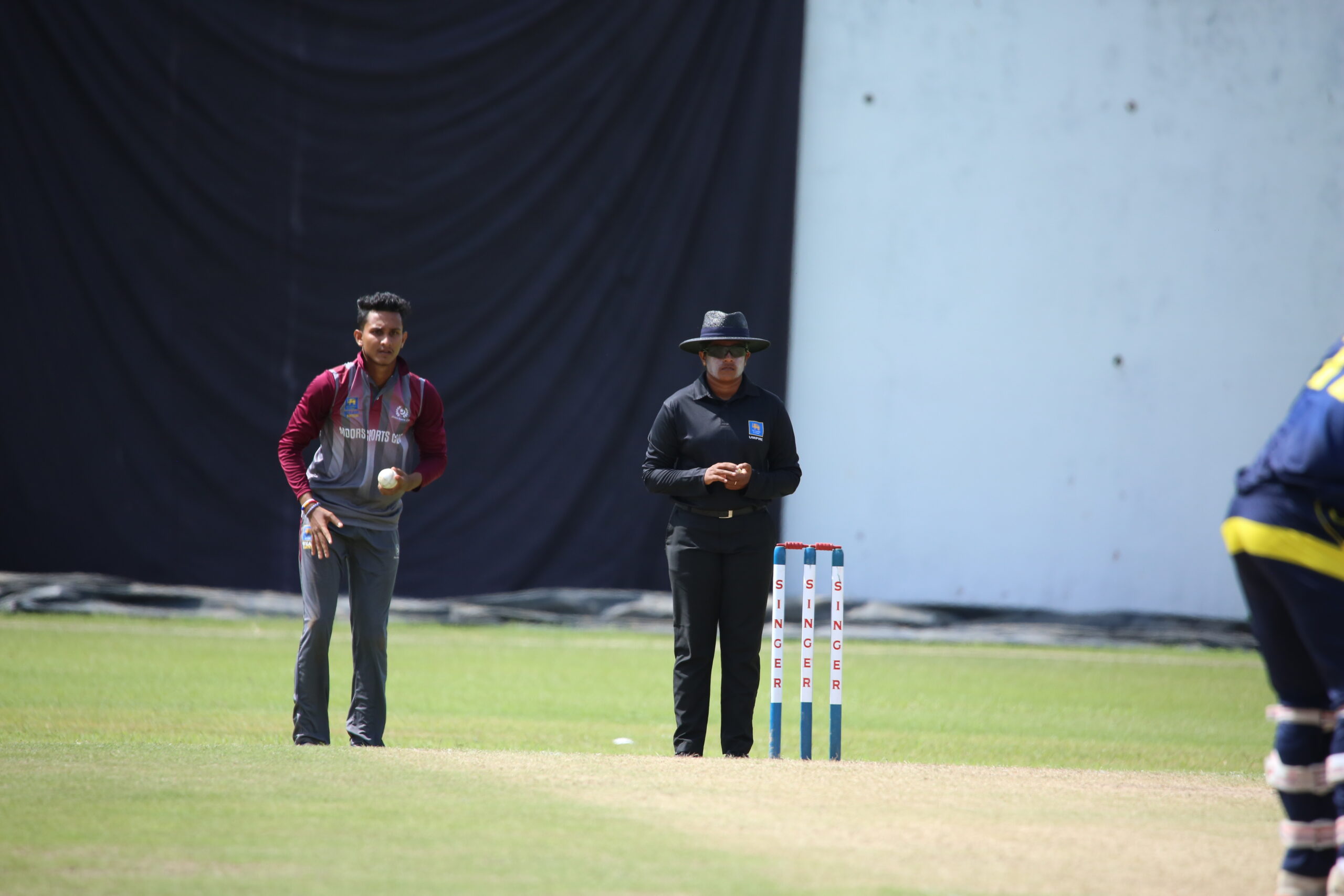 Today the entire Jayawickrama family, Holy Cross family and the St. Sebastian's family is proud of this young man and his achievement. The hard days his family spent after the loss of his father, the efforts of his mother, his elder brother who had to take on his father's responsibilities has produced a Test Cricketer for Sri Lanka.