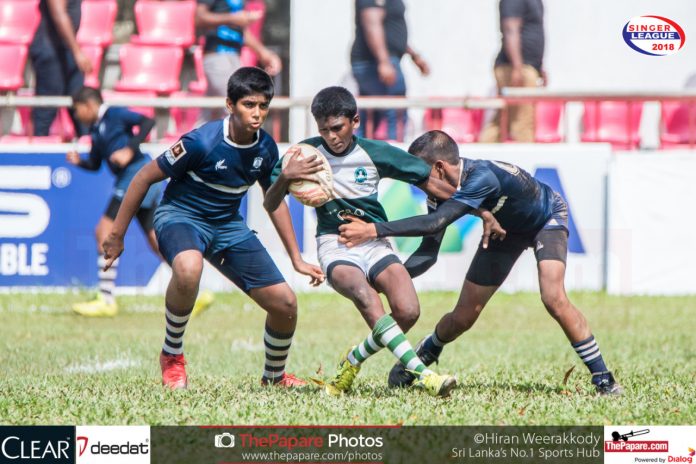 The juniors from Isipathana handed hosts St Joseph's unsettling 17-7, 24-5 defeats in the U14, U16 encounters of Singer Schools Rugby League junior matches to continue their unbeaten record at the Havelock Park today, 30th March.
Under 16
The junior boys from Isipathana dominated from kick off, scoring two early tries as they easily broke through Joes' defense. To make matters worse for the hosts, they converted both tries successfully, to take an early lead. They continued to attack and most of the action took place in the Joes' half of the field.
The Green Machine broke through to score yet another try in the 1st half of the game as they extended their lead over the Josephians. The try went unconverted but they took a 19-00 lead going into lemons.
They continued in the same form in the 2nd half as well and managed to get another try on the board which was successfully converted. The young Joes finally broke through and dove over the line for a try to end the match as the referee blew for full time. The try was not converted.
Full time- Isipathana College 24(2T-2C)-5(1T) St. Joseph's College
Under 14
After the first few opening minutes of even play, it was the Green Machine that struck first yet again to take the lead with a try. They passed the ball off to their winger on the edge of the field, who ran downfield before cutting back in for the first Isipathana try, which was successfully converted by their kicker.
The majority of play in the second half took place in the Joes half, as the Joes juniors struggled to keep hold of possession in the face of the Pathana attack as they scored their 2nd.
Isipathana continuously put pressure on the Joes backline and it paid off when in the dying moments of the game they broke through once again for their third try of the game before the referee blew for full time.
Full time- Isipathana College 17(3T-1C)-7(1T-1C) St. Joseph's College