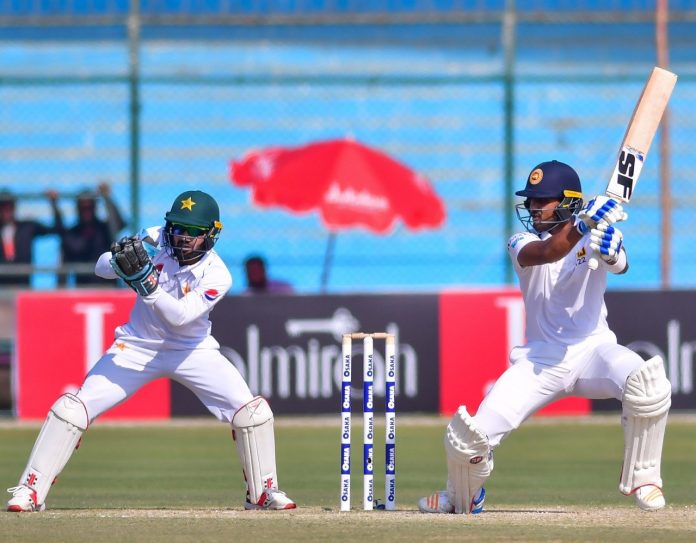 Sri Lanka managed to fight their way to a competitive total of 271 in their 1st innings, taking a 80 run lead over hosts Pakistan on day 2 of the 2nd Test between the sides. However, the Pakistani openers managed to survive 14 overs before the close of play, bringing the deficit down to 23.
Mohammed Abbas was the 1st man to strike on day to as he removed night-watchman Lasith Embuldeniya for 13. Angelo Mathews didn't last long in the middle either, playing for the angle off Shaheen Shah Afridi and inside edging one to the keeper Rizwan. With Mathews gone, Sri Lanka were in a spot of bother at 80/5 when Dhananjaya de Silva and Dinesh Chandimal came together for what was Sri Lanka's best partnership of the innings.
Read More : Top order falters after bowlers shine for Sri Lanka
The pair put on 67 runs for the 6th wicket and were beginning to look more comfortable by the minute, before de Silva top edged a short one from Afridi to the man at fine-leg. The left-armer produced some extra bounce and although de Silva tried to roll his wrists over the ball, he could not control the ball and was well caught by Abbas who had to make some ground to get to the catch.
Chandimal, who made just 2 in the 1st Test match, battled against Afridi, who bowled well in spells, to go into lunch unbeaten on 42. The post lunch session was when the going got tougher for Sri Lanka, with the hosts drying up the runs to a great degree. 
Afridi was the pick of the bowlers, moving the ball in and troubling the batsmen with both the short balls as well the pitched up ones. Dilruwan Perera stood strong against the barrage of bouncers from the Pakistanis after Chandimal's dismissal for 73, taking a few blows to the body, including one on the face off the bowling of Naseem Shah.
A 36-run partnership between him and Vishwa Fernando enabled Sri Lanka to stretch the lead close to the 100-run mark, but unfortunately Afridi removed him and No. 11 Lahiru Kumara 2 deliveries later to end the Sri Lankan innings. Afridi managed his 1st 5-fer in Tests and career-best bowling figures of 5/77. Abbas played a brilliant supporting role to finish with 4/55.
In reply the Pakistani openers Shan Masood and Abid Ali started strongly, scoring at a healthy run rate to go to stumps unbeaten on 21 and 32 respectively. Sri Lanka did not have many opportunities, with one close LBW shout going Masood's way despite the visitors' review.
271/10 (85.5) & 212/7 (60)
191/10 (59.3) & 555/3 (131)


Batsmen
R
B
4s
6s
SR
Shan Masood
b Vishwa Fernando
5
15
1
0
33.33
Abid Ali
lbw b Lahiru Kumara
38
66
7
1
57.58
Azhar Ali
b Vishwa Fernando
0
2
0
0
0.00
Babar Azam
st Niroshan Dickwella b Lasith Embuldeniya
60
96
8
1
62.50
Asad Shafiq
c Vishwa Fernando b Lahiru Kumara
63
126
6
0
50.00
Haris Sohail
lbw b Lasith Embuldeniya
9
30
0
1
30.00
Mohammad Rizwan
b Lahiru Kumara
4
2
1
0
200.00
Yasir Shah
lbw b Lahiru Kumara
0
1
0
0
0.00
Mohammad Abbas
c Dhananjaya de Silva b Lasith Embuldeniya
0
9
0
0
0.00
Shaheen Shah Afridi
c Angelo Mathews b Lasith Embuldeniya
5
9
1
0
55.56
Naseem Shah
not out
1
1
0
0
100.00
| | |
| --- | --- |
| Extras | 6 (b 4 , lb 2 , nb 0, w 0, pen 0) |
| Total | 191/10 (59.3 Overs, RR: 3.21) |
| Fall of Wickets | 1-10 (6.1) Shan Masood, 2-10 (6.3) Azhar Ali, 3-65 (20.3) Abid Ali, 4-127 (39.5) Babar Azam, 5-167 (51.5) Haris Sohail, 6-172 (52.2) Mohammad Rizwan, 7-172 (52.3) Yasir Shah, 8-179 (55.5) Mohammad Abbas, 9-185 (58.1) Asad Shafiq, 10-191 (59.3) Shaheen Shah Afridi, |
| Bowling | O | M | R | W | Econ |
| --- | --- | --- | --- | --- | --- |
| Vishwa Fernando | 13 | 3 | 31 | 2 | 2.38 |
| Lahiru Kumara | 18 | 5 | 49 | 4 | 2.72 |
| Dimuth Karunaratne | 1 | 0 | 11 | 0 | 11.00 |
| Lasith Embuldeniya | 20.3 | 3 | 71 | 4 | 3.50 |
| Dilruwan Perera | 7 | 0 | 23 | 0 | 3.29 |


Batsmen
R
B
4s
6s
SR
Oshada Fernando
c Mohammad Rizwan b Shaheen Shah Afridi
4
19
0
0
21.05
Dimuth Karunaratne
b Mohammad Abbas
25
42
4
0
59.52
Kusal Mendis
c Haris Sohail b Mohammad Abbas
13
27
1
0
48.15
Angelo Mathews
c Mohammad Rizwan b Shaheen Shah Afridi
13
44
1
0
29.55
Lasith Embuldeniya
c Asad Shafiq b Mohammad Abbas
13
34
1
0
38.24
Dinesh Chandimal
c Shan Masood b Haris Sohail
74
143
10
0
51.75
Dhananjaya de Silva
c Mohammad Abbas b Shaheen Shah Afridi
32
56
2
1
57.14
Niroshan Dickwella
b Mohammad Abbas
21
35
3
0
60.00
Dilruwan Perera
lbw b Shaheen Shah Afridi
48
84
6
1
57.14
Vishwa Fernando
not out
5
32
0
0
15.62
Lahiru Kumara
b Shaheen Shah Afridi
0
2
0
0
0.00
| | |
| --- | --- |
| Extras | 23 (b 4 , lb 10 , nb 3, w 6, pen 0) |
| Total | 271/10 (85.5 Overs, RR: 3.16) |
| Fall of Wickets | 1-28 (6.2) Oshada Fernando, 2-39 (12.2) Dimuth Karunaratne, 3-61 (16.2) Kusal Mendis, 4-78 (26.3) Lasith Embuldeniya, 5-80 (29.1) Angelo Mathews, 6-147 (47.3) Dhananjaya de Silva, 7-184 (58.6) Niroshan Dickwella, 8-235 (72.5) Dinesh Chandimal, 9-271 (85.3) Dilruwan Perera, 10-271 (85.5) Lahiru Kumara, |
| Bowling | O | M | R | W | Econ |
| --- | --- | --- | --- | --- | --- |
| Shaheen Shah Afridi | 26.5 | 5 | 77 | 5 | 2.91 |
| Mohammad Abbas | 27 | 9 | 55 | 4 | 2.04 |
| Naseem Shah | 16 | 1 | 71 | 0 | 4.44 |
| Yasir Shah | 13 | 0 | 43 | 0 | 3.31 |
| Haris Sohail | 3 | 0 | 11 | 1 | 3.67 |


Batsmen
R
B
4s
6s
SR
Shan Masood
c Oshada Fernando b Lahiru Kumara
135
198
7
3
68.18
Abid Ali
lbw b Lahiru Kumara
174
281
21
1
61.92
Azhar Ali
st Niroshan Dickwella b Lasith Embuldeniya
118
157
13
0
75.16
Babar Azam
not out
100
131
8
1
76.34
Mohammad Rizwan
not out
21
19
2
0
110.53
| | |
| --- | --- |
| Extras | 7 (b 0 , lb 5 , nb 0, w 2, pen 0) |
| Total | 555/3 (131 Overs, RR: 4.24) |
| Fall of Wickets | 1-278 (68.3) Shan Masood, 2-355 (90.1) Abid Ali, 3-503 (123.1) Azhar Ali, |
| Bowling | O | M | R | W | Econ |
| --- | --- | --- | --- | --- | --- |
| Vishwa Fernando | 24 | 2 | 105 | 0 | 4.38 |
| Lahiru Kumara | 29 | 5 | 139 | 2 | 4.79 |
| Lasith Embuldeniya | 50 | 4 | 193 | 1 | 3.86 |
| Dilruwan Perera | 21 | 1 | 94 | 0 | 4.48 |
| Dhananjaya de Silva | 7 | 0 | 19 | 0 | 2.71 |


Batsmen
R
B
4s
6s
SR
Dimuth Karunaratne
c Mohammad Rizwan b Mohammad Abbas
16
28
2
0
57.14
Oshada Fernando
not out
102
175
13
0
58.29
Kusal Mendis
c Babar Azam b Naseem Shah
0
4
0
0
0.00
Angelo Mathews
c Mohammad Rizwan b Shaheen Shah Afridi
19
33
1
0
57.58
Dinesh Chandimal
lbw b Naseem Shah
2
29
0
0
6.90
Dhananjaya de Silva
b Yasir Shah
0
8
0
0
0.00
Niroshan Dickwella
b Haris Sohail
65
76
11
0
85.53
Dilruwan Perera
c Mohammad Rizwan b Naseem Shah
5
8
1
0
62.50
| | |
| --- | --- |
| Extras | 3 (b 0 , lb 3 , nb 0, w 0, pen 0) |
| Total | 212/7 (60 Overs, RR: 3.53) |
| Fall of Wickets | 1-39 (9.4) Dimuth Karunaratne, 2-40 (10.3) Kusal Mendis, 3-70 (20.4) Angelo Mathews, 4-96 (30.1) Dinesh Chandimal, 5-97 (31.5) Dhananjaya de Silva, 6-201 (57.3) Niroshan Dickwella, 7-212 (60.1) Dilruwan Perera, |
| Bowling | O | M | R | W | Econ |
| --- | --- | --- | --- | --- | --- |
| Shaheen Shah Afridi | 14 | 3 | 51 | 1 | 3.64 |
| Mohammad Abbas | 12 | 2 | 33 | 1 | 2.75 |
| Naseem Shah | 11.1 | 3 | 31 | 3 | 2.79 |
| Yasir Shah | 19 | 2 | 84 | 1 | 4.42 |
| Haris Sohail | 4 | 0 | 10 | 1 | 2.50 |