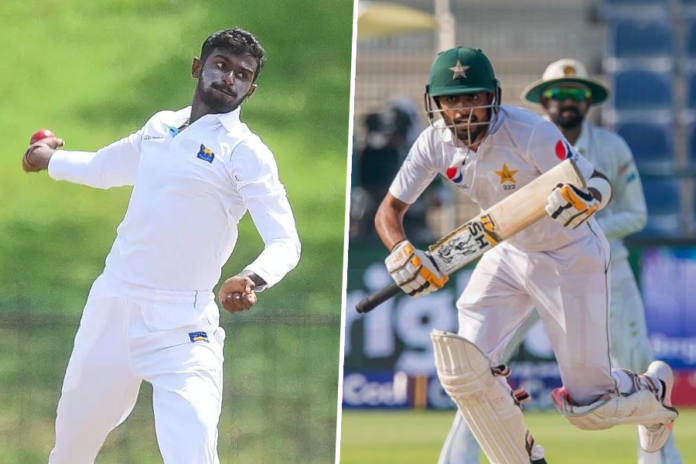 The pre-series warm-up game for the touring Pakistani Test squad, kickstarted today at Colts Grounds in Colombo, with the tourists ending the opening day on 277 for 7 against the Sri Lanka Cricket XI lead by 21-year old Nipun Dananjaya.
Electing to bat first after winning the toss, Pakistan lost both their openers Abdullah Shafique and Imam-ul-Haq cheaply within the first 5 overs as Sri Lanka's latest ODI debutant Pramod Madushan and 21-year old left-arm pacer Dilshan Madushanka produced a brilliant start for the home team with the new ball.
Pakistan's highest ranked batting duo of Azhar Ali and Babar Azam then put on a brilliant 134-run stand for the 3rd wicket, as Skipper Azam scored at a brisk rate which included 8 boundaries and 4 sixes. Then a brilliant spell of bowling by the Lankan spin duo, Test cap Lasith Embuldeniya and 22-year old off-spinner Lakshitha Manasinghe, produced the wickets of the two set batters in quick succession – first Azam for 88 by Manasinghe, and then former Skipper Ali for 43 by Embuldeniya.
Manasinghe went on to add two more valuable scalps to his bag as he dismissed Fawad Alam and Mohammed Rizwan for 22 and 31 respectively, reducing Pakistan to 6 down for 200 runs. Following the fall of the 7th wicket, Shan Masood for 6 by Embuldeniya, the uncapped duo of Saud Shakeel and Agha Salman remained unbeaten, adding 71 runs for the 8th wicket.
Photo Album – Pakistan tour of Sri Lanka 2022 – Sri Lanka Cricket XI vs Pakistan | Warm-Up Game – Day 1
Member of the current Sri Lanka Test squad for the Australia series, Chamika Karunaratne, also had a ball bowling 5 overs. However, Embuldeniya's returns of 2 for 83 in 30 overs after being dropped from the Test squad following a dismal performance in the 1st Test against Australia, stands out as a positive sign for the Lankans, apart from the impressive figures of Manasinghe. Manasinghe was also in contention for a debut in the 2nd Test, in which the mystery spin of Maheesh Theekshana was picked ahead of him.
The game will resume tomorrow for the 2nd days play.
Brief Scores
Pakistan – 277/7 (90) Babar Azam 88, Agha Salman 43*, Azhar Ali 43, Mohammad Rizwan 31, Saud Shakeel 30*, Fawad Alam 22, Lakshitha Manasinghe 3/83, Lasith Embuldeniya 2/83, Pramod Madushan 1/29, Dilshan Madushanka 1/36

Stumps – Day 1
>> Visit the Sri Lanka v Pakistan 2022 hub <<


Batsmen
R
B
4s
6s
SR
Abdullah Shafique
c Nuwanidu Fernando b Udith Madushan
3
10
0
0
30.00
Imam-ul-Haq
c Nipun Dananjaya b Angelo Perera
0
10
0
0
0.00
Azhar Ali
c Nuwanidu Fernando b Lasith Embuldeniya
43
118
3
0
36.44
Babar Azam
c Lahiru Udara b Lakshitha Manasinghe
88
113
8
4
77.88
Fawad Alam
c Sadeera Samarawickrama b Lakshitha Manasinghe
22
64
2
0
34.38
Mohammad Rizwan
b Lakshitha Manasinghe
31
65
3
0
47.69
Shan Masood
c Minod Bhanuka b Lasith Embuldeniya
6
18
1
0
33.33
Saud Shakeel
retired
30
74
3
0
40.54
Agha Salman
c Nuwanidu Fernando b Udith Madushan
55
79
3
1
69.62
Mohammad Nawaz
c Lasith Embuldeniya b Dilshan Madushanka
16
19
3
0
84.21
Yasir Shah
not out
9
16
1
0
56.25
Shaheen Shah Afridi
not out
5
15
0
0
33.33
| | |
| --- | --- |
| Extras | 15 (b 3 , lb 5 , nb 3, w 4, pen 0) |
| Total | 323/10 (97 Overs, RR: 3.33) |
| Bowling | O | M | R | W | Econ |
| --- | --- | --- | --- | --- | --- |
| Dilshan Madushanka | 17 | 4 | 54 | 2 | 3.18 |
| Pramod Madushan | 12 | 2 | 29 | 1 | 2.42 |
| Lasith Embuldeniya | 30 | 8 | 83 | 2 | 2.77 |
| Chamika Karunaratne | 5 | 0 | 15 | 0 | 3.00 |
| Lakshitha Manasinghe | 23 | 2 | 83 | 3 | 3.61 |
| Nipun Dananjaya | 5 | 0 | 12 | 0 | 2.40 |
| Ashen Bandara | 2 | 0 | 13 | 0 | 6.50 |
| Udith Madushan | 3 | 0 | 17 | 1 | 5.67 |


Batsmen
R
B
4s
6s
SR
Nishan Madushka
c Sarfaraz Ahmed b Shaheen Shah Afridi
57
94
9
0
60.64
Sadeera Samarawickrama
c Yasir Shah b Agha Salman
91
99
13
0
91.92
Nuwanidu Fernando
lbw b Yasir Shah
78
177
4
1
44.07
Nipun Dananjaya
c Abdullah Shafique b Mohammad Nawaz
14
19
2
0
73.68
Lahiru Udara
c Sarfaraz Ahmed b Mohammad Nawaz
4
5
1
0
80.00
Sahan Arachchige
b Naseem Shah
28
67
2
0
41.79
Chamika Karunaratne
lbw b Hasan Ali
27
43
5
0
62.79
Minod Bhanuka
not out
32
45
7
0
71.11
Ashen Bandara
lbw b Faheem Ashraf
12
23
2
0
52.17
Lakshitha Manasinghe
not out
18
26
3
0
69.23
| | |
| --- | --- |
| Extras | 14 (b 0 , lb 9 , nb 2, w 3, pen 0) |
| Total | 375/8 (99 Overs, RR: 3.79) |
| Bowling | O | M | R | W | Econ |
| --- | --- | --- | --- | --- | --- |
| Shaheen Shah Afridi | 12 | 4 | 34 | 1 | 2.83 |
| Hasan Ali | 12 | 0 | 35 | 1 | 2.92 |
| Nauman Ali | 16 | 2 | 60 | 0 | 3.75 |
| Agha Salman | 13 | 0 | 76 | 1 | 5.85 |
| Naseem Shah | 10 | 2 | 34 | 1 | 3.40 |
| Yasir Shah | 20 | 1 | 86 | 1 | 4.30 |
| Mohammad Nawaz | 10 | 2 | 24 | 2 | 2.40 |
| Faheem Ashraf | 4 | 0 | 10 | 1 | 2.50 |
| Haris Rauf | 2 | 1 | 7 | 0 | 3.50 |


Batsmen
R
B
4s
6s
SR
Abdullah Shafique
-select- b
63
111
5
2
56.76
Imam-ul-Haq
c Minod Bhanuka b Lakshitha Manasinghe
30
45
5
0
66.67
Fawad Alam
c Nuwanidu Fernando b Lasith Embuldeniya
6
19
1
0
31.58
Azhar Ali
-select- b
40
75
3
0
53.33
Sarfaraz Ahmed
not out
21
34
1
0
61.76
Mohammad Nawaz
not out
13
16
1
0
81.25
| | |
| --- | --- |
| Extras | 5 (b 4 , lb 0 , nb 0, w 1, pen 0) |
| Total | 178/2 (50 Overs, RR: 3.56) |
| Bowling | O | M | R | W | Econ |
| --- | --- | --- | --- | --- | --- |
| Dilshan Madushanka | 5 | 2 | 11 | 0 | 2.20 |
| Pramod Madushan | 4 | 0 | 17 | 0 | 4.25 |
| Udith Madushan | 3 | 0 | 7 | 0 | 2.33 |
| Lasith Embuldeniya | 20 | 1 | 72 | 1 | 3.60 |
| Lakshitha Manasinghe | 13 | 0 | 50 | 1 | 3.85 |
| Ashen Bandara | 4 | 0 | 12 | 0 | 3.00 |
| Sahan Arachchige | 1 | 0 | 5 | 0 | 5.00 |