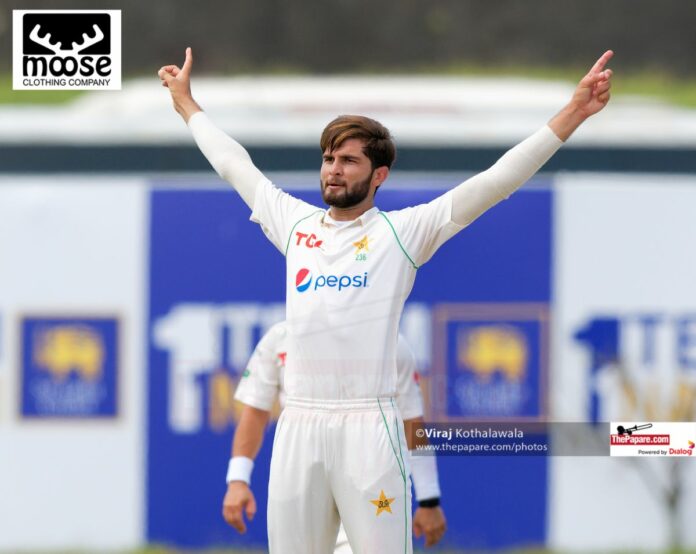 Pakistan are in town for a two match Test series, after somewhat of a long layoff given the frequency they used to take on Sri Lanka in cricket.
The last time Pakistan were here was in 2015. It's unusual that they have not toured here in seven years, especially as England have toured Sri Lanka twice and so have the Aussies in that period. Given the fact that Sri Lanka's bilateral series against England, Australia and India are unlikely to be three match series, at least against likeminded teams like Pakistan there should be three Test contests.
Every time they take on Sri Lanka, they tend to unleash a young prodigy who marvels the cricketing world. Be it 18-year-old Saleem Malik in the 1980s, Saqlain Mushtaq in the 1990s, Younis Khan in the new millennium and Fawad Alam in the next decade. All of them debuted against Sri Lanka and caused lots of problems. You wonder what they will unleash this time around. A tearaway quick, an elegant batsman or an unorthodox spinner.
Cricket in Pakistan in the early days used to be an elite sport. From their first Test captain Abdul Hafeez Kardar to World Cup winning skipper Imran Khan, they were Oxford educated while Majid Khan was a Cambridge Blue. They were from posh Lahore.
In 1975, a street fighter from Karachi debuted at the age of 17 and he's been considered the greatest batsman produced by Pakistan. Javed Miandad is his name. He built the Pakistan team in his own image, standing up to the opposition and never taking a backward step. He also reached out to the grassroots of Pakistan and talents started emerging from all parts of the country. There's bit of Arjuna Ranatunga in him. The Lahore-Karachi rivalry of Pakistan cricket is legendary. In sporting terms, it's like Manchester United versus Liverpool or Bulls versus Pistons or to make it more closer to home Royal versus S. Thomas'. It wouldn't be a bad assessment say that Lahore represents the elites while Karachi is the grassroots.
Usually Pakistan's cricket teams have all bases covered. Technically sound batters, those with flamboyance, others who grind it out or those who throw the kitchen sink. All are part of the batting unit. As for bowling, there's left-arm pace, there are right-arm quicks, finger
spinners both left and right arm while their leg-spin is legendary be it Abdul Qadir, Mushtaq Ahmed or the incumbent Yasir Shah.
Similar to Sri Lanka, Pakistan do not have a strong domestic structure. Their First Class cricket is fragile. Although efforts were made in recent times with the blessings of their Prime Minister Imran Khan to reduce the number of First Class teams, there are still numerous issues in domestic cricket. School cricket in Pakistan is dead. The PSL has been a godsend and it has helped address some of the issues. But it's nowhere near the IPL. Pakistan's cricket has done well because of natural talent.
Despite all the natural talent and individual brilliance, you tend to think that Pakistan haven't dominated the game as much as they should have.
They have won the 50 over World Cup just once and on the other occasion they reached the final, it proved to be an anti-climax. Often you see them cruising through the group stage only to lose a crucial knockout game. Some may say that like South Africa, they tend to choke. Others point out that there's deep infighting among team members while you also suspect that there are reasons beyond cricketing ones.
In Test match cricket too in places like Australia and South Africa, they have failed to compete and it's surprising for a side that's blessed with so many fast bowling talents. Pakistan certainly have not done justice to their cricketing talents.
Not just among cricketers, there have been also some top notch officials. Kardar mooted the Asian Cricket Council to break the power of England and Australia at the ICC. In recent years, there have been other global leaders like Eshan Mani, Ijaz Butt and Zaheer Abbas (Asian Bradman). There was Wasim Raja, one of finest Match Referees and Aleem Dar, probably the best umpire since Simon Taufel.
Currently you have the versatile Rameez Raja as their board Chairman. A former Test captain and well educated man, he speaks lot of sense on sensitive cricketing issues and you see him going places. He's also done well to bring international cricket back to Pakistan and they are only going to make further improvements having played home matches at neutral venues for over a decade.
Pakistan also has been a number one producer of cricket equipment which are relatively cheaper than what you get from UK or Australia. The Dukes ball that's been used in Test matches in England were in fact invented in Sialkot.