As the first round of the FA Cup comes towards the end, the Old Royalists cruised to a 5-0 win over the Old Hinduites at the Baddegana Football Complex, to seal their place in the second round of the FA Cup.
The Old Royalists got off to a better start with their main threat upfront Amir Khalid testing the goalkeeper twice in quick succession during the early exchanges.
They failed to convert several clear cut chances to get themselves a lead before midfielder Ashfaq scored the first goal of the game in the 19th minute from the edge of the box after a mazy run to get into space.
Khalid then gave the Royalists a 2-0 in the 36th minute after beating the keeper to the bouncing ball and toe-poking the ball home.
The Old Hinduites also created a few chances of their own in the first half with forward Ayingharan testing the Royal goalkeeper on several occasions, before the Royalists hit the woodwork twice in quick succession towards the end of the half.
The Old Royalists got the second half off to the perfect start as they extended their lead in the 59th minute through forward Shafeen following a scramble in the box.
He then doubled his tally in the 61st minute from point blank range after being played through by Khalid.
Amir Khalid then doubled his own tally after beating the offside trap and keeping calm to slot home past the keeper.
The Hinduites played better football in the second half but couldn't find the final pass and midfielder Vishnuharan had a shot go narrowly wide and forward Aravindan missed a header in the dying minutes as they were unable to seize the chance to score a consolation goal.
Referee for the game was Ajith Priyankara.
ThePapare.com Man of the Match: Amir Khalid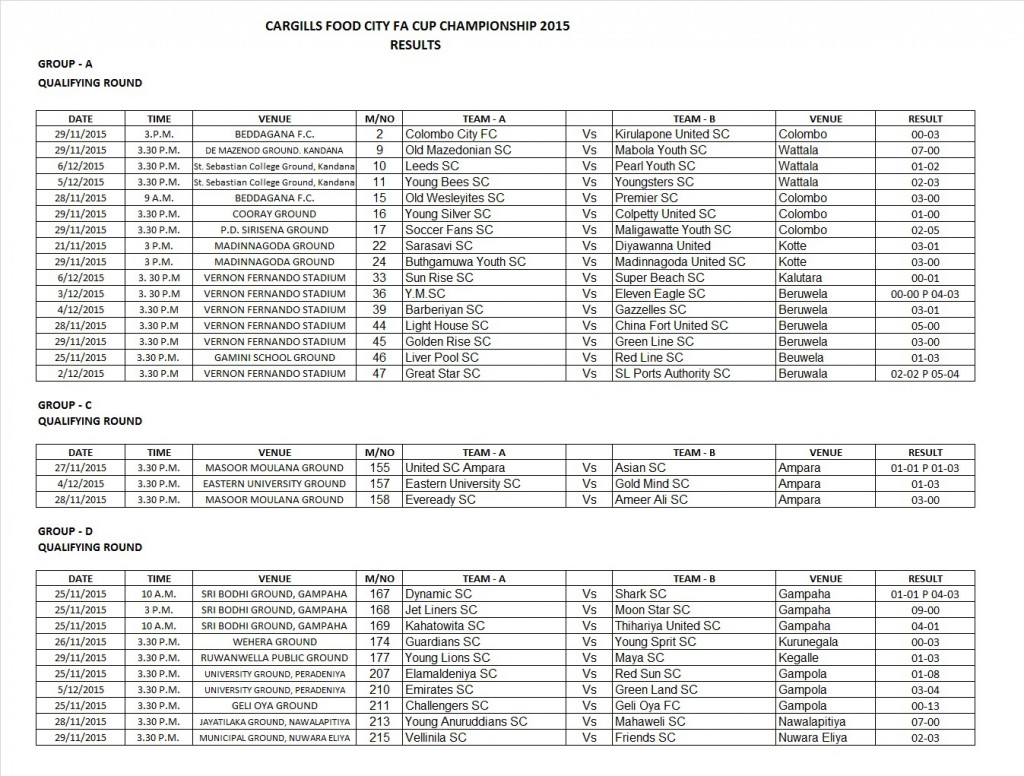 Date
Match

16.12.15

Cooray SC
4
1
Badowita United SC

19.12.15

Friends SC
3
1
St. Micheal SC

20.12.15

Technics SC
3
0
Football Academy SC

19.12.15

Vystwike Park SC
8
1

Red Star SC (Rajagiriya)

20.12.15

Kurunduwatta Untd. SC

5
1
Gamini SC

20.12.15

Rahula SC
4
1
Batapola Youth SC

20.12.15

Urban Council SC
2
0
Dondanduwa SC

20.12.15

Nugaduwa SC
5
1
Sadaras SC

20.12.15

Sri Lashington SC
3
1
Hirukirana SC

18.12.15

Old Anurudians SC
3
0
Black Pool SC

19.12.15

Manchester SC
6
0
Falcon SC

15.12.15

Youth SC
5
1
Calton SC

20.12.15

New Star SC
2
1
Middlex SC

13.12.15

Nugaduwa United SC
3
1
Sandares SC

13.12.15

Freedom SC
2
1
Siyane SC

13.12.15

Vicking SC
6
0
Fergusion Youth SC

13.12.15

Millanium SC

1(9)

1(8)

KJF

12.12.15

Serandib SC
3
1
River Side SC

12.12.15

Air Lanka
3
1
Success SC

13.12.15

Cresent SC
2
1
Sun Shixne SC

10.12.15

Jolly Boys SC
4
1
Rangers SC

13.12.15

Ubarn Council SC
5
1
Kalaniweli SC

13.12.15

Young United SC
3
0
Rangers SC

13.12.15

Real Panadura SC
2
1

Sarikkammulla Youth SC

13.12.15

Evershine SC
2
1
Red Sun SC

13.12.15

Moratu Katukurunda SC

3
0
Soyzapura United SC

02.01.16

Carlton United SC
2
1
Zavia SC

02.01.16

Dharga Town SC

0(4)

0(3)

Arabian SC

03.01.16

Ruhunu SC
5
1
Weligama United SC

03.01.16

Great Star SC
2
0
Red Line SC

02.01.16

Kurunduwatta United SC

6
2
Flying Arrows SC

02.01.16

United Star SC
8
2
Raddolugama SC

03.01.16

Eleven Star SC
6
1
Montross SC

02.01.16

Morning Star SC

1(5)

1(3)

Ovo SC

02.01.16

New Saunders SC
6
1
Fordyce SC

03.01.16

Berat United SC
1
0
Sun Rise SC

02.01.16

Gold Touch SC
3
1
Hornsey SC

02.01.16

Evershine sC
2
1
Red Sun SC

03.01.16

Gali Oya FC
4
0
Green Land SC

03.01.16

Old Hameedians FC
6
0
Eveready SC

03.01.16

Sunny Mount SC
4
1
Eleven Lion SC