Triple jumper, Vidusha Lakshani saved Sri Lanka's blushes as she avenged her missed Bronze in the 2017 edition of the Asian Athletic Championship winning Bronze in the Women's Triple jump with a best jump of 13.53m.  
It was a terrific performance from the jumper who had a difficult time during the past couple of years but has improved vastly after coming under the tutelage of Cuban jumping Coach Luiz Miranda.
>>Photos: 23rd Asian Athletics Championship Day 3<<
In the Triple jump final, Vidusha looked the part from the get go as she was very focused from the start of the event. Despite difficult weather condition where the temperature read an unlikely 19 degrees Celsius for Qatar, Vidusha impressed with a terrific leap in her very first jump, recording figures of 13.40m.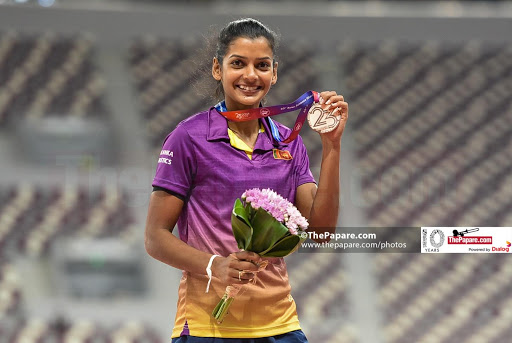 This jump which was a much better performance than her leap in Sri Lanka to qualify for the championship placed her in Bronze medal contention soon after the first round behind Thailand's Parinya Chuaimaroeng and China's Rui Zeng . Vidusha's second attempt was disallowed while she managed to better her performance in her third attempt with a leap of 13.46m. It was her fourth attempt which was measured at 13.53m which secured her the Bronze medal despite her last two attempts being disallowed.  The Gold and the Silver Medals remained unchanged with Thailand's Parniya and China's Rui respectively.
Speaking to ThePapare.com after her victory Vidusha was delighted about her victory and stated that "I am so very happy, I missed a bronze medal last time in India by 2cm. Coming into this championship no one expected me to do well but my coach believed in me and told me to be positive. I was not looking for a medal but I wanted to make sure I improve my seasonal best.  So happy that I managed to win this medal for my country"
>>Visit Hub -Asian Athletic Championship 2019<<
Vidusha competed with a black band around her arm in respect of the Sri Lankans who lost their life in tragic circumstances and was very emotional speaking about it " I was really sad, when I found out that there was a bomb blast in Negombo. I was very worried because I am from Negombo and I was scared for my family. Some of my teachers and friends from school have lost their lives due to the bomb blast and many have been injured. I hope my victory brings some joy to my fellow countrymen who are going through a very difficult time" said Vidusha with eyes full of tears unable to choose between happiness, sadness and fear.
Despite being hit by tragic news from homeland which affected her specially being a resident of a city that was affected on the fateful Easter Sunday, Vidusha showcased real determination and unwavering self-belief to beat all the odds to make her mark on the Asian stage. It is a great example for all of us Sri Lankans who are going through a tough time to believe that we can overcome this adversity if we believe in ourselves.