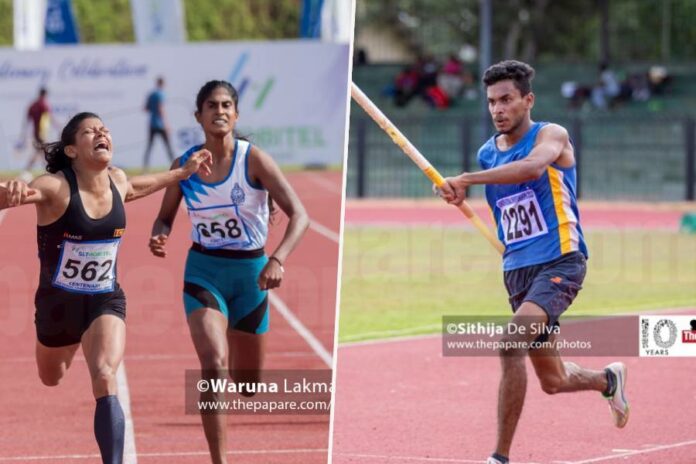 The national selection trials for the Asian Athletics Championship & the Asian Games kicked off yesterday at the Diyagama Mahinda Rajapakse Stadium. The trials will take place for two days on the 17th & 18th of September. On the first day of action, Sri Lanka Army walked away with honors.
Men's Events
In the Men's Pole Vault, A.Puvitharan of Sri Lanka Army smashed the Sri Lankan record with a jump of 5.15m. In the 100m event, Y.C.M Yodasinghe clinched 1st place with a time of 10.53 seconds. M.V.S Silva & D.S Ratnasiri were placed 2nd & 3rd respectively making it an all-Army top 3.
Kalinga Kumarage of Army registered 1st place in the 400m event while R.M.R.N Rajakaruna & K.K Pabasara were placed 2nd & 3rd.
Sri Lanka Army showed their dominance further with a top 3 clean sweep in the 800m events as well with R.P.P Pushpakumara, S.B Attanayake & H.M.S Kumara winning the 1st,2nd & 3rd respectively.
Women's Events
Medhani Jayamanne of Sri Lanka Army clocked 11.93 seconds in the 100m event to win 1st place. Shelinda Jansen ended up taking the 2nd spot while Rumeshika Ratnayake won 3rd place.
In the 400m event, R.Nadeesha of Sri Lanka Army won 1st place with N.H Fernando & S.H Fernando securing the 2nd & 3rd spots.
Sri Lanka Air Force registered the top 2 places in the 800m event with L.A Nimali winning the event & M.A Kumari ended with the 2nd spot. Isanka Gayani Ranasinghe of Sri Lanka Army won 3rd place in the event.
The last day of the national selection trials will take place today (18th). Stay tuned to ThPapare.com for all the latest news & updates from the event.