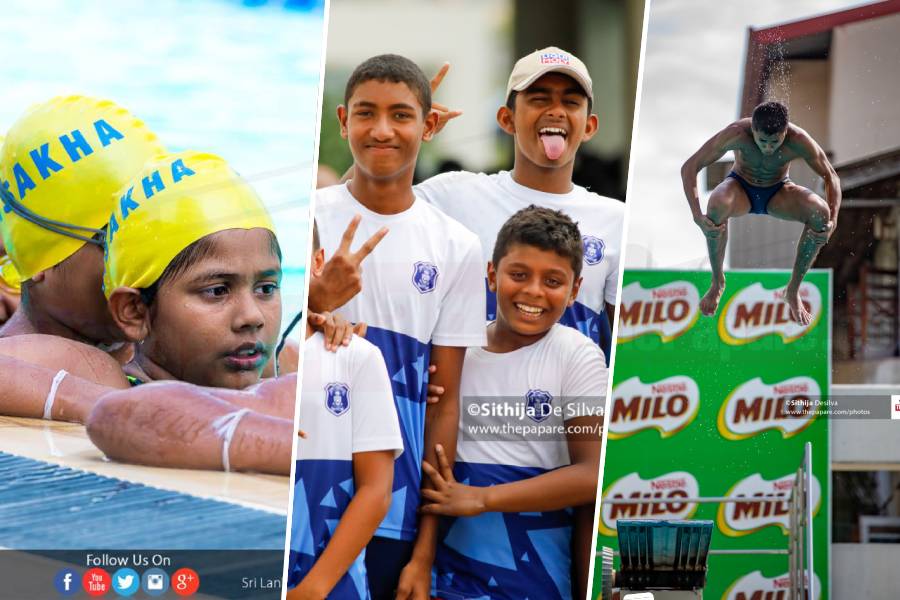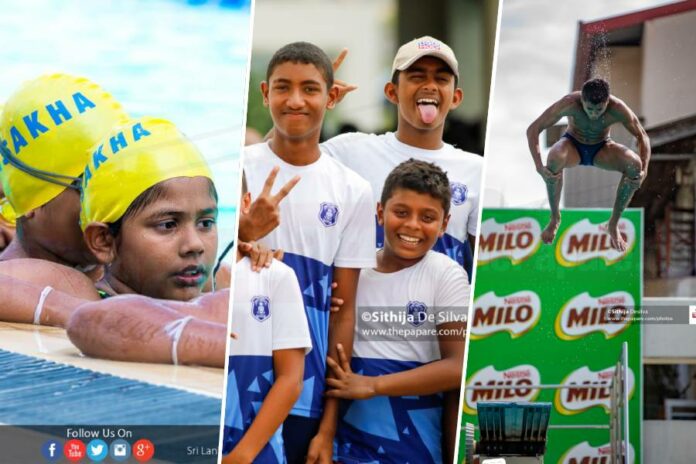 The 47th Annual Sri Lanka Schools All Island Age Group Aquatic Championships 2022, organized by the Sri Lanka Schools Aquatic Sports Association and powered by Nestlé – Milo, will be held from the 7th to the 11th of December 2022 at the Sugathadasa Swimming Pool Complex.
Two hundred island-wide schools will clash against each other in the coming week to triumph in winning Overall Boys, Girls, and Mixed Championships. A total of 5000 swimmers and divers under six age groups, namely Under 10,12,14,16,18 and 20, will take part in this year's tournament. The top 8 positions of Under 10 and 12 age groups will be awarded only qualification certificates due to the guidelines from the Ministry of Education. Medals and certificates will be awarded to the top 3 positions, and qualification certificates for the top 8 positions of the rest of the age groups.
>> Visakha breaks 20-year Mayan reign; St. Joseph's stay unbeaten for sixteenth year
>> Photos – Sri Lanka Schools Aquatic Championship 2022 – Press Conference
Swimming
The Swimming Championships will take place on all 05 days, with relays happening on the final day of the meet. The Swimming Championships contain 164 events, including 140 individual events and 24 relays. 275 boys and 180 girls teams are set to participate in the relays on the final day.
23 Trophies will be awarded in the Swimming category -16 for Under 14-20 Girls and Boys Age Group Individual and Team Champions, 4 for Junior and Senior Overall Winners in both Girls and Boys, and the three main titles of Overall Champions trophies in Girls, Boys and Mixed categories.
The current owners of the Overall Champions titles in Boys, Girls and Mixed categories are St. Joseph's College, Maradana, Visakha Vidyalaya, Colombo and Lyceum International School, Wattala, respectively.
The Joes swimming will be fighting for their 17th consecutive win this year. The Visakhians, who broke the Mayan reign of 2 decades in 2019, will swim to secure their 2nd win in this competition and the 8th win for 2022.
Diving
The Diving Championships will be on the 8th and 9th of December, along with the Swimming Championships. 274 boys and 110 girls will participate in 3 events of 1m Springboard, 3m Springboard and Platform.
Ten trophies will be awarded in Diving. For age groups Under 14 and above, eight Individual Age Group Championships and two Overall Boys and Girls Champion titles will be awarded.
Bishop's College, Colombo and Royal College, Colombo won the Overall Championships at the 46th Annual Sri Lanka Schools All Island Age Group Diving Championships in 2019.
For more updates on the 47th Annual Sri Lanka Schools All Island Age Group Aquatic Championships 2022, please stay connected with ThePapare.com.