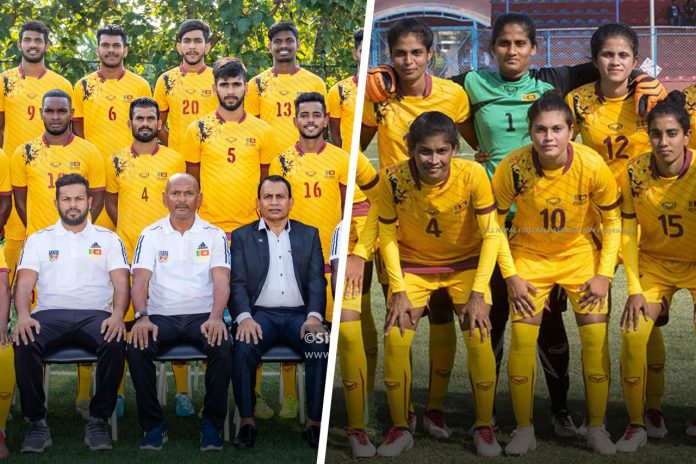 The South Asian Games 2019 Men's and Women's Football schedule was released a short while ago. Both the Men's and Women's teams will play each of the other participating nations and the first 2 will fight it out for the Gold medal.
The Football Federation of Sri Lanka (FFSL) announced a 20-man squad for the South Asian Games 2019…..
Men's Football – With the withdrawal of the Indian team today, the tournament took a whole new look and the entire schedule has now been changes by the organizers.
Earlier Sri Lanka was drawn in group B along with Maldives and India, with the top 2 then expected to play the semifinals against Group A's top two teams. However, now with the withdrawal of India, all the remaining nations will play each other in a league format and the top 2 nations will battle out for the Gold Medal. There will be no Bronze on offer with the new format.
Sri Lanka will take on Maldives in the first match on 02nd December at 5.00pm. 2 days later they will play hosts Nepal at the Pokhara Stadium. With less than 24hrs rest Lankans will play against Bangladesh. The final league match will be against Bhutan on 07th of December. 
All League matches except the clash between Nepal will be played at Dasarath Stadium in Kathmandu making the task tougher for the Lankans as they have to travel overnight to play the game against Bangladesh.
Lankans hope of making the Final rest on winning at least 2 matches and drawing 1 out of the 4. 
– Schedule of Matches – 

Maldives vs Sri Lanka 
02 Dec 5:00pm Dasarath Stadium

Nepal vs Sri Lanka
04 Dec 5:00pm Pokhara Stadium

Sri Lanka vs Bangladesh
05 Dec 5:00pm Dasarath Stadium

Sri Lanka vs Bhutan
07 Dec 5:00pm Dasarath Stadium
Women's Football – The women's competition will go on as planned with 4 nations taking part. Hosts Nepal, India, Maldives and Sri Lanka will play in a league format.
Bhutan and Bangladesh are two surprise non participants as both countries have formidable teams in women's football.
Once again it will only be the Gold and Silver Medals on offer as the top 2 finishing teams will play the Final. Sri Lankan hopes of getting to the final will be determined on the results against Maldives and Nepal.
All the matches of the Women's competition will be played at the Pokhara Stadium.
– Schedule of Matches –

Nepal vs Sri Lanka 
03 Dec 1:00pm Pokhara Stadium

India vs Sri Lanka
05 Dec 1:00pm Pokhara Stadium

Sri Lanka vs Maldives
07 Dec 1:00pm Pokhara Stadium
>>For more Football News Click Here<<