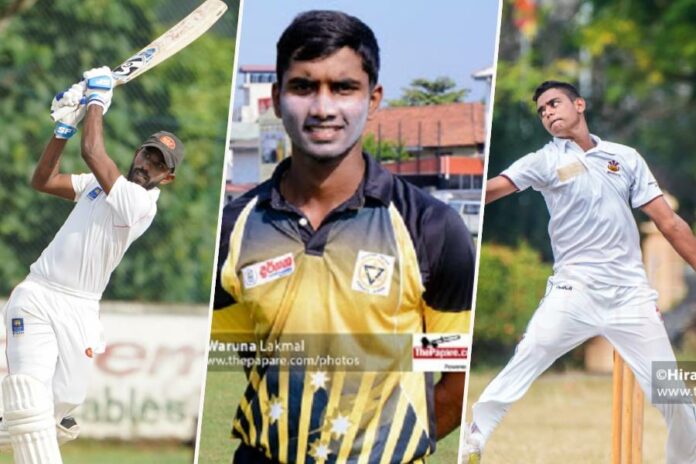 Eleven matches of Major Club Emerging 3 Day Tournament 2022 ended today (27th February) at several venues across the island.

Read More : A brilliant ton from Janishka Perera pilots Moors to victory
The left-arm seamer Dilshan Madushanka who picked up a match bag of 9 wickets for 97 runs powers Colts Cricket Club to an innings win over Galle CC. Movin Subasinghe's double century with the bat and Nadeera Ishan's match bag of 10 wickets for 96 runs helped Air Force SC register an innings win over SSC.
The all-round performance of Johanne De Zilva (144 & 5/53) piloted NCC to an innings win over Kurunegala YCC. Sri Lanka Test discard Minod Bhanuka's century headlines CCC's innings victory recorded over Navy SC today at CCC Grounds.
Meanwhile, Army CC recorded a comprehensive 7-wicket win over Ace Capital CC thanks to the left-arm spinner Kaumal Nanayakkara's heroics with the ball. Kaumal picked up a match bag of 11 wickets for just 82 runs.
Brief Scores
Galle Cricket Club 137 (46.3) Dilshan Kanchana 46, Prabath De Zoysa 40, Ruvin Seneviratna 3/32, Dilshan Madushanka 3/39, Harshana Wickramasinghe 2/14, Jehan Daniel 2/30 & 168 (40.3) Tharindu Amarasinghe 38, Subhanu Rajapaksa 34, Hb Weerasingha 34, Dilshan Madushanka 6/58, Marp Seneviratne 2/48

Colombo Colts Cricket Club 313 (69.4) Jehan Daniel 48, Harsha Rajapaksha 46, Shalin De Mel 35, Rohan Sanjaya 32, Avishka Perera 32, Dilshan Madushanka 27*, Ruvin Seneviratna 23, Ravindu Rasantha 20, Subhanu Rajapaksa 4/80, Kavindu Dilhara 4/94, Sandun Madushanka 2/27

Result – Colts CC won by an innings & 8 runs
---
Air Force Sports Club 412/9d (106.1) Movin Subasingha 203*, Nadeera Ishan 66, Kemira Wijenayake 40, Shon Peshala 28, Treveen Mathew 4/107, Chamindu Wickramasinghe 2/26, Keshan Wijerathne 2/77

Sinhalese Sports Club 88 (36.5) Sineth Jayawardene 22, Movin Subasingha 3/18, Nadeera Ishan 3/28, Kemira Wijenayake 2/04 & 173 (51.1) C Wijerathne 37*, C Rajitha 34, Chamindu Wickramasinghe 30, T Mathew 23, Nadeera Ishan 7/68, M Subasingha 2/19

Result – Air Force SC won by an innings & 151 runs
---
Nondescripts Cricket Club 434/8d (104.1) Johan De Silva 144, Hasitha Boyagoda 59, Ashian Daniel 85, Yugeesha Dishan 71, Dineth Jayakody 20, Maduranga Naveen 7/119

Kurunegala Youth Cricket Club 147 (52.1) Dulaj Ranatunga 35, Asitha Wanninayake 34, Lahiru Abeysinghe 25, Ashian Daniel 4/39, Johanne De Zilva 2/24 & 173 (48.4) R Adishtan 49, L Abeysinghe 49, Muditha Premadasa 27, Kavinda Ishwara 3/24, Johanne De Zilva 3/29, Y Dishan 2/54

Result – NCC won by an innings & 114 runs
---
Navy Sports Club 170 (66) Sulekshana Srieshan 37, Suhanga Wijewardana 35, Chamindu Wijesinghe 3/40, B Mendis 2/13, Malinga Amarasinghe 2/31, Amshi De Silva 2/43 & 119 (49.4) S Srieshan 38, P Charuka 28, K Nuwantha 20, D Kekirideniya 4/38, G Dinusha 3/37, B Mendis 2/18

Colombo Cricket Club 389/6d (77) Minod Bhanuka 180, Malinga Amarasinghe 69, Sonal Dinusha 68, Pavan Rathnayake 36, Sudara Dakshina 2/67, Poorna Charuka 2/71

Result – CCC won by an innings & 100 runs
Read : Ravindu Rashantha & Pawantha Weerasinghe light up Day 2 with double tons
---
Ace Capital Cricket Club 93 (31.5) Savindu Peiris 24*, Thanuka Dabare 22, Kaumal Nanayakkara 6/16, Lakshan Gamage 3/39 & 203 (64.2) Y Avishka 47, S Peiris 42, P Dabare 28, Nipun Lakshan 25, Kaumal Nanayakkara 5/66, Ashan Dilhara 3/36, K Gamage 2/43

Army Cricket Club 172 (56) Thulina Dilshan 30, Pathum Botheju 30, Lakshan Gamage 24, Sithum Disanayaka 5/24, Methushan Thilina 5/59 & 127/3 (32.5) S Fernando 45*, Lppm Kumara 29*, N Atharagalla 2/27

Result – Army CC won by 7 wickets
---
Bloomfield Cricket and Athletic Club 141 (59.1) Kavian Naress 51, Sanoj Darshika 22, Sanoj Darshika 20, Sudheera Weeraratne 4/07, Aveesha Keshan 2/12, Nishan Peiris 2/29 & 197 (61.2) Dhakshitha Fernando 64, Kavian Naress 56, Kn Peiris 5/52, P Ushettige 3/91

Negombo Cricket Club 196 (55.1) Amoda Widanapathirana 61, Pasindu Lakshanka 50, Sheshan Fernando 29, Dileepa Jayalath 5/62, Rajendran Aravinth 5/71 & 143/6 (21) T Lakshanka 51, S Chinthaka 42, D Jayalath 5/79

Result – Negombo CC won by 4 wickets
---
Lankan Cricket Club 165 (43.3) Lahiru Dilshan 43, Ravindu Rathnayake 40, I Dissanayaka 23, Damitha Silva 20, Adeesha Thilanchana 5/06, Ayana Siriwardhana 3/50, Theesan Vithushan 2/48 & 282/9d (95.4) Badn Silva 57, R Upamal 52, I Dissanayaka 49, R Rathnayake 42, L Dilshan 22, Y Rodrigo 20, T Vithushan 4/80, H Udeshana 3/36

Moors Sports Club 236 (65) Risira Weerasuriya 72, Pasindu Sooriyabandara 42, Adeesha Thilanchana 39, Dinuka Dilshan 26, Yasiru Rodrigo 6/56, Sasindu Sathsara 2/19 & 212/5 (29.3) P Sooriyabandara 59, M Dilshan 48, J Perera 46*, J Perera 32*, S De Livera 26, A Siriwardhana 22, Y Rodrigo 2/87

Result – Moors SC won by 5 wickets
---
Badureliya Cricket Club 137 (34.2) Akram Muthalib 32, Kovindu Wickramasinghe 27, Naveen Fernando 6/41, Kalana Madusanka 2/21 & 339 (97.3) R Silva 92, Mvdku Suwaris 76, Ashen Gunawardene 50, K Wickramasinghe 41, Rm Wijesiri 22, Senal De Silva 22, K Perera 3/91, Nn Fernando 2/56, Kk Kevin 2/71

Nugegoda Sports & Welfare Club 499/9d (101.1) Nimesha Gunasinghe 180, Abishek Liyanarachchi 99, Rahul Gunasekera 88, Naveen Fernando 42, Kalana Madushanka 38, Kevin Koththigoda 27, Thamindu Wikramarchchi 4/153, Senal De Silva 2/57, Shean Wijesinghe 2/96

Result – Nugegoda SWC won by an innings & 23 runs
---
Burgher Recreation Club 308/9d (84) Vinura Dulsara 77, Moditha Ranatunga 61, Chamod Sandaru 51, Hirantha Jayasinghe 33, Shalith Fernando 23, Nisala Akash 3/63, Anuka Jayasinghe 3/103, Murvin Abinash 2/68 & 223/4d (30.5) Vinura Dulsara 136*, S Fernando 44, H Jayasinghe 31

Kandy Customs Sports Club 329 (94.3) Rashmika Madushanka 91, L De Silva 81, Sasith Manuranga 62, Nadeesh Bandara 55, Kavindu Ediriweera 3/53, Saviru Bandara 3/61, Duvindu Tillakaratne 2/80 & 142/7 (45) R Fonseka 65, L De Silva 33, M Abinash 21, S Bandara 5/39

Result – Match Drawn
---
Ragama Cricket Club 500/6d (135.2) Avishka Tharindu 215, D Bandara 74, Sanjula Bandara 55, Thewindu Dickwella 38, Dineth Thimodya 33, Maneesha Rupasinghe 28, Dulaj Ashen 25*, Dellon Peiris 24*, Yomesh Ranasinghe 3/113, Sasanka Nirmal 3/207 & 142/7 (28.2) T Dikwella 80, Dt Hewathantri 34, K Ravindu 3/34, S Nirmal 2/37

Panadura Sports Club 361 (86.5) Shanuka Dulaj 186, S Nirmal 64, Kosala Ravindu 33, Dunith Jayatunga 29, Hareen Rathnamudali 6/84, D Peiris 2/84

Result – Match Drawn
---
Chilaw Marians Cricket Club 351 (101.5) Raveen Yasas 100, Ayon Fernando 80, Abhishek Ananda 36, Dilesh Shenol 28, Sheshan Silva 20*, Charuka Tharindu 20, Heshan Ramanayake 3/52, Sasanka Nirmal 2/51, Kavika Dilshan 2/102 & 164/4 (43) V Chathuranga 57, S Manoj 36, U Yasas 24

Saracens Sports Club 282 (122) K Nirmal 64, H Ramanayake 58, Sasitha Palliyaguru 39, Thaveesha Kahaduwaarachchi 24, Raveen Yasas 5/49, U Yasas 5/51 Charuka Tharindu 3/60

Result – Match Drawn