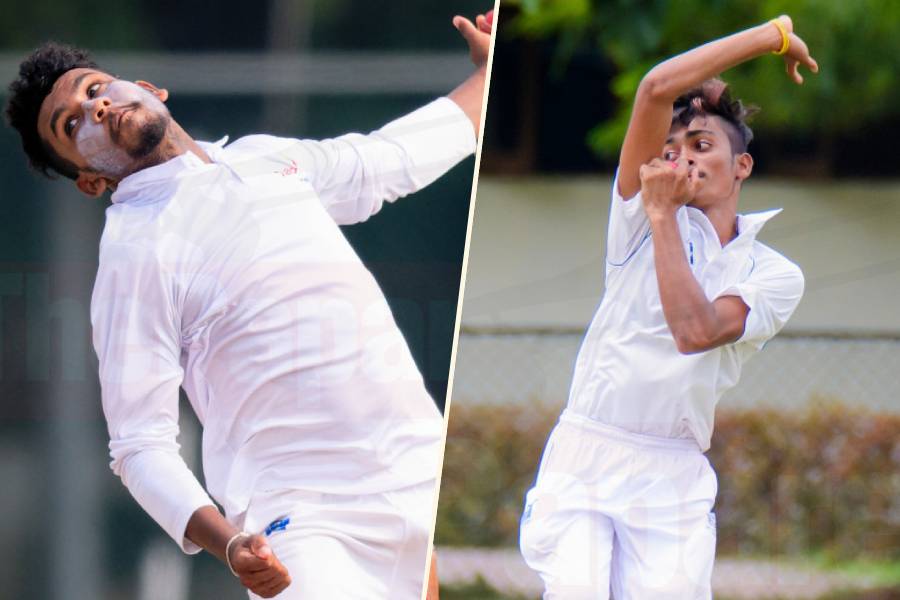 The twelve 5th week matches of the SLC Major Club Emerging 3-Day Tournament 2022 resumed today for the 2nd day as Negombo CC, Saracens SC & Kandy Customs CC recorded wins, ending their games with a day to spare.
On a day dominated by spinners, 3 left-arm orthodox spinners completed match-bags of more than 10 wickets in 2 of the 3 completed games.
At Thurstan College grounds, Ayesh Harshana's 10-wicket haul, which included 5-wicket hauls in each innings, got the better of Methushan Thilina's 12 wickets, which included an 8-wicket haul in the 1st innings as Harshana's Kandy Customs CC defeated the home side Ace Capital CC by 3 wickets. Chasing just 84 in the 4th innings, Kandy Customs were made to work extremely hard for runs as Thilina wrecked their batting order with 4 wickets. However, Harshana's calm 17-ball 16 at number 8 ensured a victory for Kandy Customs.
Saracens SC, after conceding a 36-run lead to the home side Bloomfield C & AC in the first innings on day 1, made a strong comeback today to win the game by 7 wickets. Early in the day, Kavika Dilshan picked up his second 6-wicket haul of the game to complete a match-bag of 12 wickets, restricting the hosts for 107. Afterwards, in the chase of 144 in the 4th innings, opener Chamalka Fernando (71*) and Skipper Thaveesha Kahaduwaarachchi (63*) put on an unbeaten 126-run stand for the 4th wicket following Rajendran Aravinth's early burst with the ball, which made Saracens struggle at 18/3.
>> Pathiratne ton saves the day for Tamils in group decider against Ragama
Negombo CC extended their lead at the top of Group B, beating Kurunegala Youth CC comfortably by an innings and 50 runs today. Once again it was the spinners who starred as left-arm orthodox spinner Pasindu Ushetti claimed 6 wickets in the 2nd wickets. Off-spinner Nishan Peiris grabbed 4 wickets to go with his 3 in the 1st innings and 32 with the bat, batting at number 11. Antonian Asitha Wanninayake's 5-wicket haul was the only positive for Kurunegala Youth.
In the Group C decider between Tamil Union C & AC and Ragama CC, Dilum Sudeera stole the limelight, claiming 7 wickets to bowl out Ragama for 233 in reply to the 313 made by Tamil Union on day 1. Air Force SC opener Udayawansha Parakrama's 169 gave them a healthy lead over table-toppers Moors SC despite Ayana Siriwardhana's 5 wickets for Moors.
Panadura SC found themselves in a commanding position needing just 74 more runs to win with 9 wickets in hand against Nugegoda S & WC at the end of day 2 in Panadura. After managing a 1st innings total of 260 in reply to the visitors' 187 despite Nugegoda spinner Madushika Sandaruwan's 6 wickets, Panadura restricted Nugegoda for 164 runs in the 2nd innings thanks to Skipper Sasanka Nirmal's 6-wicket haul.
Spinners Shehada Zoysa and Themal Bandara too picked up 5-wicket hauls for Army SC and Kalutara Town Club respectively.
The 2 centuries of the day were scored by former Skippers of 2 rival schools in Moratuwa – Sebastianite Tharusha Fernando and Cambrian Vishva Chathuranga for Sebastianites C & AC and Chilaw Marians CC respectively.
The 3rd and final day of the ongoing 9 matches will commence tomorrow.
GROUP A
Air Force SC vs Moors SC at Air Force Grounds, Katunayake
Toss: Air Force
Moors SC – 150 (46.5) Dinuka Dilshan 57, Mohammed Shamaaz 27, Movin Subasingha 4/26, Nadeera Ishan 3/39 & 130/2 (38) Dinuka Dilshan 65*, Sohan De Livera 33*, Nimesha Mendis 2/27

Air Force SC – 319 (87.3) Udayawansha Parakrama 169, Kalana Wijesiri 35, Movin Subasingha 30, Ayana Siriwardhana 5/91

Stumps Day 2 – Moors trail by 38 runs
CCC vs Sebastianites C & AC at CCC Grounds, Colombo
Toss: CCC
CCC – 137 (52.4) Malinga Amarasinghe 53, Anjala Bandara 45*, Tharindu Ratnayake 4/75 & 48/0 (12) Ron Chandraguptha 33*

Sebastianites C & AC – 324/8d (113) Tharusha Fernando 119*, Sandun Fernando 82, Suwath Mendis 3/78

Stumps Day 2 – CCC trail by 139 runs
Lankan CC vs Navy SC at Navy Grounds, Welisara
Toss: Navy
Lankan CC – 235 (82) Yasiru Rodrigo 67*, Vinuda Liyanage 55, Sudara Dakshina 6/72 & 16/2 (11)

Navy SC – 209 (83) Sulekshana Sri Eshan 58, Aravinda Akurugoda 57, Pushpitha Dilshan 32, Yasiru Rodrigo 3/24,

Stumps Day 2 – Lankan lead by 42 runs
GROUP B
Negombo CC vs Kurunegala Youth CC at Marians Cricket Ground, Katunayake
Toss: Negombo
Kurunegala Youth CC – 65 (30.3) Kavindu Ekanayake 18, Sanjeewan Priyadharshana 15, Sheshan Fernando 6/26, Nishan Peiris 3/13 & 169 (46) (F/O) Muditha Premadasa 41, Dulaj Ranatunga 39, Sanjeewan Priyadharshana 33, Pasindu Ushetti 6/64, Nishan Peiris 4/45

Negombo CC – 284 (74.3) Rashmika Mevan 71, Pasindu Lakshanka 68*, Nishan Peiris 32, Asitha Wanninayake 5/78

Negombo won by an innings and 50 runs
Bloomfield C & AC vs Saracens SC at Bloomfield Grounds, Colombo
Toss: Bloomfield
Bloomfield C & AC – 174 (46.3) Dhakshitha Fernando 43, Nipun Haggala 31, Kavika Dilshan 6/63, Pramod Maduwantha 4/60 & 107 (29.2) Senura Silva 57*, Malinda Perera 23, Kavika Dilshan 6/48, Pramod Maduwantha 3/54

Saracens SC – 138 (40.3) Sandun Mendis 38, Pramod Maduwantha 22, Dileepa Jayalath 4/32, Rajendran Aravinth 3/61 & 144/3 (24.1) (Target 144) Chamalka Fernando 71*, Thaveesha Kahaduwaarachchi 63*, Rajendran Aravinth 3/42

Saracens won by 7 wickets
NCC vs Chilaw Marians CC at NCC Grounds, Colombo
Toss: NCC
NCC – 222 (82.3) Johanne De Zilva 64, Thiwanka Kekuluwala 43, Yugeesha Dishan 32, Irushika Thimira 4/60, Sheshan Silva 3/32, Dilesh Shenol 3/47 & 38/1 (12) Lahiru Attanayake 23*

Chilaw Marians CC – 236 (80.5) Vishva Chathuranga 106, Raveen Yasas 40, Yugeesha Dishan 4/85, Sampath Nishshanka 3/39, Kavinda Ishwara 3/56

Stumps Day 2 – NCC lead by 24 runs
GROUP C
Tamil Union C & AC vs Ragama CC at P, Sara Oval, Colombo
Toss: Ragama
Tamil Union C & AC – 313 (85.4) Kavindu Pathiratne 111, Dilum Sudeera 59, Kamesh Nirmal 39, Sithara Hapuhinna 34, Hareen Rathnamudali 5/66, Eshan Malinga 3/51 & 103/3 (25) Damith Perera 42*, Yohan Mendis 34

Ragama CC – 233 (72.1) Thevindu Dickwella 85, Yohan Liyanage 57, Lahiru Dawatage 30, Dilum Sudeera 7/75

Stumps Day 2 – Tamil Union lead by 183 runs
Panadura SC vs Nugegoda S & WC at Panadura Esplanade
Toss: Nugegoda
Nugegoda S & WC – 187 (51.2) Bhagya Dissanayake 60, Dilan Jayalath 29, Maneendra Jayathilaka 27, Woshitha Amarasinghe 2/17, Eran Hansamal 2/19, Vishwa Kumara 2/38, Malinda Jayod 2/68 & 164 (53.5) Bhagya Dissanayake 46, Maneendra Jayathilaka 28, Dilan Jayalath 26, Sasanka Nirmal 6/38

Panadura SC – 260 (59.1) Malinda Jayod 62, Sadishan Chamodya 44, Kosala Ravindu 42, Duminda Damishka 35, Dunith Jayatunga 34, Madushika Sandaruwan 6/93 & 18/1 (6) (Target 92)

Stumps Day 2 – Panadura need 74 runs to win
Badureliya CC vs Police SC at Surrey Village Grounds, Maggona
Toss: Police
Badureliya CC – 214 (95) Malindu Maduranga 52, Ravishka Wijesiri 39, Ranesh Silva 31, Thamindu Wickramarachchi 20*, Asel Sigera 4/43 30/2 (11) Umayanga Suwaris 25*

Police SC – 226 (73.1) R De Silva 66, K Karunathilake 36, Nadeera Balasooriya 32, Asel Sigera 28, Anjana De Silva 4/36, Malindu Maduranga 3/14

Stumps Day 2 – Badureliya lead by 18 runs
GROUP D
Ace Capital CC vs Kandy Customs CC at Thurstan College Grounds, Colombo
Toss: Ace Capital
Ace Capital CC – 170 (50.2) Sawan Kankanamge 93, Amitha Dabare 20, Ayesh Harshana 5/58, Pasan Pethangoda 3/23 & 118 (35.4) Pasindu Adithya 35, Nipun Lakshan 23, Teron Baskaran 20*, Ayesh Harshana 5/42, Sasith Manuranga 3/35

Kandy Customs CC – 205 (58.2) Nimna Fernando 64, Thimira Malshan 50, Kavindu Lakshan 35, Methushan Thilina 8/61 & 84/7 (25.2) (Target 84) Rashmika Madushanka 20, Ayesh Harshana 16*, Methushan Thilina 4/47

Kandy Customs won by 3 wickets
Galle CC vs Army SC at Galle International Cricket Stadium
Toss: Galle
Army SC – 205 (54.2) Ashan Dilhara 61, Pathum Botheju 48, Samitha Dilshan 28, Lakshan Gamage 28, Kavindu Dilhara 5/27, Sandun Madushanka 4/38 306/7d (47.5) Mahesh Kumara 79, Himasha Liyanage 77, Shehan Fernando 58, Samitha Dilshan 53, Sandun Madushanka 4/49

Galle CC – 98 (47.5) Kavindu Dilhara 36, Prabath De Zoysa 20, Shehada Zoysa 5/47, Kaumal Nanayakkara 4/36 82/2 (23) (Target 414) Sandeep Shamod 26*, Dilshan Kanchana 26, Chamindu Dilshan 22, Kaumal Nanayakkara 2/25

Stumps Day 2 – Galle need 332 runs to win
BRC vs Kalutara Town Club at BRC Grounds, Colombo
Toss: KTC
KTC – 222 (81.5) Kanishka Maduwantha 47, Kawshan Kulasooriya 40, Isuru Sandamal 40, Thevindu Senaratne 31, Imtiyaz Slaza 3/54 & 30/1 (12) Kawshan Kulasooriya 11*

BRC – 264 (81.2) Nipunaka Fonseka 67*, Pubudu Bandara 47, Vinura Dulsara 28, Moditha Ranarunga 26, Themal Bandara 5/80, Kawshan Kulasooriya 3/19

Stumps Day 2 – KTC trail by 12 runs