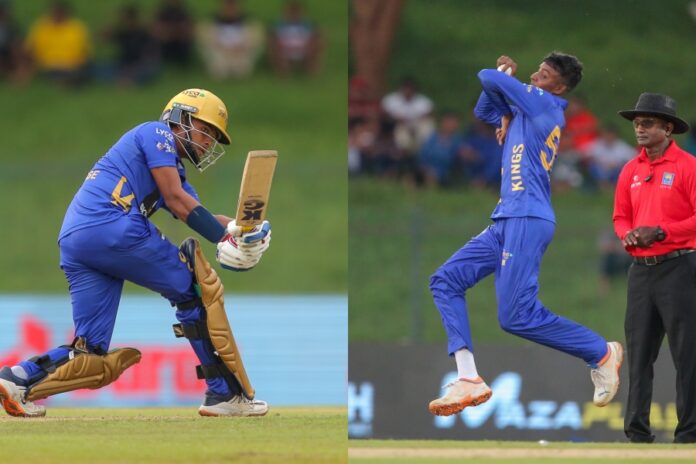 The 3rd edition of the Lanka Premier League kicked off today at the Mahinda Rajapakse Cricket Stadium in Hambantota, where the finalists from last year, the Jaffna Kings and Galle Gladiators, faced off in the first of two games for the day. The defending champions Jaffna Kings showed their bowling strength to all the sides even without their match winner from the last two seasons, Wanindu Hasaranga, as they defended a well below par total to begin their campaign.
Galle Gladiators Skipper Kusal Mendis won the toss and invited the Jaffna Kings to bat first. The Kings had an underwhelming start as they lost half their side by the 13th over with a score of just 79. Dhananjaya de Silva was the only successful batter from the top order, scoring 29 off 19 with 3 fours and 2 sixes.
 Then, the exciting youngster Dunith Wellalage collaborated with the highly experienced former Captain of Pakistan Shoaib Malik, to construct the best partnership of the innings with a 39 run stand to bring some sort of stability to the innings. Malik fell victim to his fellow countryman Iftikhar Ahamed after scoring 30, and young Wellalage also departed shortly after scoring 30 in 20 deliveries with 4 fours.
With just 1 delivery left in the inning, the Kings were bowled out for 137, setting a below par target of 138 for the Gladiators to win. It was a combined effort by their bowlers, as 5 of them shared 2 wickets each with Imad Wasim, registering the best figures of 2 for 22.
Chasing the target set by Kings, the Gladiators opening duo Skipper Kusal Mendis and Nuwanidu Fernando put together a solid opening stand of 58 in 45 balls before Wellalage drew first blood. Afterwards Fernando, who was struggling a bit, departed for 15 off 21. From then onwards, Mendis was fighting a lone battle, as none of the batters for the Gladiators managed to dominate the Kings bowlers.
Mendis scored the first half ton of the tournament, but was adjudged trapped in front off Maheesh Theekshana's bowling for 51. After that dismissal, it was all downhill for the Gladiators as the Kings spin trio Theekshana, Wellalage and Vijaykanth Viyaskanth bowled exceptionally well.
Viyaskanth took 2 for 20, Theekshana took 1 for 24 and Wellalage took 1 for 14 as the three young spinners bowled 11 overs between them and took 4 wickets after giving away just 58 runs. Left-arm seamer Binura Fernando also chipped in, dismantling the tail of Gladiators with a 3-wicket haul as the Galle Gladiators were bowled out in the last ball of their innings for 113, handing Jaffna Kings a 24-run victory.
The promising 19-year-old all-rounder Dunith Wellalage, who scored 30 valuable runs and claimed the 1st wicket to end the opening stand, was adjudged Player of the Match.
Jaffna Kings – 137 (19.5)  – Dunith Wellalage 30, Shoaib Malik 30, Dhananjaya de Silva 29, Imad Wasim 2/22, Wahab Riaz 2/23, Nuwan Pradeep 2/23

Galle Gladiators – 113 (20) – Kusal Mendis 51, Imad Wasim 17, Nuwanidu Fernando 15, Binura Fernando 3/ 22, Vijaykanth Viyaskanth 2/20, Dunith Wellalage 1/14 


Batsmen
R
B
4s
6s
SR
Avishka Fernando
lbw b Imad Wasim
9
9
1
0
100.00
Rahmanullah Gurbaz
c Imad Wasim b Wahab Riaz
1
9
0
0
11.11
Dhananjaya de Silva
c Azam Khan b Nuwan Pradeep
29
19
3
2
152.63
Tom Kohler-Cadmore
c Movin Subasingha b Nuwan Thushara
6
6
1
0
100.00
Shoaib Malik
c & b Iftikhar Ahmed
30
27
1
0
111.11
Thisara Perera
c Nuwan Pradeep b Imad Wasim
16
16
1
0
100.00
Dunith wellalage
c Azam Khan b Wahab Riaz
30
20
4
0
150.00
James Fuller
c Nuwanidu Fernando b Iftikhar Ahmed
1
2
0
0
50.00
Vijayakanth Viyaskanth
b Nuwan Thushara
4
4
0
0
100.00
Mahesh Theekshana
c Nuwanidu Fernando b Nuwan Pradeep
0
3
0
0
0.00
Binura Fernando
not out
3
4
0
0
75.00
| | |
| --- | --- |
| Extras | 8 (b 4 , lb 0 , nb 0, w 4, pen 0) |
| Total | 137/10 (19.5 Overs, RR: 6.91) |
| Bowling | O | M | R | W | Econ |
| --- | --- | --- | --- | --- | --- |
| Wahab Riaz | 4 | 0 | 23 | 2 | 5.75 |
| Imad Wasim | 4 | 0 | 22 | 2 | 5.50 |
| Nuwan Thushara | 3.5 | 0 | 31 | 2 | 8.86 |
| Nuwan Pradeep | 4 | 0 | 23 | 2 | 5.75 |
| Pulina Tharanga | 3 | 0 | 26 | 0 | 8.67 |
| Iftikhar Ahmed | 1 | 0 | 8 | 1 | 8.00 |


Batsmen
R
B
4s
6s
SR
Nuwanidu Fernando
c & b Dunith wellalage
15
21
1
0
71.43
Kusal Mendis
lbw b Mahesh Theekshana
51
43
5
0
118.60
Azam Khan
c Dunith wellalage b Vijayakanth Viyaskanth
5
6
1
0
83.33
Movin Subasingha
run out (Thisara Perera)
2
3
0
0
66.67
Iftikhar Ahmed
c Thisara Perera b Vijayakanth Viyaskanth
6
8
1
0
75.00
Imad Wasim
c Sadeera Samarawickrama b Binura Fernando
17
22
0
1
77.27
Sammu Ashan
c Sadeera Samarawickrama b James Fuller
1
2
0
0
50.00
Pulina Tharanga
not out
1
4
0
0
25.00
Wahab Riaz
run out (Sadeera Samarawickrama)
4
3
0
0
133.33
Nuwan Pradeep
c Shoaib Malik b Binura Fernando
1
7
0
0
14.29
Nuwan Thushara
c Sadeera Samarawickrama b Binura Fernando
0
1
0
0
0.00
| | |
| --- | --- |
| Extras | 10 (b 3 , lb 2 , nb 0, w 5, pen 0) |
| Total | 113/10 (20 Overs, RR: 5.65) |
| Bowling | O | M | R | W | Econ |
| --- | --- | --- | --- | --- | --- |
| Thisara Perera | 1 | 0 | 4 | 0 | 4.00 |
| Mahesh Theekshana | 4 | 0 | 24 | 1 | 6.00 |
| Binura Fernando | 3 | 1 | 22 | 3 | 7.33 |
| James Fuller | 4 | 0 | 19 | 1 | 4.75 |
| Vijayakanth Viyaskanth | 4 | 0 | 20 | 2 | 5.00 |
| Dunith wellalage | 3 | 0 | 15 | 1 | 5.00 |
| Dhananjaya de Silva | 1 | 0 | 5 | 0 | 5.00 |