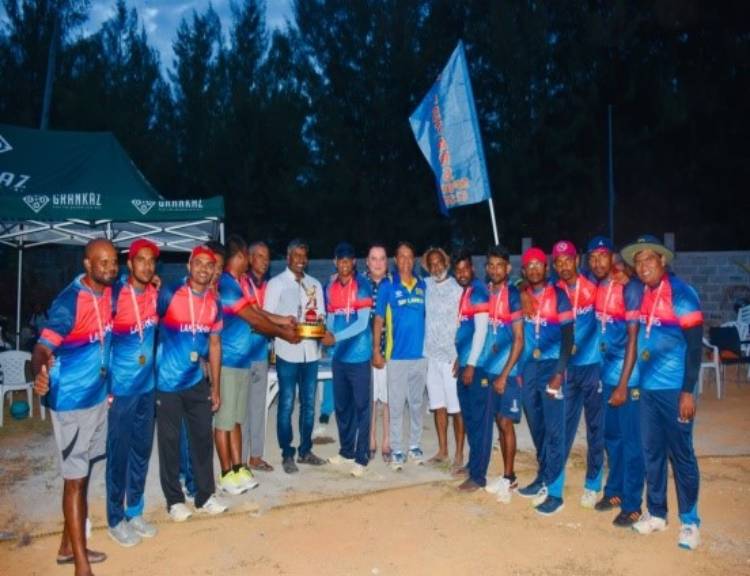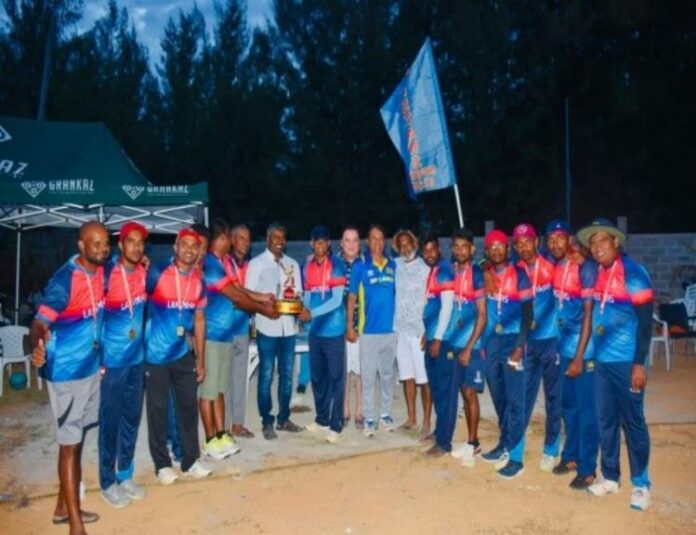 The Lakstars Sports Club Seychelles was inaugurated in the early 1980s by Sri Lankans living in Seychelles and has been in existence for the past 3 decades. 
It's a registered member of the Seychelles Cricket Association and involved in Seychelles premier cricket tournaments for the past 3 decades. Currently 2 teams from Lakstars compete in the premier league, namely Lakstars and Lakstars A. Last year Lakstars won 2 Division I titles and Lakstars A won one Division II title. 
Seychelles Cricket Association is a member of the International Cricket Council. Cricket teams in the country mainly consist of expatriate workers from India, Sri Lanka, Bangladesh and South Africa. Lakstars is the club of Sri Lankan expatriates and has produced a number of cricketers who went on to represent the Seychelles national cricket team. In 2015 club was registered as an association under the association act.
In 1969 at the time young Douglas Imaduwa (25 years of age) landed in Seychelles from Sri Lanka only a handful of expatriates played cricket during the weekends on the freedom square green. For the love of cricket, he joined the group, making history becoming the first Sri Lankan to play cricket in Seychelles. The rare occasions of playing hard ball cricket during this period was possible only when a naval ship arrived from India, England or from Australia. 
In late '70s a few Sri Lankans joined the weekend cricketing in the freedom square green where Dougi, as we used to call him, managed to buy cricketing gear consisting of bats, pads and gloves from an expatriate who was leaving the island, spending his own savings for Rs 600.
 In the '80s many more Sri Lankans came to Seychelles on various employments such as teachers, accountants, hoteliers etc and any newcomer could not miss Dougi at his business enterprise called" Douglas Jewelry" at main street to Victoria town. Anyone who could bowl and bat could not say no to Dougi and the numbers increased to double figures at a rapid scale. 
Dharmendra, Kotandeniya, Physics Nanayakara (Kota Nana), Lionel Gunathilaka, Abeysinghe, Joe Perera, Shillo, Chandare, Bertram, Senarath and with some more cricket lovers Dougi managed to form Lakdiv Cricket club, in 1986.  As there was no Sri Lankan association during this time, all activities such as Avurudu, Independence Day celebrations, Annual outer island visits, Soft ball cricket tournaments and all such activities were organized through Lakdiv Sports Club which has a membership up to about 150 people. 
As there were many Indians, Brits and Australians, a few Seychellois started playing cricket and the Seychelles Cricket Association was formed in 1986 under the leadership of late Mr Denesh Jevan, Ayub Sulaiman, Mr Yakub, Mr Vijay Patel, Tony Costa, Steve Kambatta and Mr Douglas Imaduwa of Sri Lanka.  Only four teams were registered namely, Fly catches, Play Fair, Woolfen Brothers and Lakdiv cricket club. Later Vijay cricket club joined as well. In 1990 Lakdiv Sports club had to change its name to Luck Stars as Seychelles sports authority passed a rule not to have teams that represented any particular country. Being an all-rounder, Dougi was the first captain of Luck Stars which won many of the tournaments conducted throughout the years. He was selected by the Seychelles cricket association to captain the national team to tour Mauritius which was an annual event. Mr. Douglas Imaduwa of Luck Stars cricket club was awarded the best cricketer of the year in 1991 in the national award celebrations.
Dougi remained in the team as a key player and contributed in all areas while he kept the Luck Stars flag flying, organizing practices keeping the team together and contributing in finding cricket gear awarding cups for best players until 2005 he retired from active involvement in the game, Yet Luck Stars always in the front line lifting champion ship cups very often and taking many places in the national team.
Later name of the Club changed to Lakstars from Luck Stars to give a Sri Lankan identity.
Follow us on our platforms for more information.
Past Captain
Douglas Imaduwa

Cyril Chandraratne

Senarath de Soyza

Bertram Senarathna

Bandula Atthanayake

Muditha Gunathilaka

Thusitha Serasinghe

Suranga Fernando

Aruna Hathurusinghe

Janaka Rathnayaka

Shanmugan Tharmenthiran 

Thimeera Madhusanka

Supun Chamendra

Nadun Herath ( Lakstars A only ) 
National Representations
Douglas Imaduwa
Cyril Chandraratne
Roshan Cooray
Winston Suludagoda
Mudhitha Gunatilaka
Bertrum Senarathna
Senarath de Soyza
Charles Perera
Nishan Buran
Shiran Cooray
Suranga Fernando
Aruna Hathurusinghe
Sohan Halpe
Sanjeewa Rathnayaka
Shanmugan Tharmenthiran
Janaka Rathnayaka
*This content was submitted by Nadun Herath (Committee member Lakstars Sports Club)