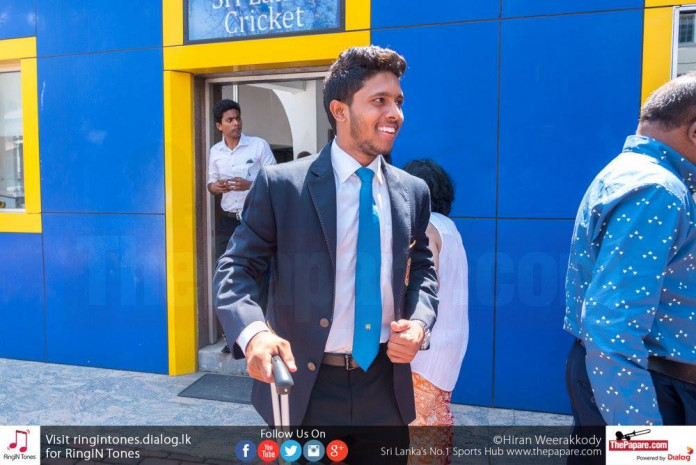 Indian scientist Dr. Abdul Kalam told youngsters to dream. He went on to add, "Dream is not what you see in sleep. Dream is something which doesn't let you sleep.
In Sri Lankan cricketer Kusal Mendis, millions of youngsters have a role model to look up to and chase their own dreams. The eldest son of trishaw driver, Mendis pursued his cricketing talents amidst many hardships.
His dream came true when he made his Test debut last year against West Indies and on the current tour of England, Kusal has been Sri Lanka's in-form batsman with two fifties in warm-up games before making the first half-century by a Sri Lankan in the Test series.
"My biggest ambition was representing my country. I was thrilled when I made my Test debut against West Indies last year. Then I toured New Zealand and now I am here. I hope I will stay in the team for a long time. I got a decent half-century at Leeds and I felt that I could have done more on that occasion."
Raw talents being drafted into the national side these days are extremely rare. Often a player has to spend at least two to three years in the 'A' team before breaking into the senior side. Kusal's case, however, was different. Straight after his education at Prince of Wales College, Moratuwa, Kusal toured with the Sri Lanka Development Squad to India where he made a 150 and that convinced the authorities that he was good enough to play at the highest level.
"I remember getting a 150 in the first game I played in India and then I received the big break at the senior side," Kusal recalled.
Kusal was given a taste of English conditions during last summer as Sri Lanka Cricket sent him on a scholarship to England to play in the Middlesex League for Southgate CC.
"I was lucky to get a scholarship from SLC and play league cricket here in England for four months. That experience taught me a lot. Mr. Asitha Jayaweera was a huge help during my stay in England," Kusal remembered.
Kusal praises the role his father (Dinesh Mendis) has played to help him pursue his cricketing dreams. They are residents of Rawatawatta in Moratuwa. Kusal's younger sister is sitting for GCE A'L this year at Princess of Wales while his brother is in Grade 7 at Prince of Wales. His father is the sole bread winner in the family amidst many hardships driving a trishaw.
"My father was the biggest strength for my cricket. Other than that, a lot of coaches and many other individuals have helped me. I get a lot of support from my captain, vice-captain, coach and the management and I am grateful to all of them for making me feel comfortable."
Kusal now looks forward to succeed in the third Test at Lord's and says he was overawed by the venue when he made his first visit there. "It's a dream of every cricketer to play at Lord's. We had a couple of training sessions at Lord's and it's just an amazing feeling. I believe that the conditions will be to our liking. Less cold, wicket's good for batting and I hope we can do well in that final Test."
Kusal's favourite cricketer is Sachin Tendulkar. A fast learner Kusal was quick to realise England's tactics against him in the second Test where they had two players in the mid-wicket region and the bowlers prompted him to flick in the air expecting a catch. "They tried out a few things in the second Test and I realised that. I know what's coming at Lord's. They will deny me any runs on the leg-side. That's the challenge. The coach and captain had a chat with me and we will come up with some counter moves where I will try and score on the off-side."
"We have about very good five days of training leading up to the Lord's Test. We will talk about all these areas in the next few days."
"We have realised that the key is to let them go for more spells. We will have a few plans and its only natural that a bowler, when he bowls fourth or fifth spell, he will leak runs. If we can bat for longer, we will be able to achieve our targets."