Sevens Rugby has never failed to amaze and excite. Especially when it's played at Sri Lanka Rugby's home ground, the Colombo Racecourse. 
At any sevens tournament played here in the country, there are always a set of familiar faces without whom the tournament would not be a success. A six-foot tall, lanky speedster is one of them. 
The 25-year-old Kavindu Perera has always caught the eye, no matter what format of the game he plays. At sevens he has been unstoppable. Since 2014, he has worn a red shirt with pride and has been at the centre of all the action. 
Last weekend too, Kavindu sported a red shirt with pride. But with a small hint of blue in it. He was not in his usual CR & FC red jersey, but in the Kandy Sports Club one. 
The hill-country club has been on the hunt for Kavindu Perera for over two years and a month back, news came from Kandy that the deal had gone through with Kavindu Perera returning home after playing all his professional rugby in Colombo. 
Read more : Havelocks, CR, Kandy and Police 'A' end day one on top

Nittawela had been home for Perera who had his education at Vidyartha College and played an integral part in Jason Dissanayake's famous Vidyartha College 1st XV team of 2012. 
Since 2012, Kavindu has been a part of many national sevens sides including the Commonwealth and the Asian Games teams. Two months back, he made his national fifteens debut in the Asia Division I Championship in Chinese Taipei. 
With a reputation for possessing immense speed, strength and agility, Kavindu's transfer sparked a lot of chatter around the rugby fraternity and what better place than the Inter Club 7's for Kandy to exhibit their newest signing. 
Early on day 1, Kandy Sports Club were playing their first match against CH & FC. Kandy's aggressive forward Danush Dayan wins the ball from the kick-off. Two passes right from Srinath Sooriyabandara puts Kavindu Perera on the right corner. 
Read more : Invincible Kandy cruise through to clinch Club 7's title
Raring to have a go, Perera explodes from the blocks. The pace is too much for CH & FC 'B'. Perera gallops and then finds the whitewash in no time, he goes right under the posts. 
Try. Kavindu Perera. Kandy Sports Club.
Perera couldn't have asked for a better start in his hometown club than this. For Kandy, it looked to be the perfect value addition with the likes of Srinath Sooriyabandara, Danushka Ranjan and Danush Dayan already forming a formidable set-up. 
Kandy made the finals of the Dialog Inter Club 7's without any trouble. They were not troubled by a single opponent right throughout. 
Their results in the entire tournament are a good reflection of their performance in the tournament. 
Cup Quarterfinal – Kandy SC 32 – Air Force 0 

Cup Semifinal – Kandy SC 29 – Havelock SC 5
With a total of 8 tries in the entire tournament including two in the final, the name Kavindu Perera stood out and his all-round display of talent earned him the Most Valuable Player award. 
What distinguishes Perera from the rest is his work ethic. From day 1, he's been the player who gets his technique and the execution right. Regardless of attack or defense, Perera will be spot on. With a player of that nature in a star-studded outfit, Kandy are looking more dangerous than ever.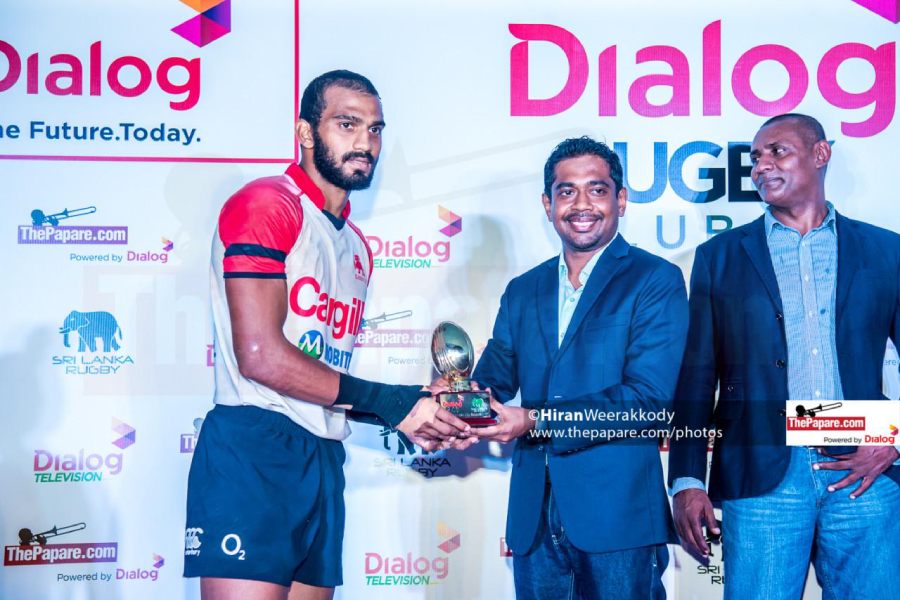 "He (Kavindu) has been a wonderful addition to the side. He is a great player and I am happy that he has had a great tournament" added head coach of Kandy Sports Club, Fazil Marija who took home his first sevens trophy as coach. 
It will be a tough calendar coming up for the Tuskers in the coming months with the Asia Sevens Series coming up in September. With Sri Lanka Rugby having plans to shortlist a national sevens pool, one name that is certain of making the cut is Kavindu Perera.