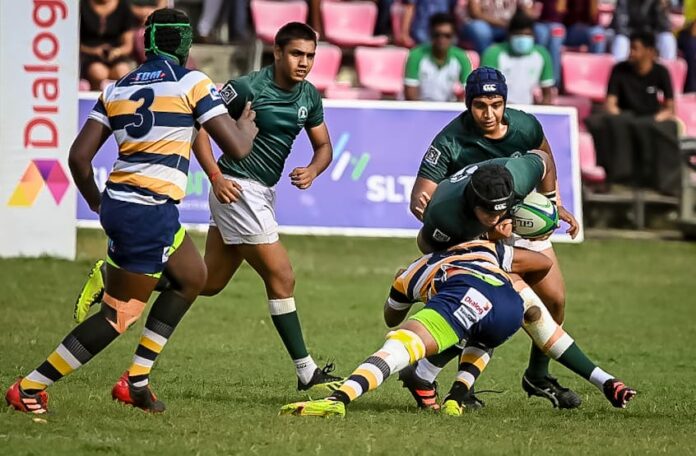 Isipathana College produced a solid performance to beat St. Peter's College by 29 points to 17 in their Dialog School's Rugby League 2022 encounter, worked off at Havelock Park on Sunday.
Isipathana the only unbeaten team in Group 2A locked horns with the wounded St. Peter's outfit. Isipathana College kicked off the proceedings but the Peterites took the first opportunity to open the scoring when Isipathana flanker Dunith Jayaweera was sent to the bin for kicking a player and the Peterites forwards took the maximum out of the numerical advantage as they dashed out some silk phases to send Ashane Madugaspe over the line, with Vindya De Mel converting. (SPC 07 – IC 00)
Isipathana hit back hard on the Peterites as they were down to fourteen this time when fullback Kushan Tharindu was caught when he intentionally tapped the ball out over the deadline which prevented an opportunity for the home team and the green machines to grab the chance with both hands as Venura Sangeeth Kodagoda rolled over the line. (SPC 07 – IC 05)
St. Peter's dominated the first half but couldn't convert all possession and territory into points but Isipathana pounced on the last opportunity when Soorya Dodangoda went over for Isipathana as they led at the break.
Half Time: Isipathana College 12 (1T,2C) – St. Peter's College 07(1T,1C)
The second half began well for the Peterites as they collected the loose ball from a line out, which allowed the visitors to set up a chance for another opportunity for Ashane Madugaspe to go over in the right corner against a disrupted green machine. During that passage of play flanker, Dunith Jayaweera was penalized for a high shot and received his second yellow card, which subsequently lead to his dismissal from the game with a red card.  (SPC 12 – IC 12)
Momentum shifted towards the green machines as Peterites gave away an unwanted five-meter scrum when the referee deemed that they took the ball into their own try line and from the scrum Isipathana backs distributed the ball quickly towards wider channels which set up a chance for Mesaada Rashvida to go over in the left corner. (IC 17 – SPC 12)
Fourteen-man Isipathana was gifted another try when the Peterites couldn't clear another five-meter scrum as the flanker Tharindu Wewalapanditha grabbed the loose ball and smashed over the line to give the hosts some breathing space.
Isipathana dominated the second half but St. Peter's out of nowhere was given a lifeline by some individual brilliance from fullback Kushan Tharindu as he smashes through the Pathana defense to slalom over to cut the deficit down to 5 points (IC 22 – SPC 17)
Isipathana hit the knockout blow for the Peterites when Venura Sangeeth Kodagoda found the whitewash from a rolling maul to clinch the game for the green machines as they continued their unbeaten run.
Full Time: Isipathana College 29 (5T,2C) – St. Peter's College 17(3T,1C)
NDB Player of the Match: Venura Sangeeth Kodagoda (Isipathana College)
Score Breakdown
Isipathana College: (12) 29

Tries: Venura Sangeeth Kodagoda 2, Soorya Dodangoda 1, Mesaada Rashvida 1, Tharindu Wewalapanditha 1; Cons: Malith Mihisara 1, Rinesh Silva 1;

St. Peter's College: (07) 17

Tries: Ashane Madugaspe 2, Kushan Tharindu;
Cons: Vindya De Mel;