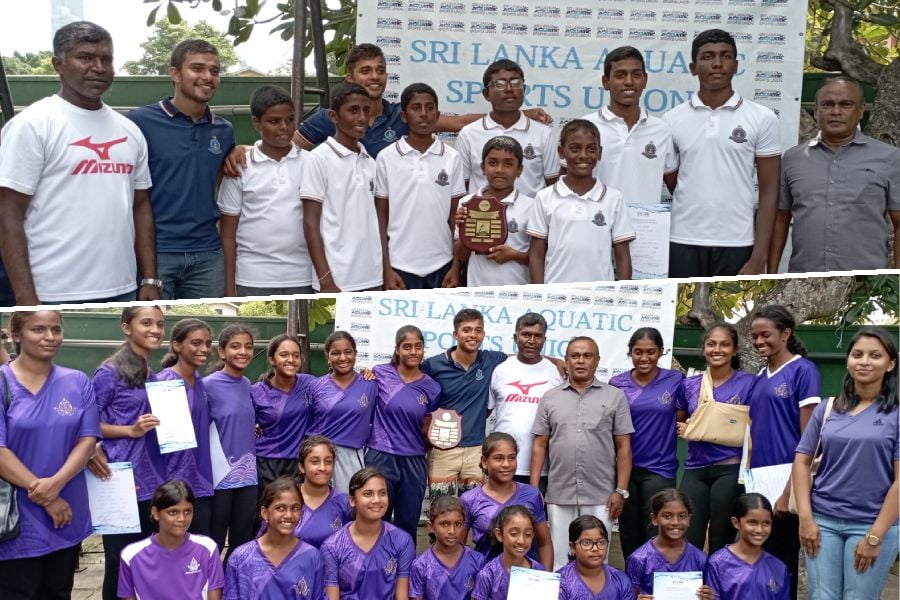 The Intermediate Age Group Diving Championships 2023 was organized by the Sri Lanka Aquatic Sports Union and was held on the 08th and 09th of July 2023 at the Royal College Swimming Pool. 
Thurstan College, after a tough fight, won the overall Boys' Championship by being 1 point ahead of Royal College with a total of 92 points. The Bishopians as always ruled the dive boards by becoming the Girls' overall champions with a total of 129 points. 
This was the 1st ever edition of the competition and was initiated with the plan of creating more competitive opportunities for young Sri Lankan Divers. It was held under 6 age categories ranging from Under 11 to Open. Only Divers who have been placed in the top 5 at Novices Diving Championships 2020-2023, and have not won the top 3 positions at National Age Group Diving, National or Junior National Diving, and Sri Lanka Schools Age Group Diving, were eligible to compete at this event. 96 divers from 10 schools dived in this competition. 
Under 11 : Boys – 1m Springboard  
First – Navinu Tikesh – Royal College 83.05 

 

Second – Aksheyan Linganathan – S. Thomas College 80.65 

 

Third – Yuthum Kumara – Royal College 73.55 

 
Under 11 : Girls – 1m Springboard  
First – Tianna Silva – Bishop's College 91.9 

 

Second – Yashnia Rajanikanth – Bishop's College 79.35 

 

Third – Soraya De Almeida – Bishop's College 65.9 

 
Under 13 : Boys – 1m Springboard  
First – Sushen Wijesinghe – Royal College 110.75 

 

Second – Vithula A. Weerakkody – D. S. Senanayake College 104.1 

 

Third – H. W. Yoshitha Levin Perera – Thurstan College 89.7 

 
Under 13 : Girls – 1m Springboard  
First – Ariel Silva – Bishop's College 98.0 

 

Second – Keira Thumbavila – Bishop's College 78.3 

 

Third – T. A. Onali Silva – Ladies' College 73.3

 
Under 15 : Boys – 1m Springboard  
First – Ovin Martino – St. Joseph's College 150.35 

 

Second – Michael Gunawardene – S. Thomas' College 120.01 

 

Third – Ethika Rithul Jayasinghe – Stafford International School 116.90 

 
Under 15 : Girls – 1m Springboard  
First – Anira Gunasekara – Bishop's College 92.40 

 

Second – Aneeqa Aniff – Bishop's College 88.95 

 

Third – Heshalee Pushpawansa – Bishop's College 87.35 

 
Under 17 : Boys – 1m Springboard  
First – L. Senath Kenula Perera – Thurstan College 123.15 

 

Second – Shion Kiyanage – St. Joseph's College 119.60 

 

Third – L. Senath Banula Perera – Thurstan College 109.25 

 
Under 17 : Girls – 1m Springboard  
First – Imandi Mahawatte – Visakha Vidyalaya 87.75 

 

Second – Binuli Heendeniya – Bishop's College 71.74 

 
Under 20 : Boys – 1m Springboard  
First – Udesh Dissanayake – Royal College 111.45 

 

Second – Shahela Silva – St. Joseph's College 108.70 

 

Third – Chanithu Geeneth – Royal College 107.65

 
Under 11 : Boys – 3m Springboard  
First – Yuthum Kumara – Royal College 99.01 

 

Second – Nithesh Tarin – Royal College 98.06 

 

Third – Navinu Tikesh – Royal College 85.02 

 
Under 11 : Girls – 3m Springboard  
First – Yashnia Rajanikanth – Bishop's College 89.35 

 

Second – Soraya De Almeida – Bishops College 75.03 

 

Third – D. K. Saheelee Manjaree Perera – SBV 68.35 

 
Under 13 : Boys – 3m Springboard  
First – H. W. Yoshitha Levin Perera – Thurstan College 115.65 

 

Second – Vithula A. Weerakkody – D. S. Senanayake College 114.03 

 

Third – Sushen Wijesinghe – Royal College 111.05 

 
Under 13 : Girls – 3m Springboard  
First – Chariya Gunasekera – Bishop's College 94.55 

 

Second – T.A. Onali Silva – Ladies College 84.04 

 
Under 15 : Boys – 3m Springboard  
First – Rakitha Godavithanage – S. Thomas' College 170.5 

 

Second – Ovin Martino – St. Joseph's College 157.25 

 

Third – Rashmika De Silva – Horizon 133.00 

 
Under 15 : Girls – 3m Springboard  
First – Yoshadha Pilapitiya – Bishop's College 121.7 

 

Second – Miheli Ratnayake – Bishop's College 106.6 

 

Third – S. M. Kavini Punsara Sudasignhe – SBV 93.75 

 
Under 17 : Boys – 3m Springboard  
First – L. Senath Kenula Perera – Thurstan College 144.5 

 

Second – H. P. Naveesha Nimsara – Thurstan College 127.65 

 

Third – Shion Liyanage – St. Joseph's College 126.45 

 
Under 20 : Boys – 3m Springboard  
First – Udesh Dissanayake – Royal College 147.35 

 

Second – Sahela Silva – St. Joseph's College 140.25 

 

Third – K. V. Aritha Deenath – Thurstan College 136.8 

 
Under 20 : Girls – 3m Springboard  
First – Sanyumi Sirimanne – Visakha Vidyalaya 132.8

 
Under 13 : Boys – Platform  
First – Vithula Athsara Weerakkody – D. S. Senanayake College 70.65 

 

Second – Sushen Wijesinghe – Royal College 70.00 

 

Third – H. W. Yoshitha Levin Perera – Thurstan College 59.10 

 
Under 13 : Girls – Platform  
First – Nethanya De Silva – Bishop's College 57.50 

 
Under 15 : Boys – Platform  
First – A. A. Ovindu Vidusara – Thurstan College 93.70 

 

Second – Ovin Martino – St. Joseph's College 88.55 

 

Third – Ethika Rithul Jayasinghe – Stafford International School 75.60 

 
Under 17 : Boys – Platform  
First – L. Senath Kenula Perera 

 

Second – Shion Liyanage 

 

Third – L. Senith Banula Perera 

 
Under 20 : Boys – Platform  
First – K. V. Artiha Deenath 

 

Second – Udesh Dissanayake