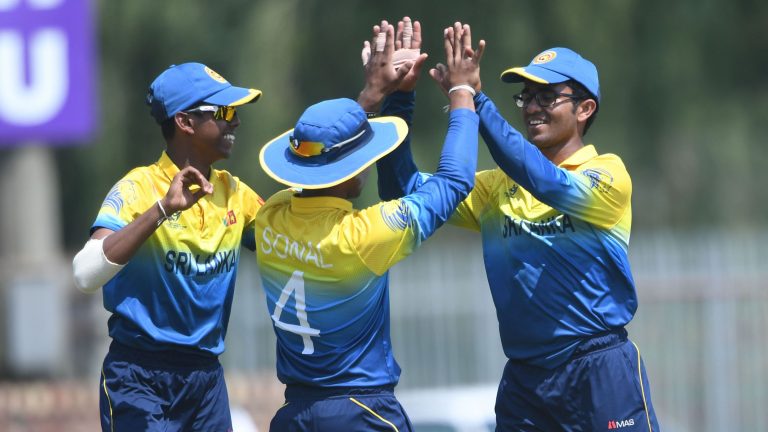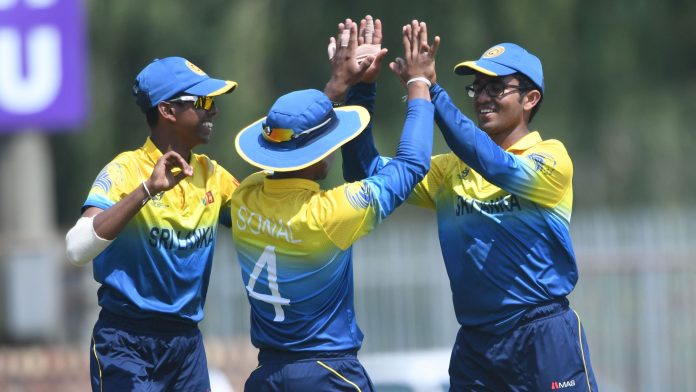 Sri Lanka U19s were on the superior side today at Potchefstroom as they stormed past Scotland U19s in the plate semifinal as they defeated Scotland by 97 runs, qualifying to the plate final for the 2nd consecutive time.

Sri Lanka U19s skipper Nipun Dhananjaya won the toss and had no hesitation batting first at the North-West University Ground and the openers responded well with a 90 run-partnership. Wicket-keeper batsman Kamil Mishara was dismissed for 39 but his partner Navod Paranavithana went on to score a fine fifty including 4 boundaries and 1 six.
Watch: Highlights – Sri Lanka vs Nigeria – Plate Quarter-Final – ICC Under 19 World Cup 2020
Last game centurion Ravindu Rashantha couldn't fire this time as he fell off Jamie Cairne's bowling for 21. The telling partnership of the innings was constructed by Ahan Wickramasinghe and Captain Dhananjaya for the 4th wicket, 103 runs off 93 balls, laying the foundation for a big score.
Wickramasinghe raced to a quickfire 59 while Dhananjaya mustered a run-a-ball 69 taking Sri Lanka to 277/6 after 50 overs.
New Zealand U19s held on to a thrilling win in the group A encounter vs Sri Lanka in ICC Under 19 Cricket…..
Three half-centuries from opener Navod, Captain Nipun and in-form Ahan steered the Young Lions to a competitive score of 277/6 against Scotland today in the Plate Semifinal of the #U19CWC. ?

The boys have started well with ball too ?

SCORECARD – https://t.co/4dMm9077MR pic.twitter.com/4PsrOi4Woa

— ThePapare.com (@ThePapareSports) January 30, 2020
In reply, the Scottish innings never got going, as they lost Wickets in regular intervals courtesy of Chamindu Wijesinge, Dilshan Madushanka and Kavindu Nadeeshan who shared 7 wickets among them.
Watch: Highlights – Sri Lanka vs Japan – ICC Under 19 World Cup 2020
Rain disturbed the 2nd innings at the 40-over mark and the game didn't resume after that point. Scotland was 149/8, 97 runs behind the required target according to the D/L method.
With this win, Sri Lanka U19s are through to the plate finals of ICC U19 Cricket World Cup on 3rd March and will play against the winner of the 2nd plate semifinal between England and Zimbabwe.


Batsmen
R
B
4s
6s
SR
Navod Paranavithana
c Ben Davidson b Charlie Peet
54
73
4
1
73.97
Kamil Mishara
b Charlie Peet
39
52
5
0
75.00
Ravindu De Silva
c Angus Guy b Jamie Cairns
21
38
0
0
55.26
Nipun Dananjaya
c Angus Guy b Jasper Davidson
66
69
3
1
95.65
Ahan Wicrkamasinghe
c Daniel Cairns b Kess Sajjad
59
50
5
1
118.00
Chamindu Wijesinghe
c Angus Guy b Jasper Davidson
4
4
0
0
100.00
Sonal Dinusha
not out
15
10
1
0
150.00
Kavindu Nadeeshan
not out
3
4
0
0
75.00
| | |
| --- | --- |
| Extras | 16 (b 7 , lb 1 , nb 0, w 8, pen 0) |
| Total | 277/6 (50 Overs, RR: 5.54) |
| Fall of Wickets | 1-90 (17.1) Kamil Mishara, 2-117 (25.2) Navod Paranavithana, 3-137 (30.1) Ravindu De Silva, 4-240 (45.4) Ahan Wicrkamasinghe, 5-246 (46.3) Chamindu Wijesinghe, 6-266 (48.3) Nipun Dananjaya, |
| Bowling | O | M | R | W | Econ |
| --- | --- | --- | --- | --- | --- |
| Rory Hanley | 5 | 0 | 26 | 0 | 5.20 |
| Liam Naylor | 5 | 0 | 31 | 0 | 6.20 |
| Kess Sajjad | 10 | 0 | 61 | 1 | 6.10 |
| Daniel Cairns | 4 | 0 | 24 | 0 | 6.00 |
| Charlie Peet | 10 | 1 | 44 | 2 | 4.40 |
| Jasper Davidson | 6 | 0 | 31 | 2 | 5.17 |
| Jamie Cairns | 10 | 0 | 52 | 1 | 5.20 |


Batsmen
R
B
4s
6s
SR
Syed Shah
b Dilshan Madusanka
17
18
3
0
94.44
Ben Davidson
c Ravindu De Silva b Dilshan Madusanka
18
25
3
0
72.00
Tom Mackintosh
c Nipun Dananjaya b Chamindu Wijesinghe
4
5
1
0
80.00
Jasper Davidson
st Kamil Mishara b Kavindu Nadeeshan
20
52
1
0
38.46
Angus Guy
c Kamil Mishara b Chamindu Wijesinghe
31
72
0
0
43.06
Daniel Cairns
lbw b Kavindu Nadeeshan
3
13
0
0
23.08
Kess Sajjad
b Chamindu Wijesinghe
13
20
0
0
65.00
Liam Naylor
st Kamil Mishara b Ashian Daniel
8
10
1
0
80.00
Jamie Cairns
not out
10
14
1
0
71.43
Charlie Peet
not out
5
11
0
0
45.45
| | |
| --- | --- |
| Extras | 20 (b 4 , lb 5 , nb 0, w 11, pen 0) |
| Total | 149/8 (40 Overs, RR: 3.73) |
| Fall of Wickets | 1-35 (6.3) Ben Davidson, 2-41 (7.5) Tom Mackintosh, 3-42 (8.1) Syed Shah, 4-95 (25.1) Jasper Davidson, 5-103 (29.2) Daniel Cairns, 6-117 (32.5) Angus Guy, 7-130 (34.6) Kess Sajjad, 8-135 (36.3) Liam Naylor, |
| Bowling | O | M | R | W | Econ |
| --- | --- | --- | --- | --- | --- |
| Dilshan Madusanka | 6 | 0 | 26 | 2 | 4.33 |
| Dilum Sudheera | 7 | 0 | 25 | 0 | 3.57 |
| Chamindu Wijesinghe | 9 | 1 | 31 | 3 | 3.44 |
| Ashian Daniel | 8 | 1 | 16 | 1 | 2.00 |
| Kavindu Nadeeshan | 10 | 0 | 42 | 2 | 4.20 |